This weekend, all major news outlets projected that President-elect Joe Biden would win the crucial swing state of Pennsylvania, bringing his number of electoral college votes above 270—the number needed to take the White House.
President Donald Trump is ramping up his attacks on the democratic process, falsely claiming that widespread voter fraud tipped the election to Biden. The Trump campaign has launched a number of legal battles in hopes of securing the presidency through the court system, but these efforts are largely expected to fail due to lack of evidence.
Meanwhile, the campaign is accusing the "fake news media" of prematurely calling a winner.
Trump Campaign communications director Tim Murtaugh attempted to compare the 2020 results to the 2000 election, where only 537 votes in Florida separated then-presidential nominees George W. Bush and Al Gore. The slim margin led to an extensive recount whose constitutionality was decided on partisan lines by the Supreme Court.
The Court ultimately ruled that the initial count could stand, effectively handing the presidency to Bush.
In a now-deleted tweet, Murtaugh posted a fake front page of the Washington Times with the headline "PRESIDENT GORE," falsely claiming that the Washington TImes had prematurely called the election for Gore.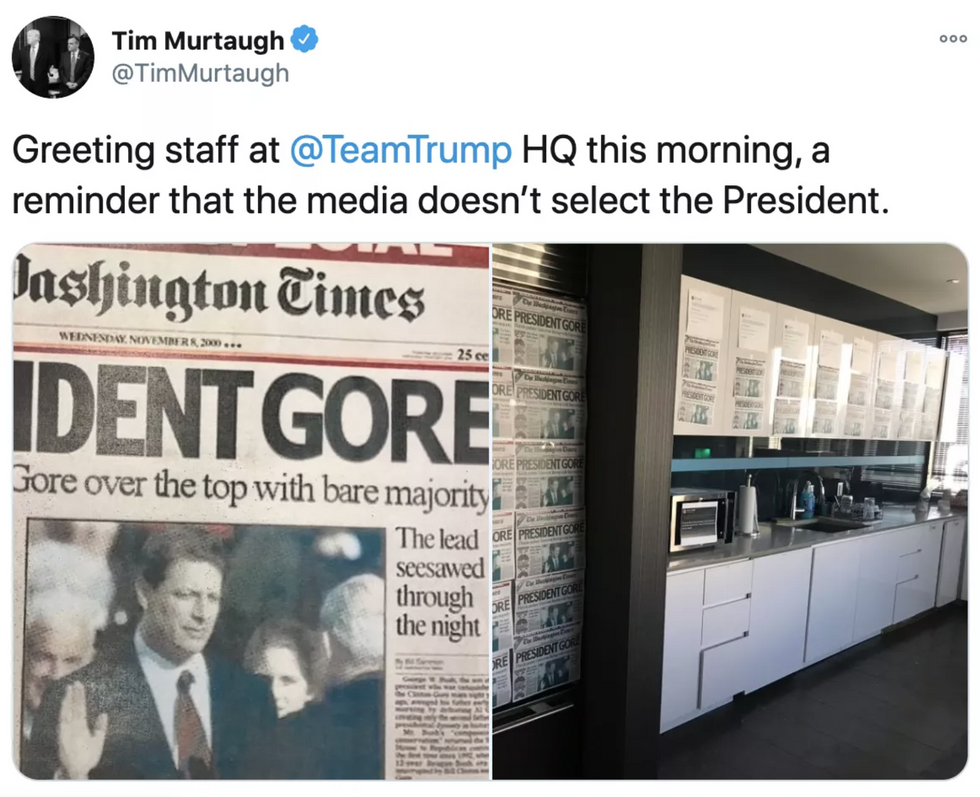 It wasn't long before the paper fact-checked Murtaugh.
The actual headline read "DOWN TO THE WIRE" without actually calling a victor.
People weren't surprised to find yet another Trump official spreading misinformation.
The President's allies continue to run with the disinformation.

The false headline shared by Murtaugh was plastered all over Trump's campaign headquarters.