In the early days of Donald Trump's presidency, the Trump administration is facing vehement allegations relating to its ever-increasing ties to Russia — and these charges are gaining momentum.
Russian hackers. WikiLeaks. Collusion. Treason. These are merely a few of the terms prevalent in the international conversation surrounding the 45th president of the United States.
---
Meanwhile, Democrats and Republicans continue to thrust accusations of "playing politics" across the aisle as concerns of both alleged Russian attempts to interfere in the 2016 elections and President Donald Trump's associates' collusions with Moscow are unearthed. As a result, the House Intelligence Committee risks splintering down partisan lines.
Most recently, The Washington Post revealed that Erik Prince, the founder of Blackwater — a private military company and security firm, now called Academi — and younger brother of Betsy DeVos, President Trump's Secretary of Education, met secretly with a Russian close to Russian President Vladimir Putin in an arrangement facilitated by the United Arab Emirates. This meeting occurred on the island of Seychelles around January 11, or nine days prior to Donald Trump's inauguration, according to U.S., European and Arab officials.
It was an attempt to establish a back-channel line of communication between Moscow and then President-elect Donald Trump, according to officials. This development is only the latest in an ongoing and developing series of events that possibly led to Russian tampering in the 2016 U.S. presidential elections and collusion between the Trump administration and Moscow.
WHAT NEXT FOR U.S.-RUSSIA RELATIONS?
On April 7, Second Nexusreports,
Russia, U.S. allies, and President Donald Trump's own far-right base reacted yesterday to the news that the United States, on President Trump's orders, launched a military strike on a Syrian government airbase in response to a chemical attack in Idlib province that killed more than 80 civilians. Although many countries around the world praised the unilateral attack on Bashar al-Assad's regime, tensions between Russia––currently the subject of a probe into interference in last year's presidential election––and the United States flared, with the former nation condemning the assault as an "act of aggression"...

Although the indignation of Russian dignitaries took center stage in Moscow, questions remained about to what extent Russian forces or assets were in harm's way when the U.S. launched 59 Tomahawk missiles at the airbase. The Pentagon said in a statement last night that it had notified Russian forces in advance of the strike "using the established deconfliction line." The statement indicated that "U.S. military planners took precautions to minimize risk to Russian[s] or personnel located at the airfield."
In a New York Times op-ed, journalist Frank Bruni suggests that the strike is a successful foil to a scandal that has eclipsed many of the administration's other missteps.
It's impossible to ignore the degree to which the military strike pushes a slew of unflattering stories about the Trump administration — its failed attempt to undo Obamacare, the feuding within its ranks and, above all, the probes into possible collusion between Trump's associates and the Russian government — to the side of the page. Nothing drowns out scandal like the fire and fury of 59 Tomahawk cruise missiles.

The notion that military action salvages a president on the defensive, boldly underscoring his role as commander in chief, is nothing new. But there's a fresh wrinkle in this case, because those bombs put Trump at particular odds with Russia at a moment when there's enormous advantage in that.
The Arleigh Burke-class guided-missile destroyer USS Ross fires a tomahawk land attack missile while conducting naval operations in the Mediterranean Sea, April 7, 2017. (Credit: Source.)
Below is a list of those involved in the Russian probe with accompanying descriptions of how they relate to these events.
TEAM TRUMP
James Comey is the FBI director who in late 2016 received heavy criticism from both Democrats and Republicans for his handling of the investigation into Secretary Hillary Clinton's use of a private email server during her time as Secretary of State. In a shocking testimony to the House Intelligence Committee, Comey revealed last week that the FBI was investigating Russian hacking and involvement in the 2016 elections, as well as collusion between Trump and Moscow.
Mike Rogers is a controversial figure in that while he was a top candidate for promotion to the position of Director of National Intelligence under then-President-elect Trump, he was simultaneously facing removal from his role as director of the National Security Agency (NSA) by then-President Barack Obama. He remained director of the NSA under President Trump, even as he testifies before Congress as an authority on cyber security and its relationship to Russian hacking.
Rogers joined James Comey last week in debunking President Trump's claim that then-President Obama wiretapped Trump Tower during Trump's run for president.
Paul Manafort is a Republican strategist out of Washington D.C. who joined Trump's campaign team and was promoted in the spring of 2016 following Corey Lewandowski's firing from his position as campaign manager. Manafort suspiciously resigned from his own post three months prior to Election Day, amid questions regarding his role within the campaign, as well as his vast history of lobbying abroad — particularly in Ukraine, where his interests were pro-Russia. He has faced accusations from current and former U.S. officials relating to his regular communication with Russians, to which he responded that the allegations are "100 percent not true."
Michael Flynn was evicted from his position as the director of the Defense Intelligence Agency in the Pentagon under President Obama, back in 2014. Flynn believes he was pushed out for his vigilance toward Islamic terrorism, but four U.S. officials serving at the time Flynn said he was fired told reporters it was because he managed the agency controversially.
Flynn was an early supporter of Donald Trump's presidential campaign, as well as an outspoken critic of Democrats in Washington. President-elect Trump named him national security adviser. He resigned shortly after accepting the position when he acknowledged that he misled Vice President Mike Pence on the nature of his communications with Sergey Kislyak, the Russian ambassador to the United States. Originally, he denied that they had discussed sanctions imposed by the Obama administration. In fact, he did violate the Logan Act. However, the Logan Act has never been used in a prosecution, and the FBI has stated it does not intend to charge Flynn for his actions.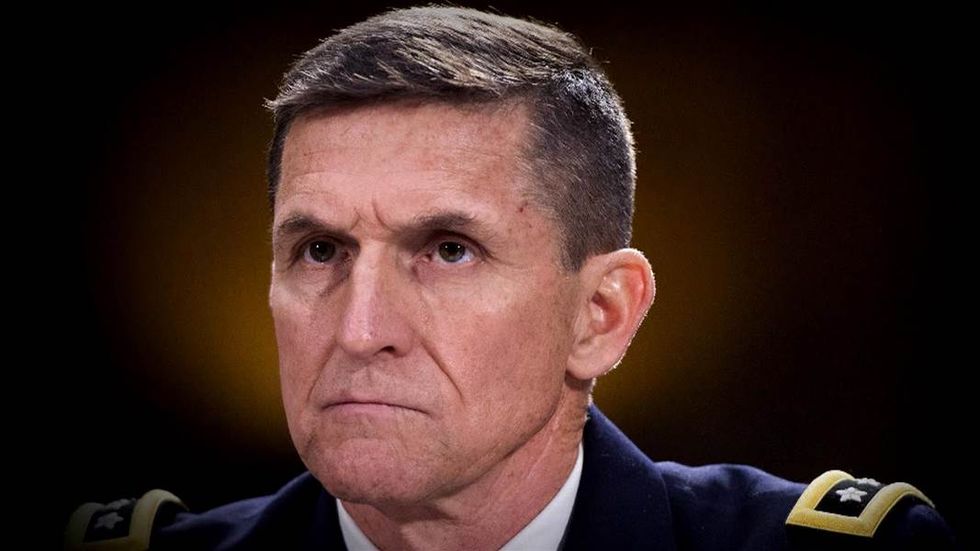 General Michael Flynn. (Credit: Source.)
Additionally, Flynn has numerous financial ties to Russia and other foreign countries, and there is e-mail evidence that Flynn was paid by a state-run Russian television outlet, which he initially denied.
Carter Page worked as an investment banker at Merrill Lynch for seven years, which involved work in London, New York and Moscow for three years during the mid-2000s. In 2016, Trump named Page as a foreign policy adviser in response to a question from The Washington Post.
Page has called for warmer American foreign policy toward Russia on many occasions — an unpopular view in the U.S. foreign policy crowd. He reportedly met Sergey Kislyak during the Republican convention in Cleveland, though Page denies any wrongdoing and claims he was not a Trump campaign insider.
Jeff Sessions is the U.S. Attorney General under President Donald Trump. He recently recused himself from investigations related to Russian interference in the 2016 election after sources learned that, contrary to statements he made under oath in his confirmation hearing, he had spoken with Sergey Kislyak twice during the presidential campaign.
Sessions insisted he met Kislyak during the Republican National Convention in Cleveland, Ohio, in his capacity as a member of the Senate Armed Services Committee. But an investigation conducted by The Wall Street Journal revealed Sessions used Trump campaign funds to fund his travel, and not Senate Armed Services Committee funds as he had initially claimed.
When pressed by reporters, Sessions' spokeswoman Sarah Isgur Flores refused to comment on his convention expenses. She maintains Sessions did not mean to mislead the Senate during his confirmation hearing and that Sessions met with more than 25 dignitaries last year as a senior member of the committee, including the British, Korean and Japanese ambassadors, in addition to Kislyak.
The Washington Post contacted all 26 members of the Senate Armed Services Committee. Of the 20 who responded, every lawmaker said they never had an occasion to meet with the Russian ambassador.
TEAM TRUMP (continued)
Devin Nunes is a Republican Congressman from California's 22nd Congressional District who worked on President Trump's transition team. He is also the chairman of the House Intelligence Committee and the person leading the House's investigation into possible connections between Trump's associates and the 2016 U.S. election hacking by Russians. He openly supported Michael Flynn mere hours before Flynn's resignation as national security adviser and intentionally understated President Trump's wiretapping allegations against former President Obama.
Nunes also disclosed to all except the Democrats on his committee that the Trump campaign's communications were potentially discovered in incidental collections by lawful U.S. surveillance of conversations with foreign nationals. Nunes told CNN he was "moving forward" with the investigation amid calls to step down as chairman and questions as to whether he can conduct an investigation impartially.
On April 6, Nunes announced he would step down from his role as the leader of the investigation. His announcement came on the same day that the House Committee on Ethics said it would investigate him because of reports that he "may have made unauthorized disclosures of classified information."
Credit: Source.
Jared Kushner is President Trump's son-in-law and senior adviser, as well as a New York real estate developer. He is connected in friendship and business with various prominent Russians, such as Yuri Milner and Dasha Zhukova, the latter of whom was a guest of Ivanka Trump's at her father's presidential inauguration.
Donald Trump Jr. is President Trump's eldest son and responsible for handling his father's business throughout the presidential term. Felix Sater claims Donald Trump asked him to escort Ivanka and Donald Trump Jr. around Moscow in 2006.It was determined during the House hearing with FBI Director James B. Comey that Trump Jr. has visited Russia six times.
Rex Tillerson is Secretary of State under President Trump, and the former chief executive of ExxonMobil, the latter of which afforded Tillerson extensive ties in Russia.
Tillerson developed a close relationship with Vladimir Putin since his days representing Exxon's interests in Russia during Boris Yeltsin's premiership. Tillerson received a state honor, the Order of Friendship, from Putin in 2013.
Wilbur Ross is the Secretary of Commerce and an investor who holds a stake in a bank in Cyprus where prominent Russian investors also happen to invest. Ross was appointed under President Bill Clinton to the board of the U.S.-Russia Investment Fund, a USAID effort to boost businesses in post-Cold-War Russia.
Ross has relationships with Russian shareholders, including Viktor Vekselberg, a friend of Putin, who was once on oil giant Rosneft's board of directors, as well as former KGB agent Vladimir Strzhalkovsky, a former vice chairman of the bank in Cyprus.
Roger Stone is a friend of the Trump family, as well as an adviser and political consultant, and a former business partner of Paul Manafort. Stone claimed to have communicated indirectly with WikiLeaks prior to the website's publication of emails stolen by Russian agents.
J.D. Gordon is a former Trump campaign adviser and Republican strategist who contentiously advocated against anti-Russia language in the GOP platform — regarding U.S. support for Ukraine in its battle with Russian-backed rebels — an act which resulted in suspicion from political opponents. Manafort claims the change "absolutely did not come from the campaign," while Gordon claims he had consulted the change with "campaign policy colleagues" before seeing it through.
In addition, Gordon spoke with Russian Ambassador Sergey Kislyak at the Republican National Convention, where Kislyak also met then-Senator Jeff Sessions and Carter Page.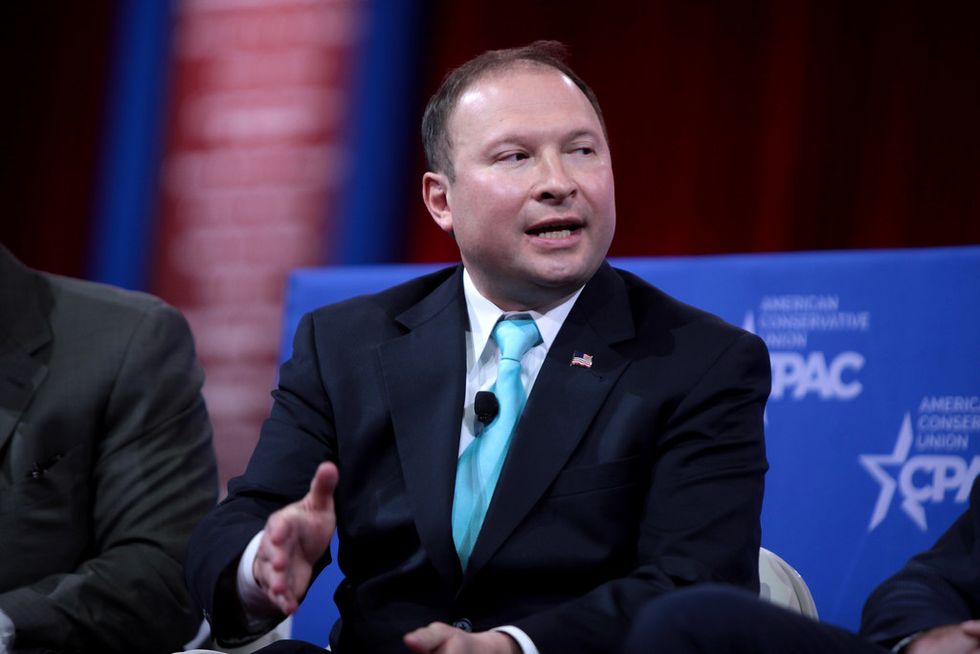 J.D. Gordon. (Credit: Source.)
Michael Caputo is a public relations executive who served as an adviser to the Trump campaign for the New York primary. Caputo was once paid to improve Putin's image in the United States in a contractual deal with Gazprom Media, a Russian conglomerate. He also lived in Russia following the fall of the Soviet Union.
Rick Gates led America First, a pro-Trump nonprofit, but also worked in business with Paul Manafort since 2006. This is the same year Oleg Deripaska, founder of Russian industrial group Basic Element Company, president of Russian companies En+ Group and United Company RUSAL and good friend of Vladimir Putin, became Manafort's client.
From 2006 to 2009, Deripaska had paid Manafort $10 million a year to lobby for Putin-friendly oligarchs in Ukraine, and for pro-Russian governments in Georgia, Tajikistan and Uzbekistan, according to The Associated Press. In addition, Deripaska invested in Manafort's Cayman Islands fund that bought assets primarily in Ukraine and Russia, which, incidentally, ended in Deripaska casting embezzlement accusations at both Manafort and Gates regarding $19 million of his investment funds.
Gates was forced to take a leave of absence from America First for his ties to Manafort after reports from the AP and The Washington Post surfaced.
Michael Cohen is President Trump's personal lawyer and a regular media surrogate during the presidential campaign. In a February CNN interview, Ukrainian lawmaker Andrii Artemenko said he had discussed formalizing Russian control of the Crimea region of Ukraine with Cohen over dinner in January.
Ukraine obviously objected to the notion, and Cohen denied any discussion of that nature occurred at all.
The 35-page dossier released by BuzzFeed in January also lays accusation that Cohen met secretly with Kremlin officials in Prague in August 2016. He vehemently denied this, using a photo of the front cover of his U.S. passport as corroboration. Fun fact: This spawned the "I have never been to Prague in my life" meme movement across Twitter.
George Papadopoulos was a Trump campaign adviser who, according to Christopher Steele's dossier, kept touch with Sergei Millian, as well as other foreign leaders. He also took part in an interview criticizing U.S. sanctions on Russia.
Erik Prince's January 11 meeting in Seychelles with a Russian close to Russian President Vladimir Putin is, as noted earlier, currently under fire by Democrats and news agencies.
THE RUSSIANS
Sergey Kislyak has been Russian ambassador to the United States since 2008 and is a career diplomat. He is not considered especially close to Putin.
Connections to President Trump: Donald Trump, Michael Flynn, Carter Page, Jeff Sessions, Jared Kushner and J.D. Gordon.
Igor Sechin is the executive chairman of the Russian oil giant Rosneft, and a former deputy prime minister in Russian President Vladimir Putin's cabinet.
Connections to President Trump: Rex Tillerson.
Sergey N. Gorkov is the chief of Vnesheconombank, a Russian government-owned development bank that sits on the U.S. sanctions list as of 2014, following Russia's annexing of Crimea. Russian Prime Minister Dmitry Medvedev is on the bank's supervisory board.
Connections to President Trump: Jared Kushner.
Felix Sater is a Russian-American former business partner of President Trump who in 2005 and 2015 served as a liaison for dealings regarding a potential Trump Tower in Moscow. Donald Trump Jr. and Ivanka Trump notably toured Moscow with Sater in 2006. Sater was also reportedly involved in discussions of a pro-Kremlin peace plan for Ukraine with Michael Cohen, though President Trump on more than one occasion claimed not to remember him.
Connections to President Trump: Donald Trump, Michael Flynn, Donald Trump Jr. and Michael Cohen.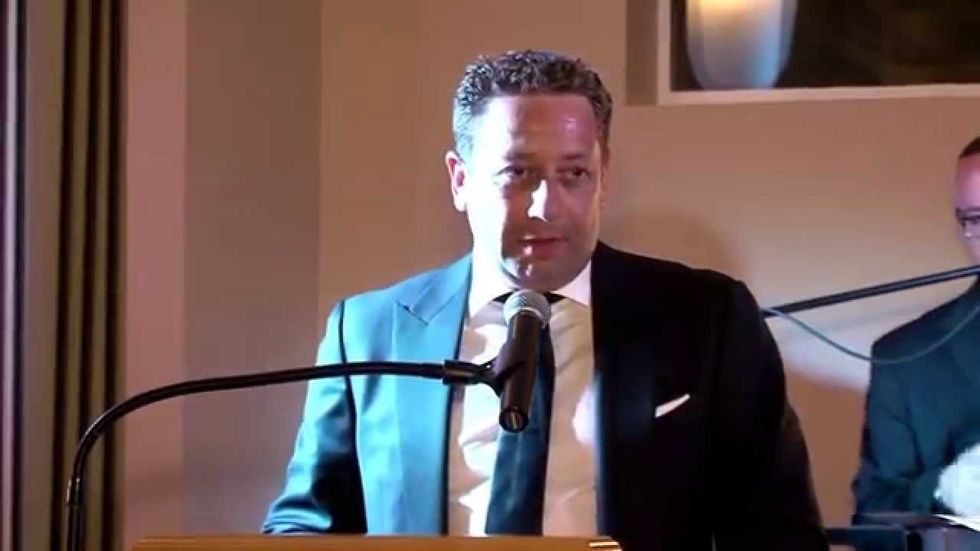 Felix Sater. (Credit: Source.)
Sergei Millian is the Belarusan American who is supposedly the source for the claim — from Christopher Steele's dossier — that Donald Trump hired prostitutes at the Moscow Ritz-Carlton and that the Kremlin has proof of the event.
Connections to President Trump: Donald Trump and George Papadopoulos.
Andrii V. Artemenko is the Ukrainian politician who reportedly met with Michael Cohen in New York in an attempt to broker a pro-Kremlin peace deal for Ukraine.
Connections to President Trump: Donald Trump and Michael Cohen.
Guccifer 2.0 and Russian hackers of the Federal Security Service (abbreviated FSB) and the GRU (Russia's military intelligence organization) caused the eruption of news following the infamous hacking of the Democratic National Committee systems, as well as accounts of other political party members and organizations. Many of the leading hackers used the alias Guccifer 2.0 — taken from a Romanian hacker — though U.S. intelligence officials believe Guccifer 2.0 is likely a Russian military agent or a persona that was used by many to broadcast information hacked by the GRU. Analysts suspect Guccifer 2.0 did not orchestrate the actual hacking, but rather, believe the name was used as a pseudonym.
Connections to President Trump: Roger Stone.
Russian business interests are historically helpful to oligarchs in gaining political ground. The list of Russian business-people with whom Trump and his associates have relationships include tech investor Yuri Milner, developer Aras Agalarov, aluminum magnate Oleg Deripaska, bank directors Viktor Vekselberg, Vladimir Strzhalkovsky and Sergey N. Gorkov, and Igor Sechin, head of the state-owned oil giant Rosneft, which is currently under U.S. sanctions following the seizure of Crimea in 2014.
Connections to President Trump: Donald Trump, Paul Manafort, Michael Flynn, Carter Page, Jared Kushner, Donald Trump Jr., Rex Tillerson, Wilbur Ross, Michael Caputo and Rick Gates.
OTHER NOTABLES
Julian Assange is the founder of Wikileaks, which calls itself something of a "radical transparency" organization. Its objective is to expose the secrets of those in positions of power. He has been granted asylum at the Ecuadorian Embassy in London, where he is avoiding sexual assault changes in Sweden and a potential extradition to the U.S.
Assange fronted the release of nearly 20,000 internal DNC e-mails in July 2016, as well as e-mails from John Podesta — the Clinton campaign chairman — in October, which U.S. intelligence agencies unanimously concluded were hacked by the Russians. WikiLeaks and Russia both deny Russia's involvement.
Christopher Steele is a former officer with MI6, the United Kingdom's foreign intelligence service. He notably compiled a dossier of unconfirmed claims about Donald Trump's personal and business links to Russia prior to his presidency. Hired by a Washington research firm, Steele operated in the interests of Trump's political opponents.
The FBI acquired an edition of Steele's dossier in the summer of 2016. Investigators evaluated it against their own work relating to Russian interference in the U.S. elections. Steele's file contained assertions that Russian operatives possess damaging personal and financial information regarding Trump. President Trump has denied anything relating to this matter, calling them "phony." However, Adam Schiff, the top Democrat on the House Intelligence Committee, and others alluded to some of these charges during the Comey-Rogers hearing last week, and U.S. examiners said they have found some factual corroboration to the dossier.
Sally Yates is the Attorney General who was fired at the commencement of the Trump administration after she refused to implement President Trump's travel ban on seven Muslim-majority countries. Additionally, she informed Trump's White House counsel about former national security adviser Michael Flynn's meeting with Russian ambassador Sergey Kislyak — the event that led to Flynn's eventual resignation. Yates was scheduled to testify before the House Intelligence Committee on ties between Russian agents and Trump campaign officials, but committee chairman Devin Nunes cancelled the testimony — an impediment the White House denies was intentional.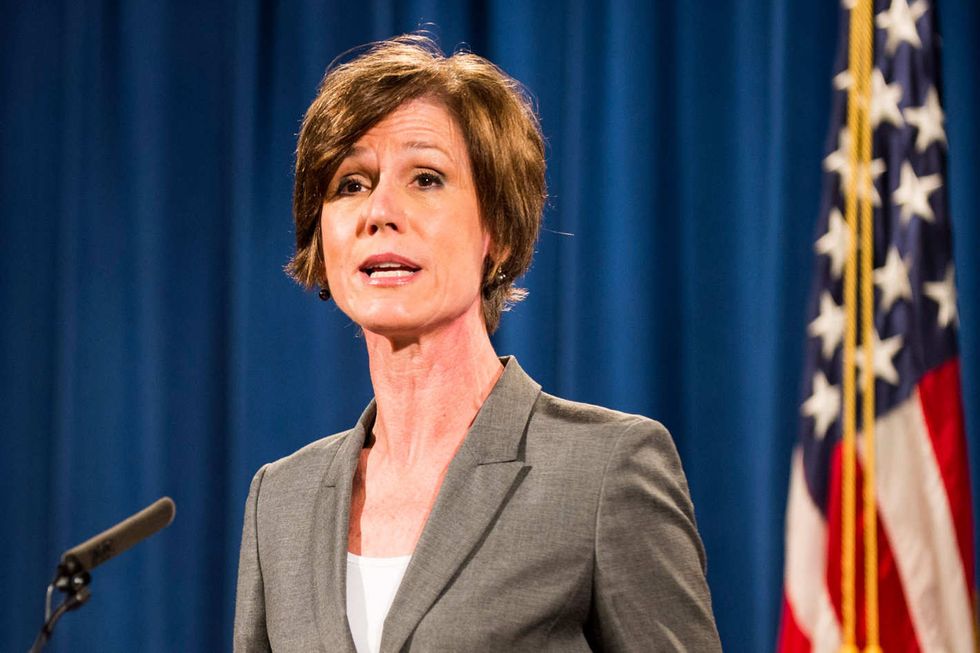 Sally Yates. (Credit: Source.)
James Clapper was the Director of National Intelligence under former President Barack Obama, and one of those invited to testify on Capitol Hill. He has disagreed with President Trump on many occasions, but most notably over the president's public denigration of intelligence officers, his wiretapping claims and his opinions on Russian hacking. Clapper, Comey and then-CIA Director John Brennan briefed then-President-elect Trump on Russian hacking shortly after he referred to the threat as a "fake" and politically-motivated controversy.
Adam Schiff is the Democratic Party's most senior member on the House Intelligence Committee and a strong critic of President Trump and Devin Nunes. Schiff recently urged Nunes to recuse himself from the investigation, which was unexpected for a committee known for its bipartisanship. Schiff has claimed many times to have seen evidence of collusion between Trump associates and Russian figures.
Elijah Cummings is a ranking Democrat on the House Oversight Committee and one of the first lawmakers who felt an investigation of Russian tampering in the U.S. elections was warranted, applying to the committee chairman, Representative Jason Chaffetz, in November 2016 for a bipartisan commission. He is also one of those urging Devin Nunes to recuse himself from the investigation, and he is highly critical of Michael Flynn and his Russian-sponsored activities in Russia.
Richard Burr is the Republican senator who chairs the Senate Intelligence Committee. Burr is leading an investigation separate from intelligence agencies into Russian efforts to tamper with the U.S. election.
The list of those involved or potentially involved with U.S.-Russian collusion continues to grow, so keep watch for new names as these investigations proceed.