President Donald Trump frequently invokes the specter of widespread voter fraud by Democrats in an effort to subvert the expansion of voting rights.
In the 2016 election, when he lost the popular vote by the largest margin of any electoral college winner in history, the President made the absurd claim that he actually won the popular vote, but Democrats cast millions of fraudulent votes.
---
Now, Trump is scrambling to discourage initiatives that would expand absentee voting qualifications in the face of the pandemic, giving voters the option to cast their ballots safely from home instead of in crowded lines that complicate social distancing measures.
On Wednesday, Trump railed against the automatic mailing of absentee ballots applications to Michigan residents for this reason.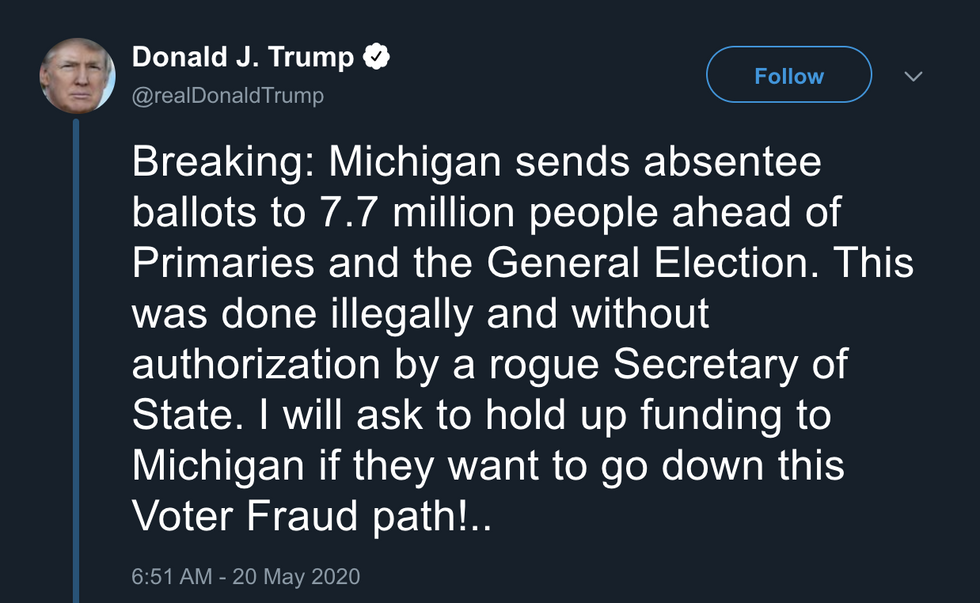 In a since-deleted tweet, Trump falsely claimed that the move was done illegally and tagged his chief of staff and other Trump officials before claiming that he'd withhold funding from the state.

Perhaps unsurprisingly, Trump was wrong—and Michigan's Secretary of State, Jocelyn Benson, didn't hesitate to point that out.
She corrected Trump, reminding him that the Michigan government sent its residents applications for absentee ballots, not the ballots themselves.
Benson then informed the President that the governments of red-leaning states like Iowa, Georgia, Nebraska, and West Virginia did the same.
Trump deleted his original tweet, and posted a new one specifying that Michigan sent ballot applications, not actual ballots.
Benson wasn't done.
People applauded her clapbacks.

Some said Trump was trying to influence the primary and general elections in a swing state.
This isn't even the first time Trump has picked fights with officials from Michigan. The state's Democratic governor, Gretchen Whitmer, is a frequent target of Trump's Twitter taunts.
For a deeper look into voter suppression in the United States, check out Uncounted, available here.