With the House of Representatives officially voting to deliver articles of impeachment against President Donald Trump for a trial in the Senate, eyes across America are focused on the Republican-dominated body and Senate Majority Leader Mitch McConnell (R-KY) to see what kind of trial he'll conduct.
Since the House officially impeached Donald Trump in December, more evidence of Trump's involvement in the Ukraine scandal has come to light, making it more difficult for moderate Republicans to vote against calling additional witnesses to testify in the Senate trial.
---
While a supermajority vote is required to remove Trump from office, a simple majority is all that's needed to call witnesses.
While McConnell may not be able to keep witnesses from testifying, he does have some power in determining who sees what the witnesses have to say.
Concerns are growing that security measures in the Senate will bar veteran Capitol Hill reporters from covering the historic trial.
Now C-SPAN, America's public television network covering day-to-day events in all three branches of government, is coming forward with a letter it sent to McConnell on December 19, imploring him to allow their cameras to cover the trial.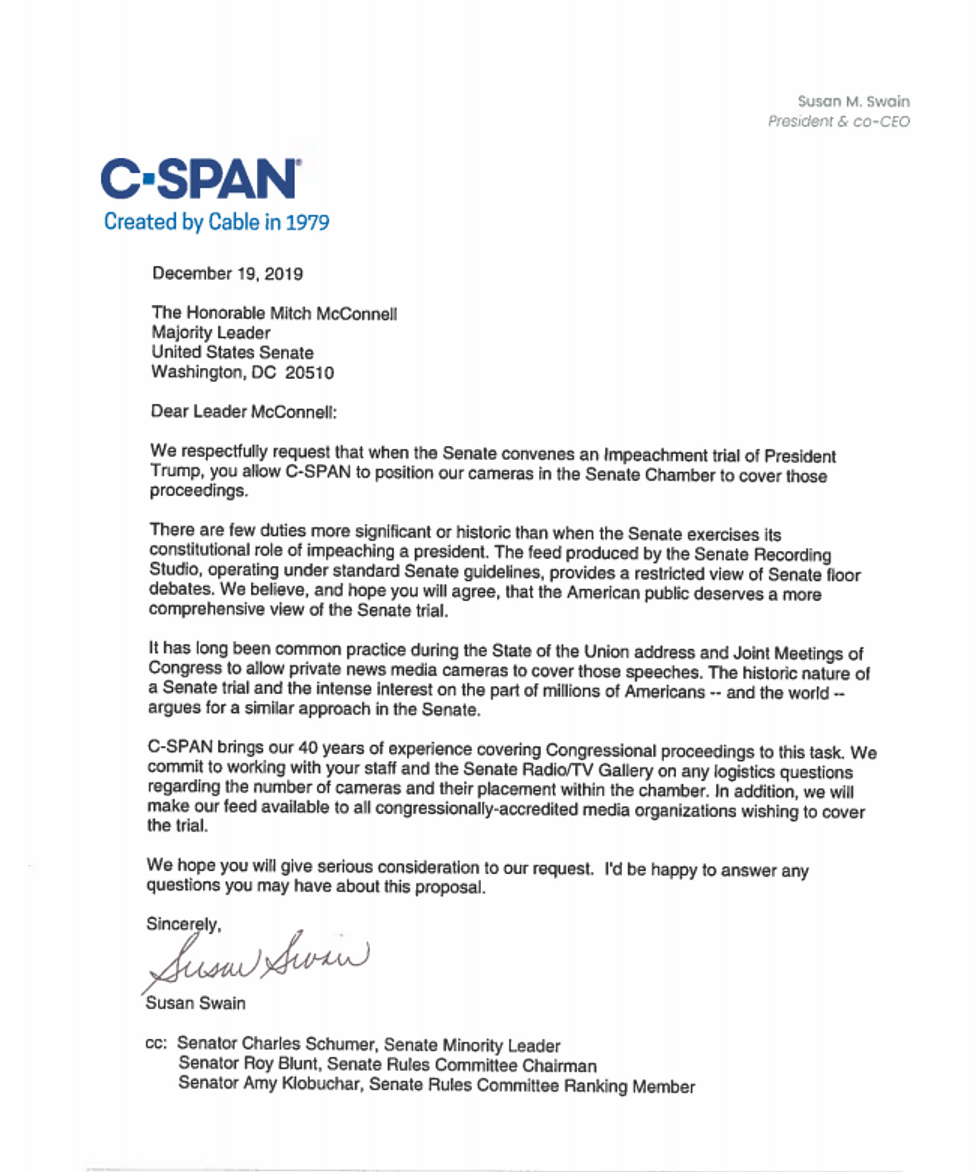 C-SPAN
C-SPAN doesn't control cameras in the Senate, but does have access to the cameras' feed which it broadcasts to the public. For the impeachment trial, the network is seeking to bring its own cameras for the most comprehensive coverage possible.
The letter states in part:

"It has long been common practice during the State of the Union address and Joint Meetings of Congress to allow private news media cameras to cover those speeches. The historic nature of a Senate trial and the intense interest on the part of millions of Americans—and the world—argues for a similar approach in the Senate."
C-SPAN went public with the letter on January 15, and others soon echoed its calls.
The fear that the Senate trial will be shielded from public scrutiny extends further than public television networks like C-SPAN.

According to a report from Roll Call, expanded security measures like additional screening and limited movement may treat credentialed reporters as a threat in the Senate.
The Standing Committee of Correspondents, which represents American political journalists said in a letter:

"These potential restrictions fail to acknowledge what currently works on Capitol Hill, or the way the American public expects to be able to follow a vital news event about their government in the digital age."
Some of these protocols—like limiting coverage of the actual transfer of articles from the House to the Senate—have already taken effect, to the chagrin of reporters and laymen alike seeking transparency.
The suppression of the press over the course of this process looks to be taking an even darker turn.