E. Jean Carroll, the writer who accused former President Donald Trump of raping her in a New York department store in the mid-1990s, testified at a civil trial for her lawsuit on Wednesday. In her testimony, Carroll stated that she was seeking justice after Trump lied and ruined her reputation.
Carroll took the witness stand in Manhattan federal court after Judge Lewis Kaplan warned Trump's lawyer about the former President's new social media posts, which attacked Carroll's credibility.
The trial is taking place in Manhattan federal court, where Judge Lewis Kaplan warned Trump's lawyer about the former president's new social media posts that attacked Carroll's credibility. Trump's posts included issues that Judge Kaplan had warned the parties in the trial not to mention to jurors.
One of those issues was whether the dress Carroll claimed she saved from the day Trump assaulted her contained DNA material that could link him or rule him out as the source of that genetic material.
The other issue was whether Carroll's lawsuit against Trump was funded, in part, by Reid Hoffman, the LinkedIn co-founder, and a major Democratic donor, and whether Trump's lawyers would be allowed to argue that Carroll and her attorneys hid that fact for months.
You can see Trump's posts below.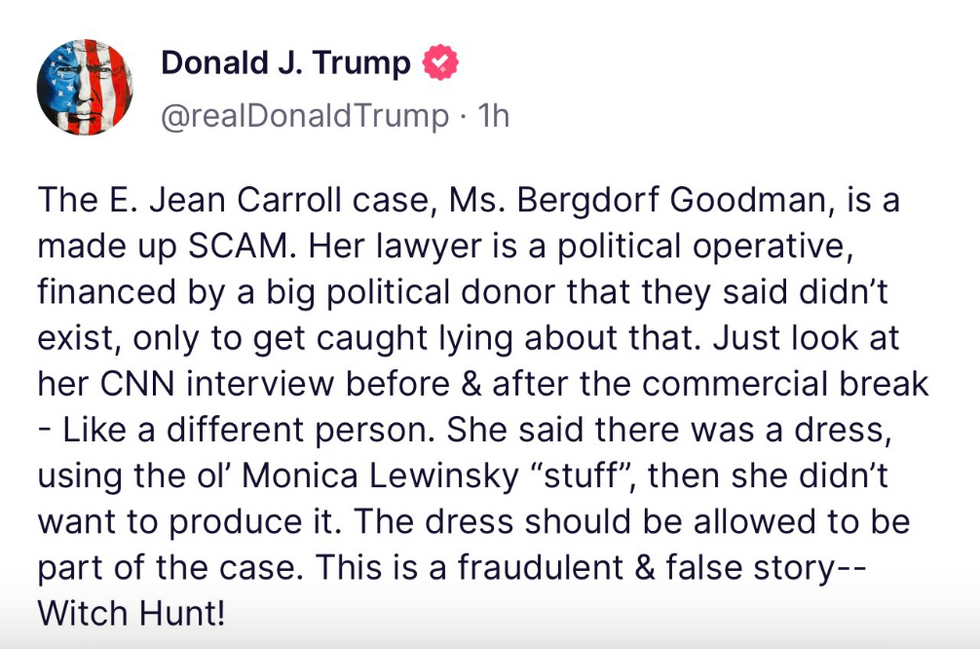 @realDonaldTrump/Twitter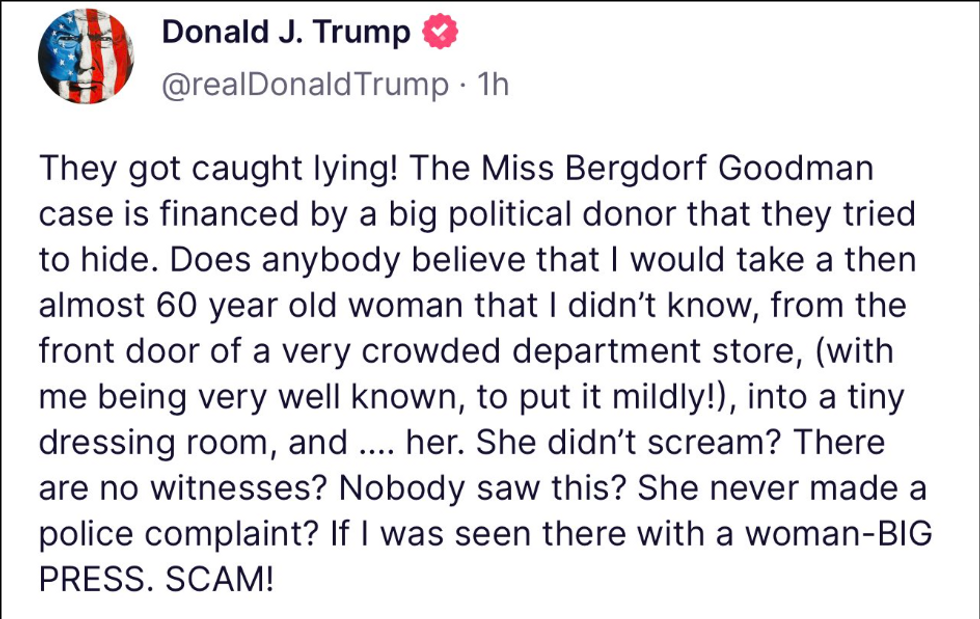 @realDonaldTrump/Twitter
Trump and his legal team were warned by the judge about further legal peril the social media posts may pose for Trump.

People were hardly surprised at the former president's behavior.
Prior to the release of her book What Do We Need Men For?: A Modest Proposal, Carroll wrote in New York that Trump had sexually assaulted her in the fall of 1995 or the spring of 1996 in the Bergdorf Goodman department store in New York City.

Trump has denied he raped Carroll, saying she wasn't his "type." But during the deposition in October 2022, Trump was shown a 1987 photo that featured him, Carroll and her husband, and his then-wife Ivana Trump and told prosecutors, "It's Marla," referring to his ex-wife Marla Maples, whom he didn't marry until 1993.
The transcripts also showed that Trump insulted Carroll more than once, referring to her as "a nutjob" and calling her "mentally unwell." He accused her of only accusing him of rape so she could sell her "crummy book."
Carroll sued Trump for defamation and under the Adult Survivors Act, a New York state law "that creates a one-time, one-year look back window for adult sexual assault survivors who are outside the statute of limitations," according to Safe Horizon, the largest victim services nonprofit organization in the United States.
According to the transcript, Trump threatened to "sue" Carroll's lawyer Roberta Kaplan and told her he will "sue [Carroll] after this is over," which he called "the thing I really look forward to doing."