Donald Trump Jr. is once again under fire for an extremely ill-advised social media post and this one is even worse than usual.
He retweeted a post from comedian Steve McGrew consisting of a photo of a pair of underwear and a hammer with the caption "Got my Paul Pelosi Halloween costume ready."
McGrew was referencing the recent attack on Paul Pelosi, husband of Speaker of the House Nancy Pelosi, in their home in San Francisco.
Pelosi was hit in the head with a hammer and suffered a skull fracture, as well as injuries to his arms and hands. He is currently still in the hospital after surgery to repair the skull fracture, but doctors expect him to make a full recovery.
Just retweeting the already offensive post wasn't enough though. Trump Jr. had to find a way to up the ante.
He added his own caption:
"The internet remains undefeated… Also if you switch out the hammer for a red feather boa you could be Hunter Biden in an instant."
Not content with just retweeting the tasteless meme, Don Jr also shared it to Instagram.
There were certainly plenty of people laughing at his post in the comments on Instagram, but quite a few who responded were disgusted by Trump's attempt at humor at the expense of an 83 year old victim of violence—including quite a few conservatives.


your_conservative_buddy/Instagram

dsich/Instagram

chris.marciano/Instagram

jackievlv/Instagram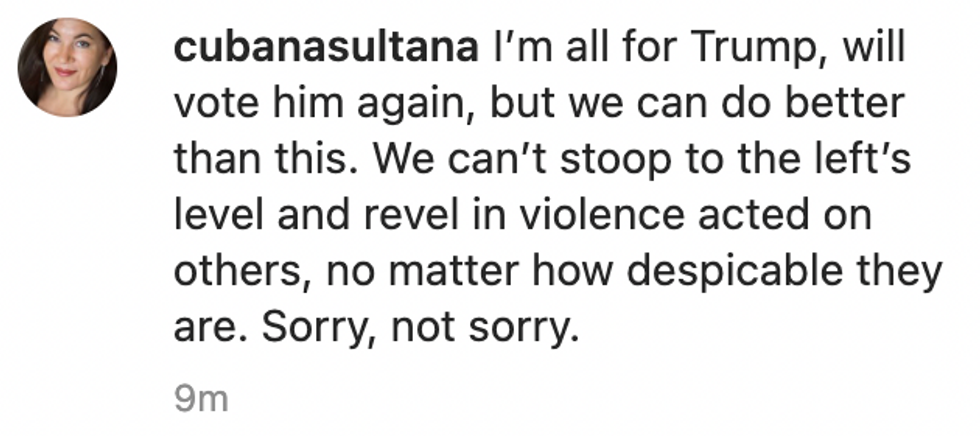 cubanasultana/Instagram

noahpwatson/Instagram
As of this writing, the Instagram post on Trump Jr.'s account has been deleted.

It's unclear if Trump Jr. or Instagram forced the deletion.
Twitter users were largely disgusted, but not surprised by Trump Jr's cruelty.
Even if Pelosi is expected to make a full recovery, joking about an 83-year-old man being attacked in his own home is still definitely tasteless—to say the least.
Trump Jr. should heed his stepmother's advice and "Be Best."