In an effort to save the political future of one of his biggest cheerleaders in Congress, former Republican President Donald Trump is going after familiar targets in Georgia.
An effort is underway in Georgia to remove Republican Representative Marjorie Taylor Greene from the ballot during the 2022 midterm election over her involvement in the January 6 insurrection.
In a statement Thursday, Trump blamed Georgia Republican Governor Brian Kemp and Republican Secretary of State Brad Raffensperger for Greene "going through Hell." Neither man has direct involvement in the effort to block Greene from being on the 2022 ballot.
The lawsuit was filed by Free Speech For People, law firm Emery Celli Brinckerhoff Abady Ward & Maazel LLP and Georgia-based civil rights lawyer Bryan L. Sells. Free Speech For People also filed a similar lawsuit with 11 North Carolina voters hoping to keep Republican Representative Madison Cawthorn off the 2022 ballot.
On Tuesday, federal Judge Amy Totenberg allowed the legal challenge attempting to disqualify Greene from running for Congress to go forward.
In response, Trump's surrogate Twitter account—Liz Harrington—shared a memo from Trump.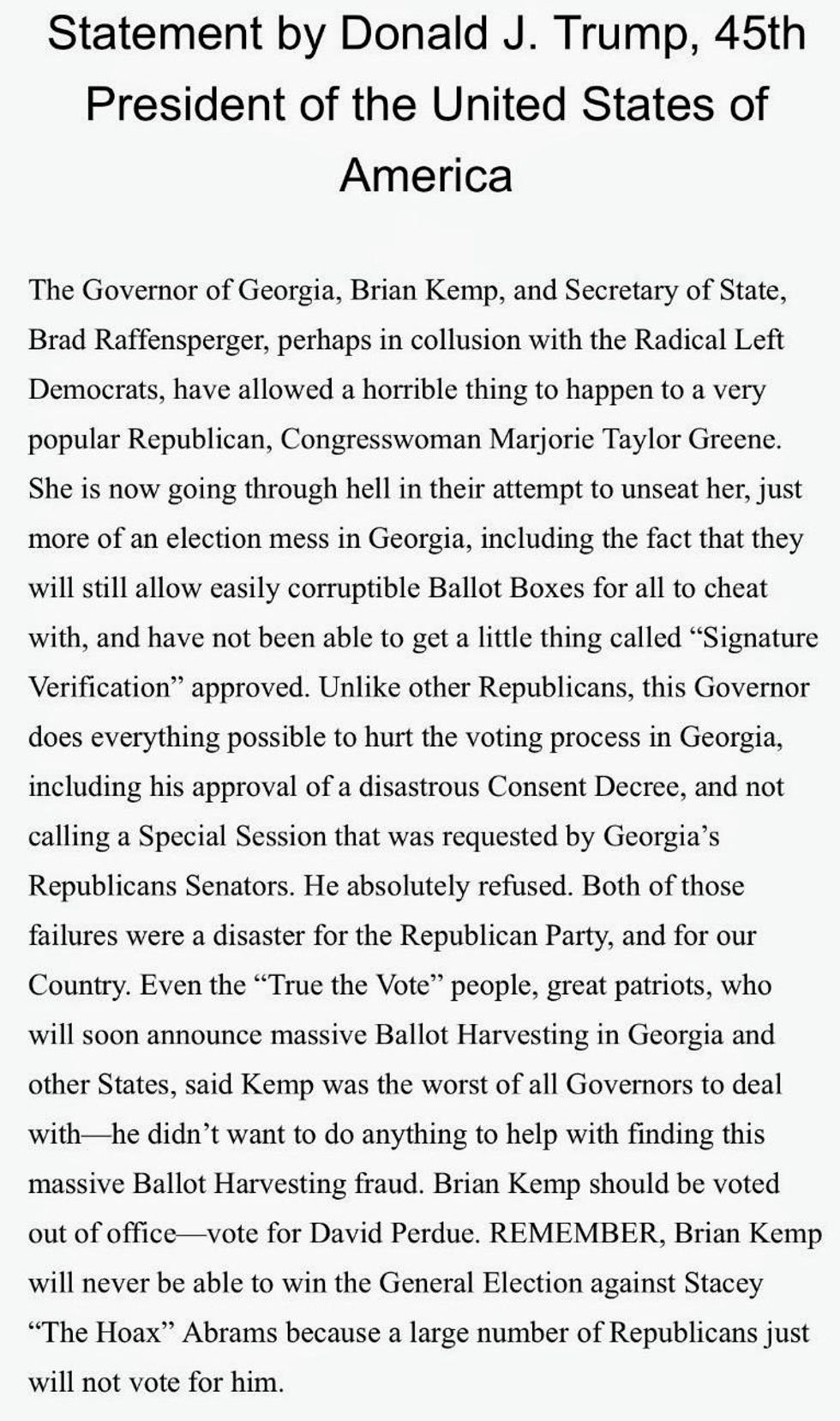 @realLizUSA/Twitter
In it, Trump—or a member of his staff—wrote:
"The Governor of Georgia, Brian Kemp, and Secretary of State, Brad Raffensperger, perhaps in collusion with the Radical Left Democrats, have allowed a horrible thing to happen to a very popular Republican, Congresswoman Marjorie Taylor Greene."
"She is now going through hell in their attempt to unseat her, just more of an election mess in Georgia..."
From there, Trump veered off topic to air his own grievances—most of which revolve around his disproven and unsubstantiated claims about voter fraud in the 2020 election he lost, but that Greene won.
While Greene and several other Republicans elected in 2020 claim the election was "stolen" or "fraudulent," none refused to take office despite the "rigged election" that put them in Congress.
Trump culminated his rant with a call to vote for Republican gubernatorial candidate David Perdue over Kemp because Kemp "will never be able to win the General Election against Stacey 'The Hoax' Abrams."
Despite his pleas, Greene found little sympathy—and Trump little support—online.
The legal filing against Greene points to section three of the 14th Amendment.

It states no Member of Congress, who has taken the oath of office, "shall have engaged in insurrection or rebellion" against the United States.
The lawsuit claims official statements from Greene—such as below—incited or endorsed the seditious actions taken on January 6, 2021.
In addition to official statements, the lawsuit cites a January 5 appearance by Greene on Newsmax, meetings she reportedly held with insurrectionists and her repeated reference to "1776."