The woman largely credited with Donald Trump's rise in visibility and success in the 1980s died on July 14, 2022.
Ivana—Trump's first wife and the mother of Donald Jr., Ivanka and Eric Trump—was found dead in her Manhattan, New York City home after suffering blunt force trauma to the abdomen. The medical examiner's report listed the death as accidental.
Trump took to his Truth Social media platform to announce his former business partner's death. Ivana Trump held managerial positions in The Trump Organization as Vice President of interior design, as CEO and President of Trump's Castle casino resort and as manager of the Plaza Hotel.
The former Republican POTUS posted:
"I am very saddened to inform all of those that loved her, of which there are many, that Ivana Trump has passed away at her home in New York City."
"She was a wonderful, beautiful, and amazing woman, who led a great and inspirational life. Her pride and joy were her three children, Donald Jr., Ivanka, and Eric. She was so proud of them, as we were all so proud of her."
"Rest In Peace, Ivana!"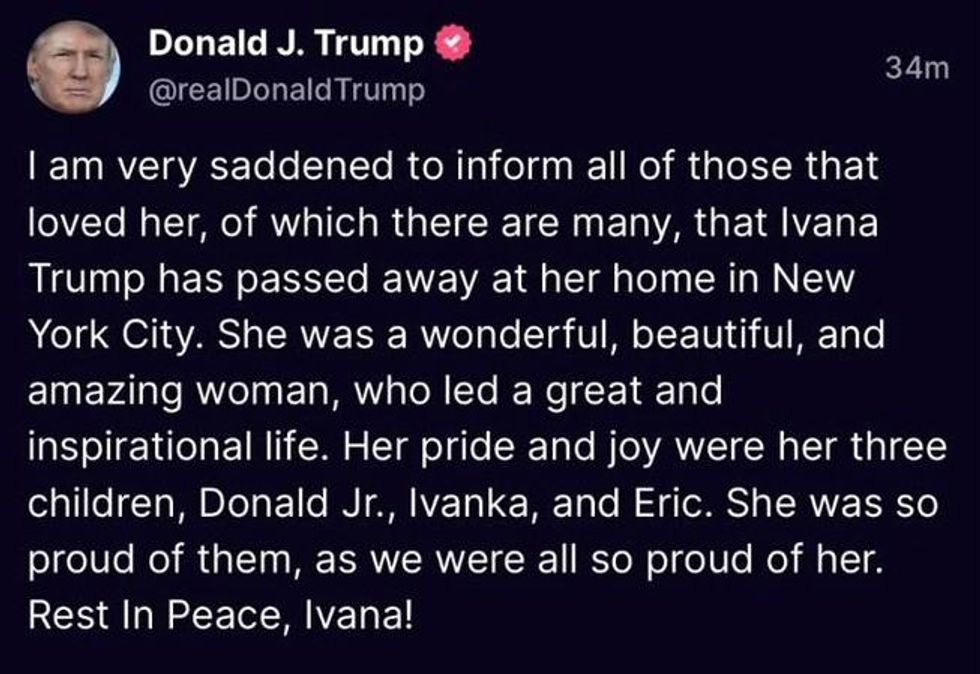 @realDonaldTrump/Truth Social
But people soon saw Trump's tribute used in another capacity.
Fundraising emails from Trump's Save America PAC included a screenshot of the Truth Social post.
Just above the donation button.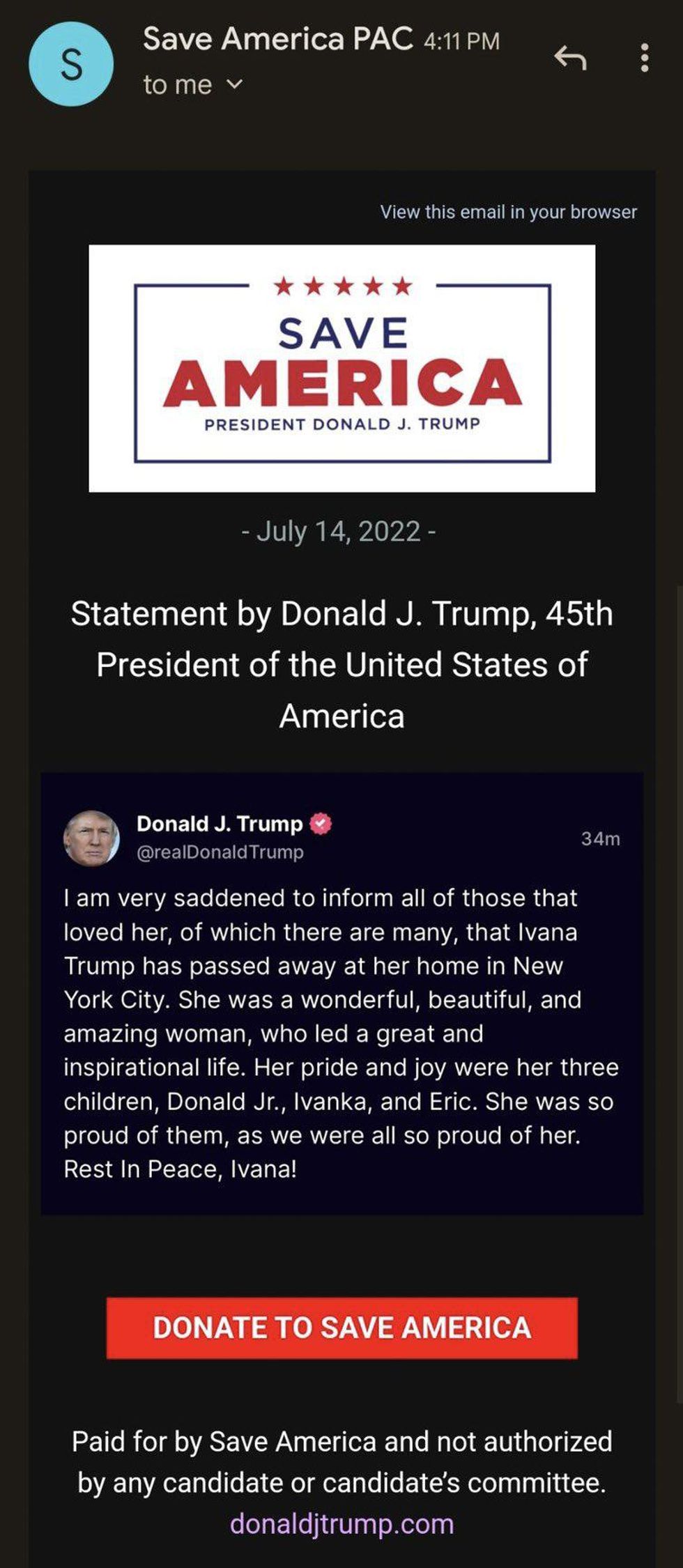 SAVE AMERICA PAC
People called out the callousness.
However few people were surprised.
Ivana Zelníčková was born in the Soviet controlled Czechoslovak Socialist Republic in what is now the Czech Republic. Her skiing ability allowed her to travel extensively outside the Communist bloc.
In 1971 she married an Austrian ski instructor and friend to be able to leave the communist country without defection, then divorced him and emigrated to Canada in 1973 where she worked as a model and ski instructor while taking classes to learn English.
On a modeling job in New York City in 1976, Ivana met Donald Trump. They were married in April 1977 and their first child—Donald Jr.—was born in December of that year. Many Trump biographers credit Ivana with elevating the couple in Manhattan society until the media took notice of them.
Throughout the 1980s, the couple's carefully cultivated public persona made the family minor celebrities.
Ivana worked on the Trump Tower on Fifth Avenue in Manhattan, the renovation of the Grand Hyatt Hotel in New York City and the construction of the Trump Taj Mahal Casino Resort in Atlantic City, New Jersey.
After their divorce, Donald Trump struggled in business and with garnering the same positive press he enjoyed with Ivana until Mark Burnett rehabilitated his image for The Apprentice.