Donald Trump took to twitter this morning in an attempt to refute Meryl Streep's denunciations, leveled during an emotional acceptance speech at last night's Golden Globe Awards. Without once mentioning his name, Streep nonetheless had portrayed Trump as a bully who uses his position of power and capacity to humiliate and disrespect others.
"Τhis instinct to humiliate, when it's modeled by someone in the public platform, by someone powerful, it filters down into everybody's life, because it kinda gives permission for other people to do the same thing," she stated.
---
Trump's response, given to the New York Times and on Twitter this morning, came without sign of remorse, nor did it offer any new insight on the incident when he mocked a disabled New York Times reporter earlier last year.  Indeed, in three consecutive tweets, he rejected that he ever tried to make fun of the disabled journalist: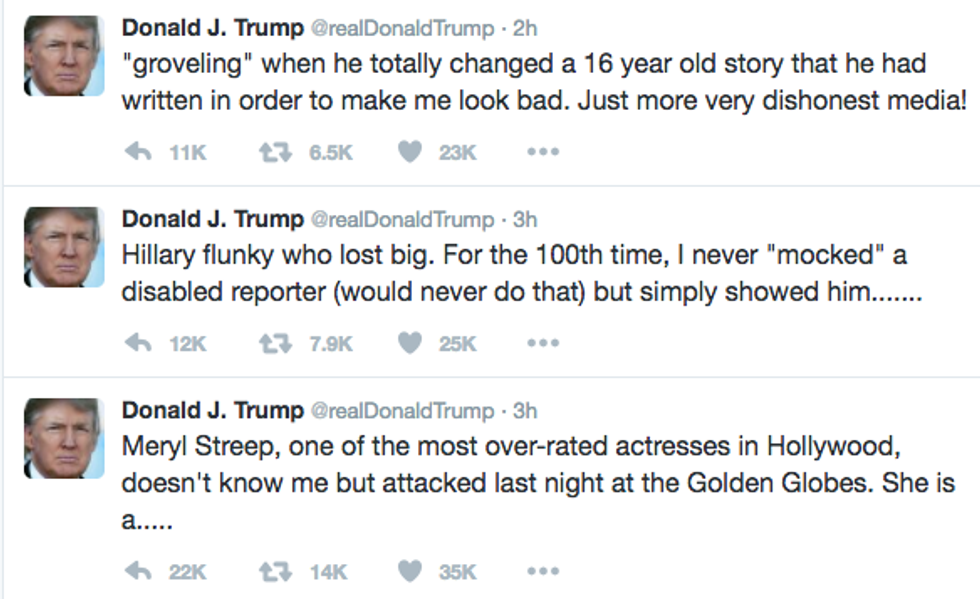 Before tweeting, President-elect Trump during an interview with the New York Times pushed back against the allegations that he had mocked the reporter's disability. "I did no such thing," he firmly reiterated. Trump further tried to present himself as a victim under attack from the "liberal movie people." Trump also took the opportunity to unleash yet another attack on the "dishonest media"- as he calls them.
Streep used her remarks to send a strong message to the national as well as foreign media representatives to "hold power to account" and she urged support for the Committee to Protect Journalists.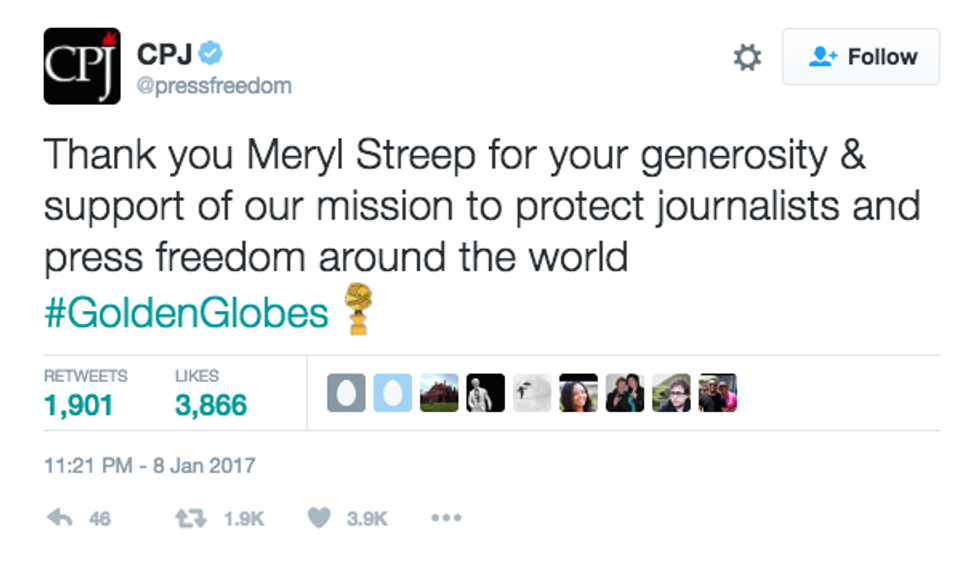 Streep has been very public in her support of Hillary Clinton. Earlier last year she appeared on the stage of the Democratic National Convention to give a tribute to Clinton, something the actress has done on many different occasions. Trump suggested that Streep's ideological and political inclinations motivated her attack on him, calling her a "Hillary flunky who lost big."
President-elect Trump remains fixated on how to impress his Hollywood critics in the coming days leading up to his inauguration. He expressed his confidence that "we are going to have an unbelievable, perhaps record-setting turnout for the inauguration, and there will be plenty of movie and entertainment stars." As a sign of how well things are going, at least to him, Trump mentioned that "all the dress shops are sold out in Washington. It's hard to find a great dress for this inauguration."