[DIGEST: The Washington Post, FiveThirtyEight, The National Review]
The black vote. The college-educated white vote. The Hispanic vote. Polls show Donald Trump trailing badly in all these groups. But the biggest shift has been among Catholics.
---
A recent poll from the Public Opinion Research Institute showed Trump down 23 points among Catholics compared to Hillary Clinton. A Washington Post-ABC News Poll put the margin slightly wider, giving Clinton a 27-point lead.
This breakout lead for the Democratic candidate marks a switch from the 2012 election. According to the Washington Post-ABC News Poll, there has been a 25-point shift in Catholics who voted for Romney last presidential election versus those who intend to vote for Trump this year. This ties for the biggest change in any demographic group. (The other biggest change is among white, college-educated women. Mitt Romney won that group by 6 points. Trump is currently polling down by 19 points among them.)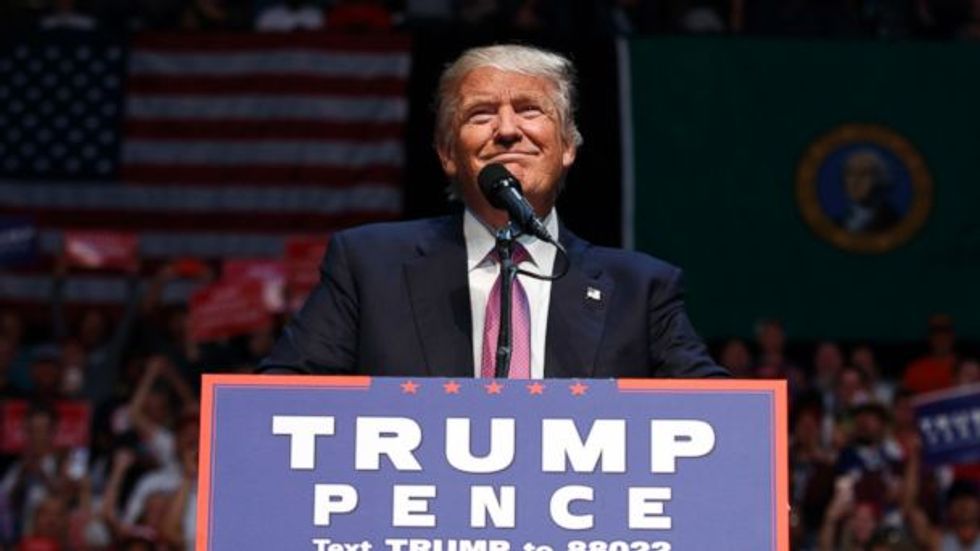 Credit: Source.
Catholics comprise about 25 percent of voters in the United States—rivaling other voting blocs such as non-white voters (28 percent) and independents (29 percent). They have long been a swing vote in presidential elections, going for the Republican candidate in five of the last eleven contests. While Romney lost the Catholic vote in 2012, he lost it by a small margin—50 percent to 48 percent.
Why the massive shift?
The large percentage of Catholics who are also Hispanic may be a factor. Hispanics historically tend to vote Democratic. However, the shift is seen with white Catholics as well.  
Perhaps the exodus away from Trump is not surprising given his attack on Pope Francis earlier this year. Asked about Trump's views on immigration, Pope Francis indicated that "A
person who thinks only about building walls, wherever they may be, and not building bridges, is not Christian," he said. Trump quickly fired back by saying for "a religious leader to question a person's faith is disgraceful." He continued: "If and when the Vatican is attacked by ISIS . . . I can promise you that the Pope would have only wished and prayed that Donald Trump would have been president because this would not have happened."
Remarks by Steve Bannon, chief executive officer of the Trump campaign, did not help to warm sentiment either. Last month, he insinuated that Catholics use Hispanic immigration as a prop for the church because "the church is dying in this country."
Trump's divisive stance on immigration may mark why Catholics are turning against him. Religion News Service's John Gehring recently wrote that "Part of Catholics' DNA is an appreciation for how Irish and other immigrants toiled and thrived in the shadow of a suspicious, fiercely anti-Catholic culture dominated by white Anglo-Saxon Protestants. . . . When Trump calls for a religious test for Muslims entering the country; questions the faith of Hillary Clinton, President Obama and Mitt Romney; and demonizes undocumented immigrants as 'rapists,' it's a reminder of the ugly nativism that Catholics once faced."
The exodus is not due to an underlying love for Clinton. Catholics who attend church regularly and support Clinton consider her a less appealing choice than they did Barack Obama, according to a Pew Research Center poll. However, some have speculated that Clinton has done better among Catholics than Trump because Catholic school graduates were often taught by nuns, making them more comfortable with women in positions of authority.
Can Trump reverse the tide? Conservative commentators hold out hope, arguing that Trump needs to bolster his rhetoric on protecting life, religious liberty and the treatment of immigrants.
According to Gehring, however, "Trump has dug himself a deep hole he is unlikely to climb out of with these voters."