[Digest, June 1, 2014, Hollywood Reporter, HitFix]
In a Hollywood Reporter exclusive, Tilda Swinton is reportedly in negotiations to play the Ancient One in Marvel Cinema's upcoming feature film, Doctor Strange. The Ancient One is a 500-year-old fictional Tibetan sorcerer from Marvel comics, a role that at first blush seems suitable for Ms. Swinton's unorthodox career.
---
Swinton's diverse acting resume showcases unique roles such as Moonrise Kingdom, Snowpiercer, The Grand Budapest Hotel and The Lion, The Witch, and the Wardrobe franchise to name a few. In 2008, Swinton won an Academy Award for her role in Michael Crowder. 
Many fans are ecstatic about Marvel's decision to cast a woman for this role, which was originally envisaged as a man, while others are arguing that the choice of a white actor for a traditionally Asian character is a blow to diversity and equality in Hollywood. The internet has been abuzz both with praise over Swinton's casting and anger over Hollywood's continued underrepresentation of minorities, including Asian actors.

@joeybraccino via Twitter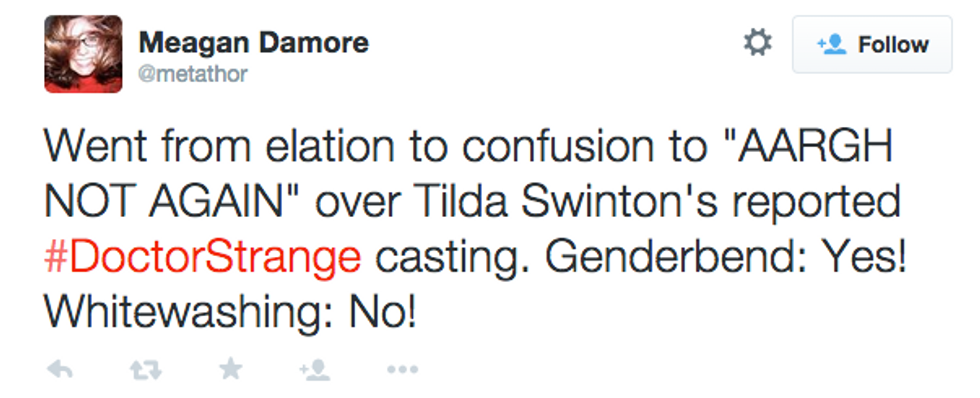 @metathor via Twitter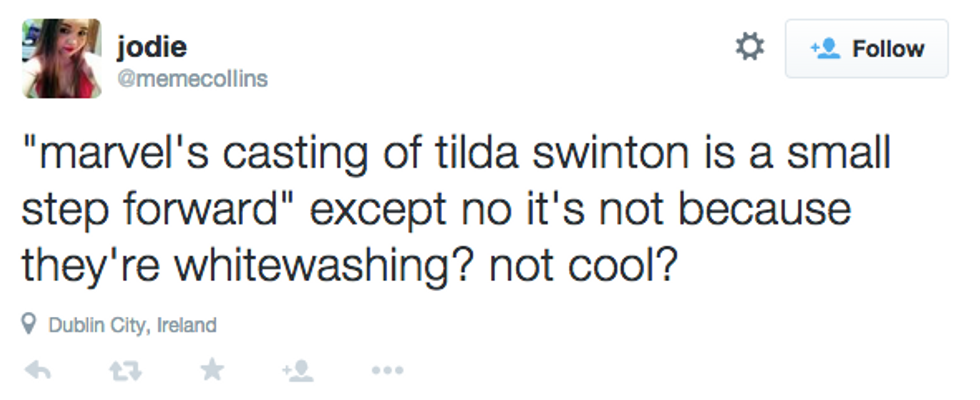 @memecollins via Twitter
Many argue that Marvel Studios should be praised for going the gender-bending route for more female representation. Others argue that diversity is undermined when white actors are cast in roles originally written as an ethnic character.
The removal of cultural origins of iconic characters is hardly new in Hollywood. Some notable cases of "racebending" in movies included the film adaptations of The Last Airbender and The Lone Ranger. If the justification for casting white actors is higher expected box office hauls, then these films did not prove that; both did rather poorly in ticket sales.
Fans of Marvel Comics are not the only ones criticizing the decision of the studio giant. Online media press are also critical of the casting. Muckraker journalist "Jude Terror" posted a snarky fake quote of Marvel Studios president, Kevin Feige:
"We're excited to have made neither forward progress nor backward regression in this casting... Often, the superhero film genre feels like it's making one step forward and two steps back when it comes to responsibly handling issues of inclusion in a universe of characters that was mostly created decades ago with outdated and occasionally offensive ideas of diversity."
Some reporters, however, have defended the studio's decision, pointing out that Marvel has already made strides in casting its diverse superheroes. Graeme McMillan of the Hollywood Reporter notes the casting of Samuel L. Jackson as Nick Fury in The Avengers franchise, Jamie Foxx as Electro in The Amazing Spiderman 2, and Michael B. Jordan as Johnny Storm/Human Torch in the upcoming Fantastic Four reboot.
Despite the clamor over the casting decision of the unique Ms. Swinton, one thing is certain: The Doctor Strange comic book movie adaptation starring Swinton is certain to be unconventional and controversial.
Think Hollywood is the only industry that needs a primer on diversity and acceptance? Our public schools do too. Check out The War on Women, in One Word.