EDITOR'S NOTE: This article has been amended to reflect recent updates to the story.
Update: 4:00 PM
At about 2:30 this afternoon, Bill Cosby, 78, was escorted into a courtroom in Elkin Park, Pennsylvania by his attorneys.
---
Cosby pleaded not guilty to a charge of second degree aggravated indecent assault; a conviction for such a charge carries a sentence of 5-10 years in prison and up to a $25,000 fine.
Bail was set at $1,000,000 and Cosby was required to relinquish his passport and ordered not to have any contact with his accuser, Andrea Constand. The proceeding lasted about 10 minutes; afterward, the comedian was then taken to the Cheltenham Police department for processing.
Lawyers for Andrea Constand, the former Temple University employee who accused Cosby of the assault, tweeted a statement:
Though statutes of limitations prevent most of Cosby's accusers from seeking justice through the criminal courts, Pennsylvania's statute of limitations that would apply to Constand's assault was not set to lapse until January of 2016.
Meanwhile, investigators in Los Angeles are taking a closer look at another incident that could mean more criminal charges against Cosby. Chloe Goins claims
To read more, continue to the next page.
that Cosby drugged her and sexually assaulted her at the Playboy Mansion in 2008 when she was 18 years old.   
11:45 AM
A prosecutor in Montgomery County, Pennsylvania announced today that actor and comedian Bill Cosby has been charged with aggravated indecent assault. An arrest warrant was issued, and Cosby is expected to appear in court at his arraignment on Wednesday afternoon.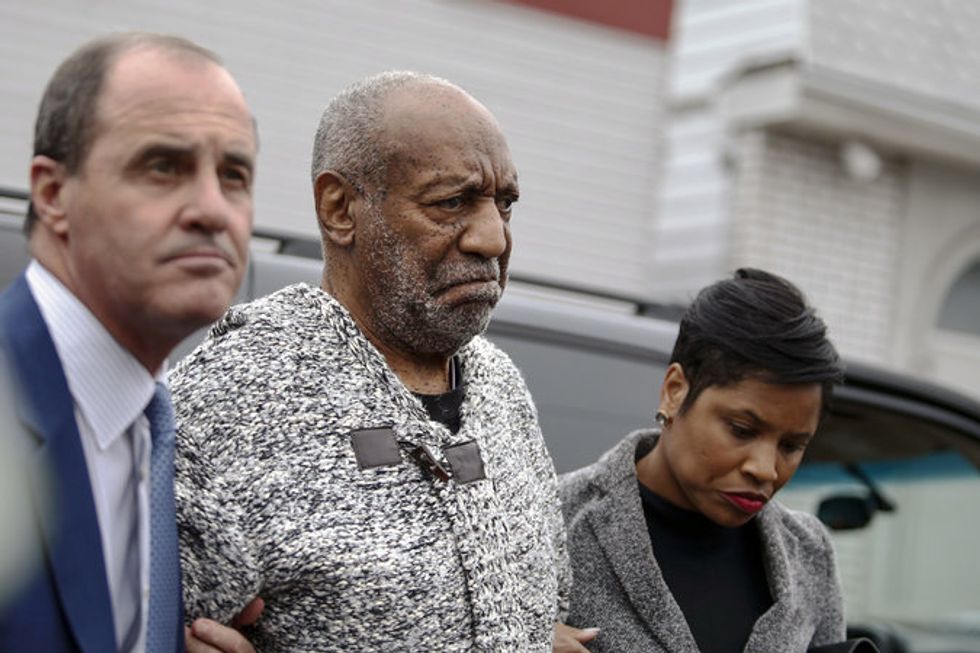 Credit: Source.
Dozens of women have accused Cosby of sexual misconduct dating back to 1965; the comedian has steadfastly denied all of the allegations.
Prosecutors say that the aggravated indecent assault charge is related to an encounter with a former employee of Temple University in 2004.  
In a press conference, Montgomery County prosecutor Kevin Steele told reporters that they had made the decision to charge Cosby after revisiting the evidence from the incident in 2004 in which Cosby, allegedly, 
urged his victim to take pills and consume alcohol at his home near Philadelphia. After the drugs took effect, and the woman could not move, Cosby sexually assaulted her.
Cosby has admitted, under oath, that he had what he describes as consensual sexual contact with the woman.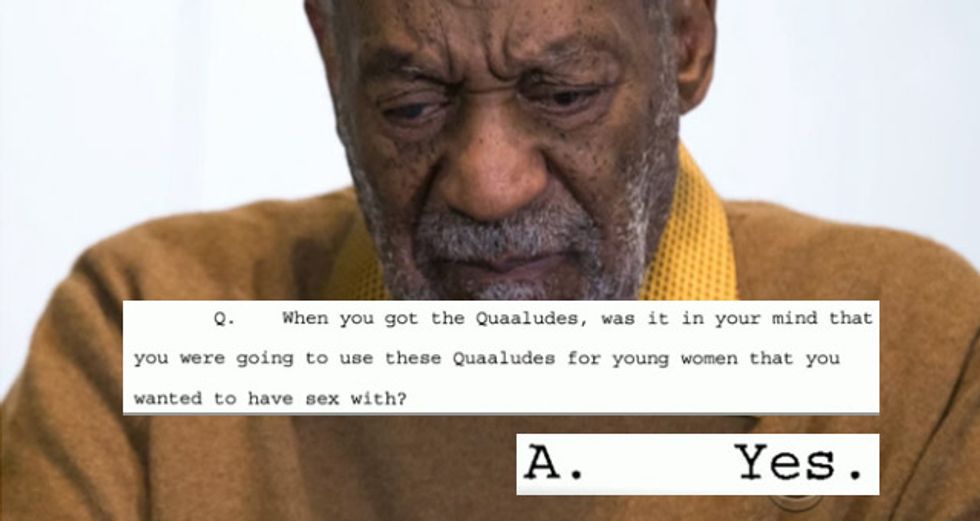 Credit: Source.
The victim brought a civil suit against Cosby and, according to Steele, depositions in that case led to the sexual assault charge. In the depositions, Cosby admitted to procuring prescription strength Quaaludes to administer to women in order to have sex with them. After reviewing the depositions, Steele told reporters that "reopening this case was not a question, rather it was our duty."
The victim's name has not been released, but the allegations appear to align with those made by Andrea Constand. Constand, a former Temple University employee, accused Cosby of sexually assaulting her in January of 2004.
Constand brought a civil case against Cosby related to the alleged assault which was settled in 2006. The longer 12-year statute of limitations for filing criminal charges in a sexual assault case in Pennsylvania will lapse in early 2016.