On January 23, just days after stepping into his new role, Trump, surrounded by a cadre of somber-suited men, issued a presidential memorandum reinstating and significantly broadening a policy that eliminates funding to organizations providing, advising or educating about abortions.
Trump's memorandum significantly broadens the scope of the rule
The Mexico City policy, also known as the global gag rule, has been alternatingly repealed and reinstated with each administration, Trump's memorandum expands its scope far beyond previous iterations.
---
---
Previously, the policy has been aimed at family-planning organizations that receive funding from the Agency for International Development (USAID) and the State Department. Under Trump's memorandum, he directed the Secretary of State "to implement a plan to extend the requirements of the reinstated Memorandum to global health assistance furnished by all departments or agencies."
According to the Kaiser Family Foundation, a nonprofit focused on health issues, the new rule would therefore cover money coming from the Centers for Disease Control and Prevention, the Department of Health and Human Services, the National Institute of Health, the Food and Drug Administration, and even the Peace Corps.
This means that not just family-planning organizations, but also organizations primarily responding to HIV/AIDS, malaria, tuberculosis, or other diseases, could risk losing funding.
Credit: Source.
"It is not only [creating a] chilling effect on family planning," said Dr. Mengistu Asnake, the Ethiopia country representative for Pathfinder International, an international family planning organizations. "It will create a chilling effect on every health program."
According to Suzanne Ehlers, president and CEO of the global reproductive health organization PAI, formerly known as Population Action International, this expansion to all global health funding means a $9.5 billion impact on U.S. foreign aid rather than $600 million.
"It wasn't unexpected that they would reinstate the global gag rule," said Geeta Rao Gupta, a senior fellow at the United Nations Foundation, "but the dramatic expansion of the scope of it is truly shocking."
"This is really an extreme order," confirmed Lori Adelman, director of global communications at Planned Parenthood. "It is more extreme than under any other Republican administration."
Clinics face a tough choice
For those organizations that receive aid, they now find themselves in a difficult situation: Do they abide by a policy they don't believe in, or risk closing?
Marie Stopes International, an organization that provides family-planning and abortion services internationally, said it would not agree to the policy because "it violates our core belief in individual choice."
---
Gupta believes many other organizations will follow suit. "Just knowing the organizations we work with, whose mission is overall health, I can't imagine they would accept a foreign government's requirement that is so broad."
Even if organizations do abide by the memorandum, and agree to avoid discussing abortion in any manner, they will still be impacted.
Many clinics, especially in rural areas, do not have stand-alone family planning clinics. Rather, one clinic will offer everything from birth control to immunizations. Imputing a bureaucratic requirement on these clinics, even if the patients are not seeking family planning services, creates uncertainty, which "has its own set of consequences and impacts," said Ehlers. Added rules and regulations also means added personnel to oversee—which costs money that could be going to these clinics.
"That's the anxiety in the community," said Gupta, "that all our partners are going to be decimated through this, and this work we have all put into reducing illness, death and disease over the past two or three decades is going to be undone."
---
This anxiety is not unfounded. Under previous iterations of the rule, there have been large-scale closures and consolidations of clinics.  A 2005 study, conducted during George W. Bush's administration, found that the loss of funding also greatly curtailed contraceptive counseling and provision, condom distribution, HIV testing and the availability of contraceptive supplies.
Said Adelman of Planned Parenthood, "We know, based on what we have seen [in] over 40 years of global work, that this will mean thousands of global health organizations will shut down, including ones that deal with Zika, HIV and maternal health."
"It is not an exaggeration to call this catastrophic."
"Illness, death and disease"
One particular concern to certain advocates is the expansion of the policy to organizations working to treat and prevent HIV/AIDS.
When President George W. Bush reinstated the policy, he specifically exempted the President's Emergency Plan for AIDS Relief (PEPFAR). "It would have been impossible to treat HIV/AIDS in the developing world as the emergency that PEPFAR said it was if the global gag rule were to be applied to the thousands of organizations with which those of us involved in PEPFAR would be working," said Scott Evertz, who served as director of the White House Office of National AIDS Policy under George W. Bush.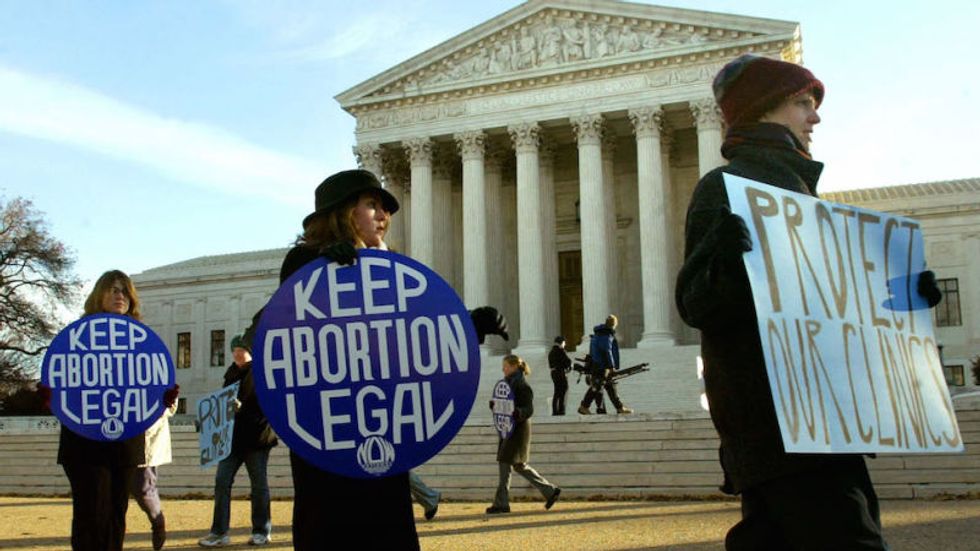 Credit: Source.
Evertz cited to the inevitable bureaucratic tangle of sorting through a process in which clinics had to certify that they had never referred a patient to an abortion provider—or even mentioned the possibility of abortion. "The notion of applying the global gag rule to them would have made it impossible to implement the program."
"I would not necessarily be surprised if [the policy] were a reaction to the women's marches," continued Evertz. "Although applying the global gag rule to PEPFAR's programs ill-affects millions of men as well."
The expansion of the rule extends beyond just PEPFAR's programs, too, and will encompass clinics that treat malaria, rubella, and other diseases.
Abortions will likely increase
Trump, and Republican presidents before him, have reinstated the global gag rule to send a message. As the anti-abortion group Susan B. Anthony List said, the reinstatement "sends a strong signal about [the Trump] Administration's pro-life priorities."
---
Republican representative Diane Black of Tennessee called the restriction "compassionate," saying that Trump is beginning to "make good on his promises to the millions of pro-life Americans that helped him ascend to this office."
But despite the pro-life support, there is no evidence that the global gag rule reduces abortions. If anything, the order could actually increase abortions.
A 2011 Stanford University study, published in the bulletin of the World Health Organization, looked at the effects of the rule in sub-Saharan Africa after President George W. Bush reinstated it. It found that the "Mexico City Policy is associated with increases in abortion rates in sub-Saharan African countries," possibly due to reduced access to contraception leading to increased unintended pregnancies.
The Center for Health and Gender Equity projected that the gag rule would contribute to at least 6.5 million unintended pregnancies, due to clinics no longer being able to provide birth control. This in turn would lead to a projected 2.1 million unsafe abortions. Deaths due to unsafe abortion make up nearly 13 percent of all maternal deaths globally.   
---
Marie Stopes International estimated that the global gag rule would deprive about 1.5 million women a year of access to reproductive choices through their organizations alone. "Not only will this be devastating for women individually, defunding family planning will also hamper wider development efforts."
These development efforts might include important gender-justice concerns. Reproductive freedom has an impact on a woman's ability to start or end a relationship, pursue education and job training, or provide for her family. The global gag rule takes away that freedom.
The international reaction
Organizations and governments from around the world reacted to Trump's reinstatement, mainly with regret and sadness.  
The organization Refugees International, in a statement joined by over 140 organizations including Amnesty International, the Global Health Council, and Human Rights Campaign, widely criticized the move. "The policy interferes with the doctor-patient relationship by restricting medical information healthcare providers may offer, limits free speech by prohibiting local citizens from participating in public policy debates, and impedes women's access to family planning by cutting off funding for many of the most experienced health care providers who chose to prioritize quality reproductive-health services and counseling over funding that restricts care and censors information."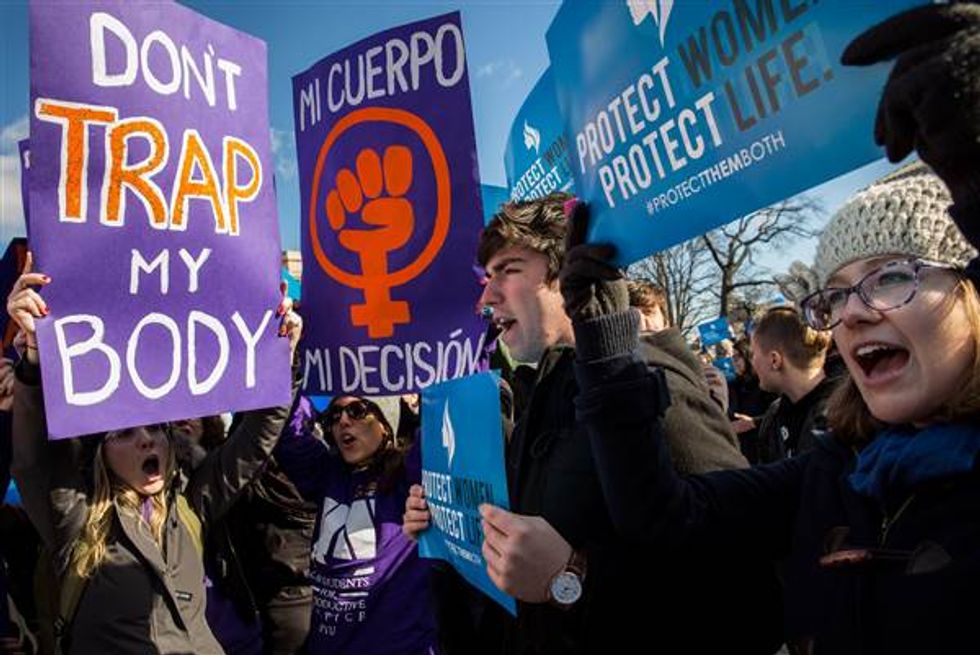 Credit: Source.
The Netherlands has said that it will try to mitigate the impact of the global gag rule by creating an international safe abortion fund. Eight countries--including Sweden, Denmark, Belgium and Canada--have officially lent their support to this initiative. As many as 20 countries have indicated support for the plan. Yet even if they reach their ambitious goal of covering the $600 million at stake under the previous iteration of the rule, it would not begin to cover the over $9 billion thought to be at stake under this rule.
Lilianne Ploumen, minister of foreign trade and development cooperation in the Netherlands, has established an organization called She Decides to raise money for aid groups whose funding may be at risk. "It's important to stand our ground," said Ploumen. "We respect the decisions of a democratically elected president, but we're democratically elected too and we can make different decisions. This is also about millions of women and girls who often have no voice or live in countries where democracy is less deeply rooted, and when they speak up they need our support."
Reactions closer to home
Initial Democratic reaction to the gag rule was sharp and fierce. House Minority Leader Nancy Pelosi said that the order "returns us to [a] disgraceful era that dishonored the American values of free speech and inflicted untold suffering on millions of women around the world."
Florida Representative Lois Frankel tweeted "It's a new year, new Congress, new Administration, but [Republicans] are taking us back to a dangerous past."
But with the other policies and orders coming out of the Trump administration, furor has died down.
Maybe it's time to stir it back up.
---