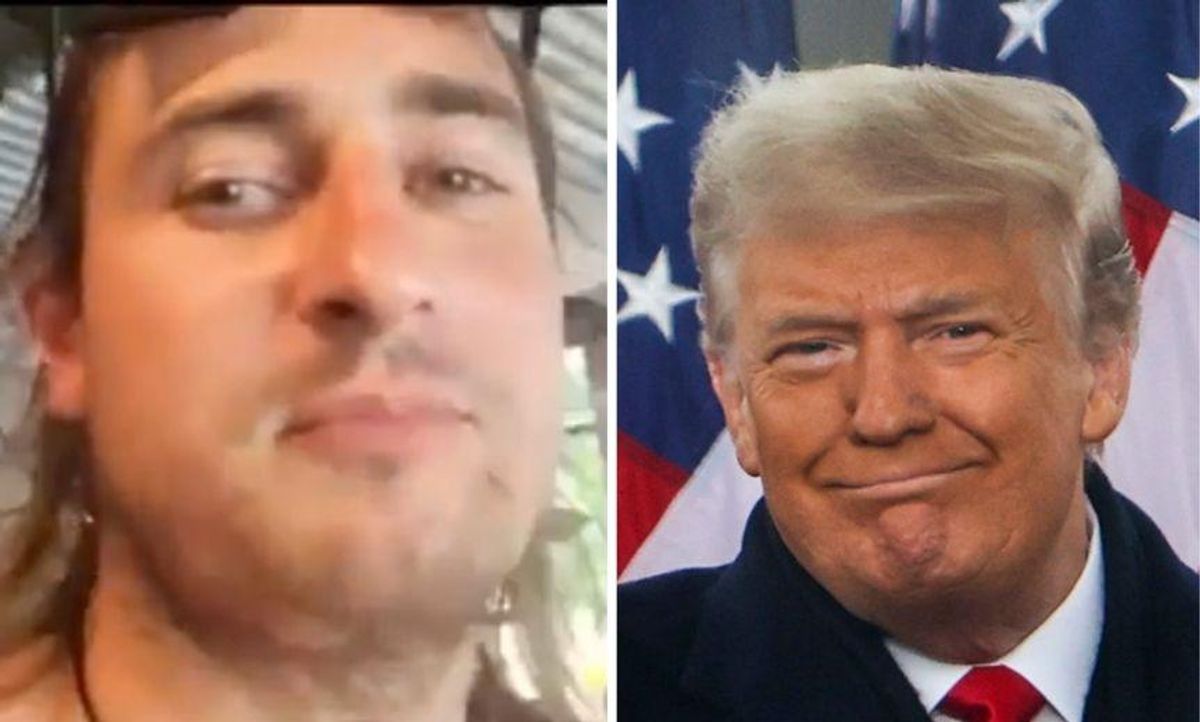 @JanNWolfe/Twitter // Tasos Katopodis/Getty Images
In the months since former President Donald Trump's lies about the 2020 election prompted a mob of his extremist supporters to storm the United States Capitol on January 6, federal law enforcement officials have made hundreds of arrests.
Before January 20—when President Joe Biden took office—many of these rioters implored Trump to pardon them. Others have invoked the former President in their defense, claiming his disinformation campaign deceived them into taking part in the deadly failed insurrection.
Now, one rioter—right wing YouTuber Zvonimir Jurlina—is demanding Trump pay his legal fees.
Watch below.
Jurlina says in the video:
"I am a political prisoner. ... I can't get into any trouble. I can't do nothing bad. I can't do no drugs, no drinking to excess. I can't get into altercations with people. So, I'm a real American patriot. I would like to say, Donald Trump, please pay for my legal fees because this all happened because of you. Okay? How about that? And I did nothing wrong. Let's go. Let's go, I did nothing wrong."

Jurlina is facing charges for Destruction of Property in Special Maritime and Territorial Jurisdiction and Aiding and Abetting, as well as an Act of Physical Violence on Grounds. He was seen destroying media equipment on the grounds of the Capitol and recorded saying, "I guess we should loot now, right?"
People weren't sympathetic to his plea.
People also reminded him that Trump has a track record of not paying his own bills, including his legal fees.
During the 2016 campaign, Trump promised to pay the legal fees of any supporter who "knocked the crap" out of protesters at his rallies.