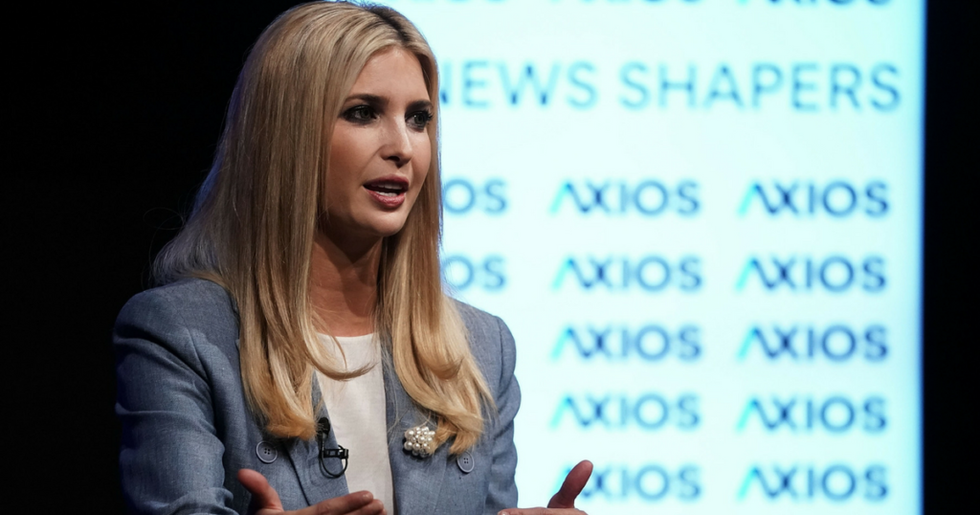 WASHINGTON, DC - AUGUST 02: Ivanka Trump, White House adviser and daughter of President Donald Trump, speaks during an Axios360 News Shapers event August 2, 2018 at the Newseum in Washington, DC. Axios held the event to discuss workforce development and 'news of the day.' (Photo by Alex Wong/Getty Images)
Last week, First Daughter and presidential advisor Ivanka Trump gave an interview with Axios in which she expressed her opposition to her father's policy of separating migrant families at the U.S.-Mexican border.
USA Today opinion columnist Raul Reyes tore apart Trump's feigned dissent in a brutal Op-Ed on Monday, saying Trump's failure to pressure President Donald Trump to end the "zero tolerance" policy "reveals her as a profile in cowardice."
.@usatodayopinion: Ivanka Trump's empty words on immigration prove she's a coward. https://t.co/tYYDDWJz2O

— USA TODAY (@USA TODAY) 1533559873.0
"I felt very strongly about that, and I am veryvehemently against family separation and the separation of parents and children," Trump told Axios last Thursday. "I think immigration is incredibly complex as a topic, illegal immigration is incredibly complicated."
Ivanka Trump on family separation: "I am very vehemently against family separation and the separation of parents an… https://t.co/sjJmItyU8X

— Axios (@Axios) 1533218818.0
Yes, we know, Reyes wrote, because beginning in May, all undocumented immigrants, including asylum-seekers, would be criminally prosecuted for attempting to enter the United States. This resulted in thousands of families getting ripped apart, and despite court orders to reunite children with their parents, there are still hundreds of kids still waiting to be given back to their parents.
@USATODAY @usatodayopinion Ivanka doesn't care. Melania was probably borrowing Ivanka's "I don't give a fuck" jack… https://t.co/l8S69wOfzx

— Elizabeth (@Elizabeth) 1533561858.0
Reyes said Trump referring to family separation as a "low point" for herself shows how "tone deaf" she is. "Vulnerable children have been irreparably traumatized, wrenched away from their moms and dads, placed in cages under nightmarish conditions … and it was hard for Ivanka?" Reyes asked.
This tone deafness was amplified in two Twitters posts - one in May, when Trump posted a picture of herself and her son, and in June when Trump thanked her father for issuing an executive order ending family separation.
My ♥️! #SundayMorning https://t.co/CN5iXutE5Q

— Ivanka Trump (@Ivanka Trump) 1527437307.0
Thank you @POTUS for taking critical action ending family separation at our border. Congress must now act + find a… https://t.co/U4o4mVh75r

— Ivanka Trump (@Ivanka Trump) 1529522938.0
The problem with this, Reyes opined, is that Trump thanked the president for ending a policy he unilaterally started.
In her Axios interview, Trump said: "We have to be very careful about incentivizing behavior that puts children at risk of being trafficked, at risk of entering this country with coyotes, or making an incredibly dangerous journey alone."
@USATODAY @usatodayopinion It's amazing... So many people keep looking to Ivanka to provide some glimmer of moralit… https://t.co/6qOkNHFWfY

— Greg Mic🌊 (@Greg Mic🌊) 1533561034.0
Reyes points out that these comments veer "awfully close to blaming migrant parents for family separation." He added that the "boogeyman" is not asylum-seeking immigrants and their children, but rather "a president who has no compassion for Central Americans fleeing for their lives."
Reyes then blasted Trump for not using her "unique position of influence" within her father's inner orbit to match her words.
@USATODAY @usatodayopinion Mob princess nothing more....

— Sherry Chaffin🧢 (@Sherry Chaffin🧢) 1533565740.0
"These are not easy issues," Ivanka Trump said. "These are incredibly difficult issues and like the rest of the country, I experienced them in a very emotional way."
@USATODAY @usatodayopinion Ivanka is no better than her daddy-All lies-cheats-grifters-conspiraist& robbing America broke

— DIANA PARKS (@DIANA PARKS) 1533560382.0
Trump's lack of action, Reyes wrote, contradicts Trump's decision to "present herself as a child advocate and champion of working women." Reyes's view is that Trump either does not or cannot influence her father despite her words of opposition to the pointless destruction of immigrant families.
@USATODAY @usatodayopinion She is lying about everything. If she cares about family and people children in the begi… https://t.co/snsXaahP1k

— Derrick Clinton Anthony (@Derrick Clinton Anthony) 1533564219.0
@USATODAY @usatodayopinion @IvankaTrump Words without ACTION is meaningless. PLEASE help the children that are stil… https://t.co/5EbgA3JGcR

— Candle of Peace🆘 (@Candle of Peace🆘) 1533560149.0
Reyes concludes: "The smartest thing that Ivanka Trump could say about immigration policy is nothing," adding that Trump's "comments only illustrate the hollowness of her presence in the White House — just as the family separations crisis reveals her as a profile in cowardice."
Keep reading... Show less