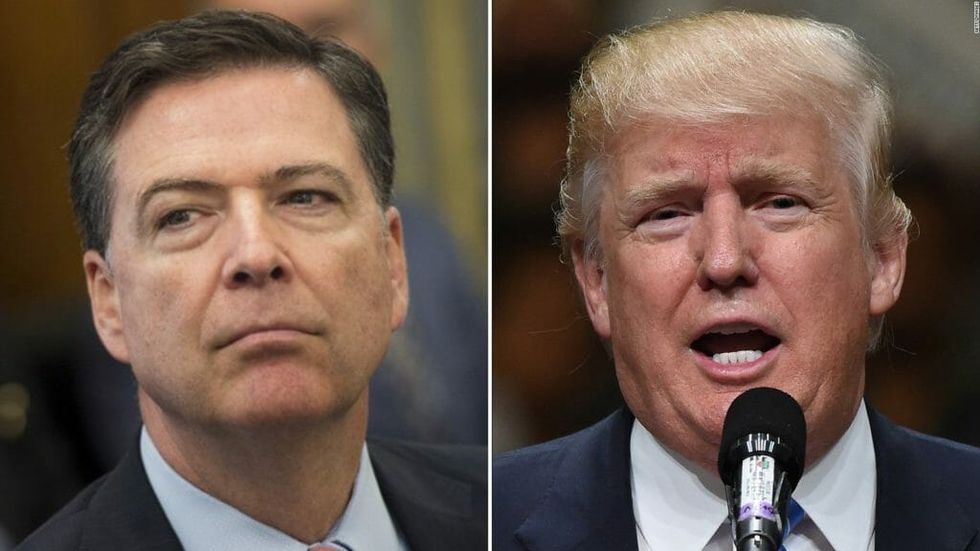 FBI Director James Comey asked the Justice Department to publicly reject President Donald Trump's claims that former President Barack Obama ordered the wiretapping of Trump Tower. The president leveled the allegations without evidence.
How low has President Obama gone to tapp my phones during the very sacred election process. This is Nixon/Watergate. Bad (or sick) guy!

— Donald J. Trump (@Donald J. Trump) 1488628968.0
Comey requested that the Justice Department rebut the president's allegations because they are false and suggest that the FBI broke the law, but the Department has yet to release a statement. Sarah Isgur Flores, a Justice Department spokeswoman, declined to comment.
Why Comey has not issued a statement himself is still unclear. While the Justice Department applies for intelligence-gathering warrants, the FBI keeps its own records and would know whether the president's claims are true. No laws prevent Comey from issuing a statement himself, even though intelligence officials do not normally discuss the existence or nonexistence of surveillance warrants.
The White House has indicated it would not walk back from Trump's claim and called for Congress to investigate.
"President Donald J. Trump is requesting that as part of their investigation into Russian activity, the congressional intelligence committees exercise their oversight authority to determine whether executive branch investigative powers were abused in 2016," White House Press Secretary Sean Spicer said in a statement. He did not offer any evidence, but added that "neither the White House nor the president will comment further until such oversight is conducted."
Trump's claims appear to be based on unproven claims by Breitbart News and talk show radio hosts that the Obama administration ordered the wiretapping of phones in an attempt to undermine the incoming administration. A White House spokesman told The Washington Post's fact checkers that the White House relies on reports "from BBC, Heat Street, New York Times, Fox News, among others." But much of the information the White House relies on is misleading.
For example, the Breitbart article which claims President Obama ordered wiretapping lists two points which appear to lend weight to Trump's claims:
June 2016: FISA [Foreign Intelligence Surveillance Act] request. The Obama administration files a request with the Foreign Intelligence Surveillance Court to monitor communications involving Donald Trump and several advisers. The request, uncharacteristically, is denied.

October: FISA request. The Obama administration submits a new, narrow request to the FISA court, now focused on a computer server in Trump Tower suspected of links to Russian banks. No evidence is found — but the wiretaps continue, ostensibly for national security reasons, Andrew McCarthy at National Review later notes. The Obama administration is now monitoring an opposing presidential campaign using the high-tech surveillance powers of the federal intelligence services.
But this data is not based on reporting from Breitbart. Instead, Breitbart links to a report in Heat Street: "EXCLUSIVE: FBI 'Granted FISA Warrant' Covering Trump Camp's Ties To Russia":
Two separate sources with links to the counter-intelligence community have confirmed to Heat Street that the FBI sought, and was granted, a FISA court warrant in October, giving counter-intelligence permission to examine the activities of 'U.S. persons' in Donald Trump's campaign with ties to Russia...

The FISA warrant was granted in connection with the investigation of suspected activity between the server [in Trump Tower] and two banks, SVB Bank and Alfa Bank. However, it is thought in the intelligence community that the warrant covers any 'US person' connected to this investigation, and thus covers Donald Trump and at least three further men who have either formed part of his campaign or acted as his media surrogates.
Heat Street's article claims that the server in question is located in Trump Tower, but other reports suggest the server actually was located in Philadelphia because the Trump domain was controlled by a company that outsourced emails to Listrak, which operates the physical server at a Philadelphia data center. The Washington Post has sought to confirm Heat Street's report of a FISA warrant related to the Trump campaign but has been unable to do so. Similarly, a New York Times investigation concluded before the election that the FBI "ultimately concluded that there could be an innocuous explanation, like a marketing email or spam, for the computer contacts" with Russian banks.
Despite this, yesterday Sarah Huckabee Sanders, the deputy White House Press Secretary, said Trump is determined to find out what transpired. "Look, I think he's going off of information that he's seen that has led him to believe that this is a very real potential," Sanders said on ABC's This Week. "And if it is, this is the greatest overreach and the greatest abuse of power that I think we have ever seen and a huge attack on democracy itself. And the American people have a right to know if this took place."
Keep reading...Show less