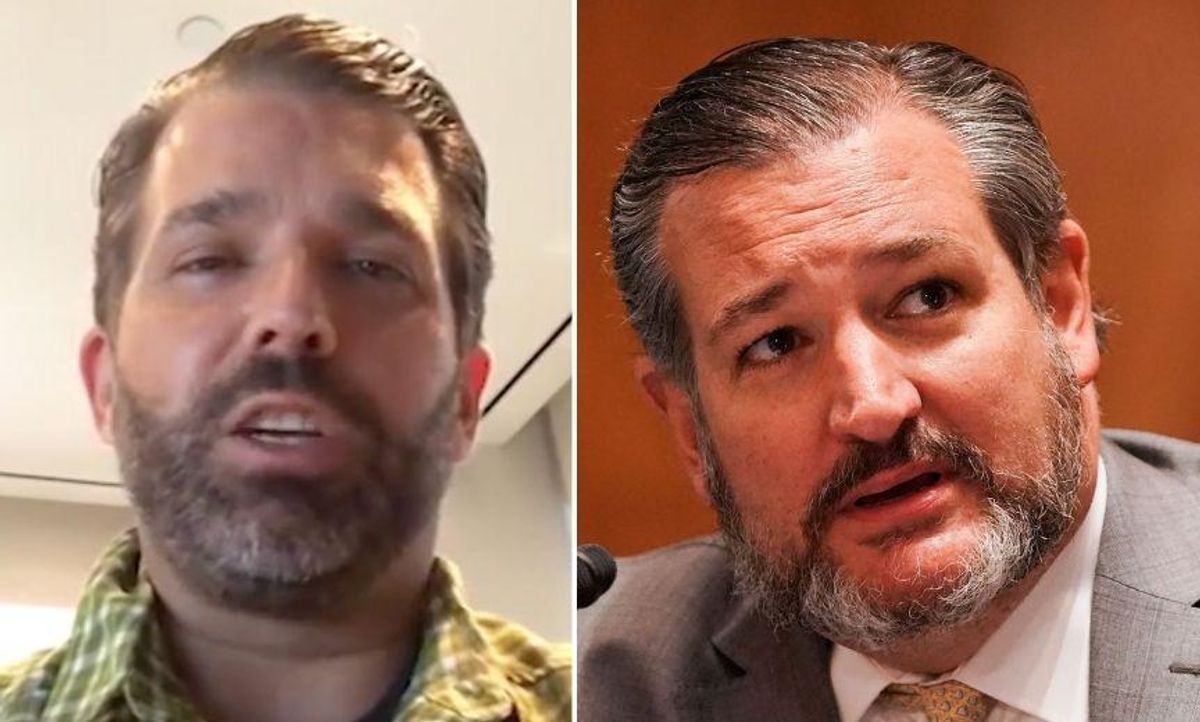 Donald Trump Jr./Rumble // GREG NASH/POOL/AFP via Getty Images
Hundreds of thousands of Texans remain without power or heat after a devastating arctic blast booted most of the state's independent grid offline. Nearly 40 people have died so far as a result, while others seek heat at warming stations or in their cars.
In the middle of the cold snap, Texas Republican Senator Ted Cruz left with his family for Cancún, Mexico—where the weather was a sunny 84 degrees Fahrenheit.
According to texts from Cruz's wife Heidi to friends, the family was tired of their "FREEZING" house and made a snap decision to take the trip, where they planned to stay at an oceanside Ritz-Carlton Hotel.
Senator Cruz was spotted on the flight and soon, he'd gone viral for his eagerness to take a tropical vacation as his constituents froze. The Senator rebooked his flight at six the following morning for an afternoon return to Texas.
After initially implying the trip was meant to be overnight, Cruz said he'd planned to work from home while at the beach.
The Senator faced bipartisan backlash, but at least one person came to his defense: Donald Trump Jr.
Trump Jr. berated those he claimed were focusing more on Cruz than on Democratic governors' handling of other crises.
The hypocrisy of those trying to cancel Ted Cruz who have been totally silent on their Democrat Governor's incompet… https://t.co/zjI2irdAKS

— Donald Trump Jr. (@Donald Trump Jr.) 1613689724.0
The erratic tweet linked to a Rumble video where Trump Jr. defended Cruz at length.
During the 2016 Republican primaries, former President Donald Trump and Cruz were infamously bitter toward each other as they vied for the GOP presidential nomination. Trump insulted Heidi Cruz's looks and implied that Senator Cruz's father was involved in the assassination of John F. Kennedy.
Though Cruz has since submitted to Trump with near unfailing loyalty, Trump Jr. still couldn't resist giving Cruz a Trumpian nickname that would highlight the scandal.
Trump Jr. said:
"Now, if I were a Trump, which I am, I'd come up with a nickname for something like this. Like maybe, I don't know, 'Cancún Cruz.' It's funny, okay? But like honestly I can't get on this bandwagon, trying to cancel the guy."
The nickname caught on for all the wrong reasons.
The dumbest part of this tweet — Cancun Cruz is the best nickname he can come up with. https://t.co/uAHC2ohEgW

— Anti-Seditionist Not a Cat Giggsy Biden (@Anti-Seditionist Not a Cat Giggsy Biden) 1613746938.0
The nickname was trash you shoulda asked your father. Matter of fact, you should let him hold your Twitter for a fe… https://t.co/KRNIlPOnD3

— Spring valley 💎 (@Spring valley 💎) 1613747359.0
the way republicans gave one of their own this nickname to accuse the left of being bullies https://t.co/v0RWdPIXuy https://t.co/vkPF4TueN6

— alexandra (@alexandra) 1613745746.0
Meanwhile, Cruz continues to be put through the wringer in the court of public opinion.
It is rare to find a politician as disliked by his own side as he is by the opposing one. In that, we can thank Cru… https://t.co/NC1Ixykzdi

— Jennifer 'pro-reality' Rubin (@Jennifer 'pro-reality' Rubin) 1613747632.0
Ted Cruz picked up a ton of frequent liar miles on his trip to Cancun

— Daniel Uhlfelder (@Daniel Uhlfelder) 1613745684.0
Carnival Cruise has changed its name to Carnival Boat Ride in order to avoid any association with Ted Cruz

— Palmer Report (@Palmer Report) 1613745120.0
Ted Cruz's fiasco revealed that neither he nor other Republicans thought he could or should do anything to help suf… https://t.co/0VNzHNW5t7

— Adam Best (@Adam Best) 1613747701.0
Ted Cruz has offered multiple different versions of why he went to Cancun, when he was scheduled to come back, etc.… https://t.co/8hc2jXpapZ

— Jennifer Hayden (@Jennifer Hayden) 1613746491.0
Texas. I love you. Deeply. You gotta finally do something about Ted Cruz. You're too great of a state to have someo… https://t.co/hZ9YVv10x1

— Paul Rieckhoff (@Paul Rieckhoff) 1613746516.0
Protesters have begun gathering outside Cruz's home, urging him to resign.