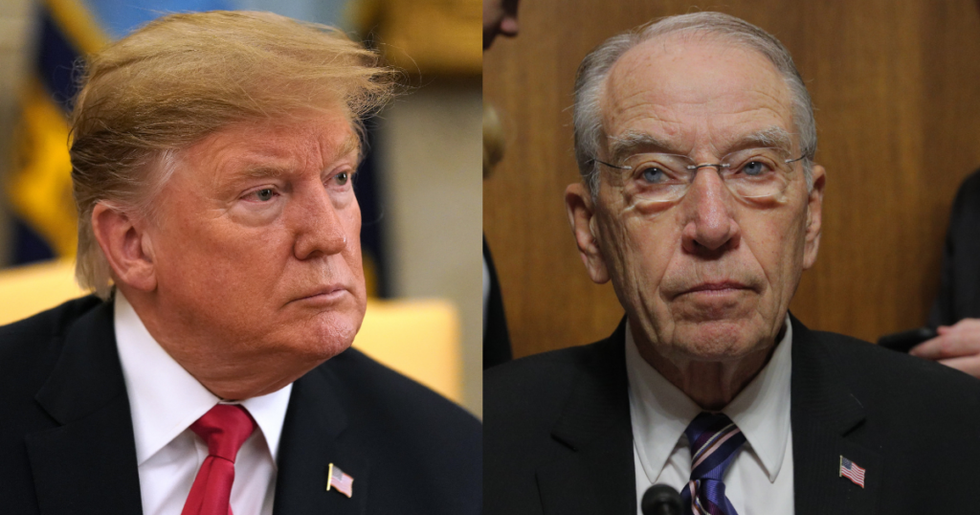 Jim Bourg-Pool/Getty Images, Chip Somodevilla/Getty Images
President Donald Trump made multiple bizarre comments on Tuesday, but one of the standouts has to do with wind turbines.
Trump said at a National Republican Congressional Committee dinner:
"If you have a windmill anywhere near your house, congratulations your house just went down 75 percent in value. And they say the noise causes cancer. you tell me that one, okay? Rer rer."
Trump claiming that the noise from windmill causes cancer. This is just beyond parody at this point. https://t.co/RJ4eWYX9hr

— Brian Tyler Cohen (@Brian Tyler Cohen) 1554260801.0
None of what Trump said is true. Wind turbines do not cause cancer.
On Wednesday, Senator Chuck Grassley (R-IA) told reporters on a conference call how he felt about what Trump said:
"I'm told that the White House respects my views on a lot of issues. (Trump's) comments on wind energy — not only as a president but when he was a candidate — were, first of all, idiotic, and it didn't show much respect for Chuck Grassley as the grandfather of the wind energy tax credit."
Grassley's efforts in the 1990s boosted wind power in his home state of Iowa. Today, the Hawkeye State gets 40 percent of its electricity from wind power.
Some people feel that Grassley's criticism of Trump is too little too late.
@DMRegister Oh. So Chuck finally found a line that should not be crossed? Where has his head been all these years… https://t.co/W8TyhdzE8N

— persephonesback (@persephonesback) 1554329139.0
@DMRegister But whenever he opens his mouth Mr Grassley is right there supporting him and Brett K. He got to go

— KRMTexas (@KRMTexas) 1554325385.0
@DMRegister @costareports You helped create this monster @ChuckGrassley

— 🐶🍎JBB🐱🍎 (@🐶🍎JBB🐱🍎) 1554326635.0
@DMRegister Local man roleplaying as a senator criticizes guy that he supports with 99% of his votes. Film at 11.

— GMJ @ Thank You MLP Staff!! 🦄 (@GMJ @ Thank You MLP Staff!! 🦄) 1554338144.0
But, hey, broken clocks and all.
@DMRegister First time in history I've agreed with Grassley

— Deb Thobe (@Deb Thobe) 1554332638.0
@DMRegister Just about the best thing you've said this term, Chucky.

— The good Donald (@The good Donald) 1554332675.0
Grassley is sort of standing alone at the moment. Iowa's Republican Governor Kim Reynolds refused to acknowledge that Trump was wrong when asked about Trump's comments.
In fact, she upped the nuttiness.
"That's not my place. You know how those things change," Reynolds explained. "One year coffee is good for you and the next year coffee causes cancer. That's what happens. We've got a lot of people that are driving the industry and investing in the industry and we should be proud of our position."
Oof, okay.
@DMRegister That profile-in-courage quote from Kim Reynolds deserves equal billing. She should be deeply ashamed.

— Matthew Kagan (@Matthew Kagan) 1554327287.0
@passantino @ShimonPro @KimReynoldsIA it's so true! For instance, the sound of your voice saying these words to try… https://t.co/J883geE7IT

— 𝙹𝚘𝚗𝚊𝚝𝚑𝚊𝚗 (@𝙹𝚘𝚗𝚊𝚝𝚑𝚊𝚗) 1554326785.0
@passantino She is running an actual state LOL

— Gerry Levine (@Gerry Levine) 1554328981.0
The same ridiculous kowtowing has come from White House Communications Director Mercedes Schlapp as well. On Wednesday, she too failed to recognize the absurdity of Trump's claims.
"Do wind turbines cause cancer?" Schlapp was asked by a reporter.
"I don't have an answer to that," she replied before scurrying away from the cameras. "I don't have information on that. If I get a read out I'll be happy to update you on that."
Question: "Do wind turbines cause cancer?" Mercedes Schlapp, White House Director of Strategic Communications: "I… https://t.co/xHSLgZ1M5H

— The Hill (@The Hill) 1554329700.0
Sigh.
@thehill She's trying to do strategic communications for someone with a barely tactical mind.

— Duke York (@Duke York) 1554346794.0
@thehill https://t.co/k5nnAU0Snp

— Amy Siskind 🏳️‍🌈 (@Amy Siskind 🏳️‍🌈) 1554330403.0
@thehill No self respect whatsoever. Absolutely pathetic.

— Devin's Ego, Gaveled (@Devin's Ego, Gaveled) 1554379053.0
@thehill Translation: my husband runs CPAC. How do you think I got this job? I don't really answer questions @GOP… https://t.co/6oIcwYISHt

— jesse_lee_fulton (@jesse_lee_fulton) 1554330296.0
What a bunch of hot air.
Keep reading...Show less