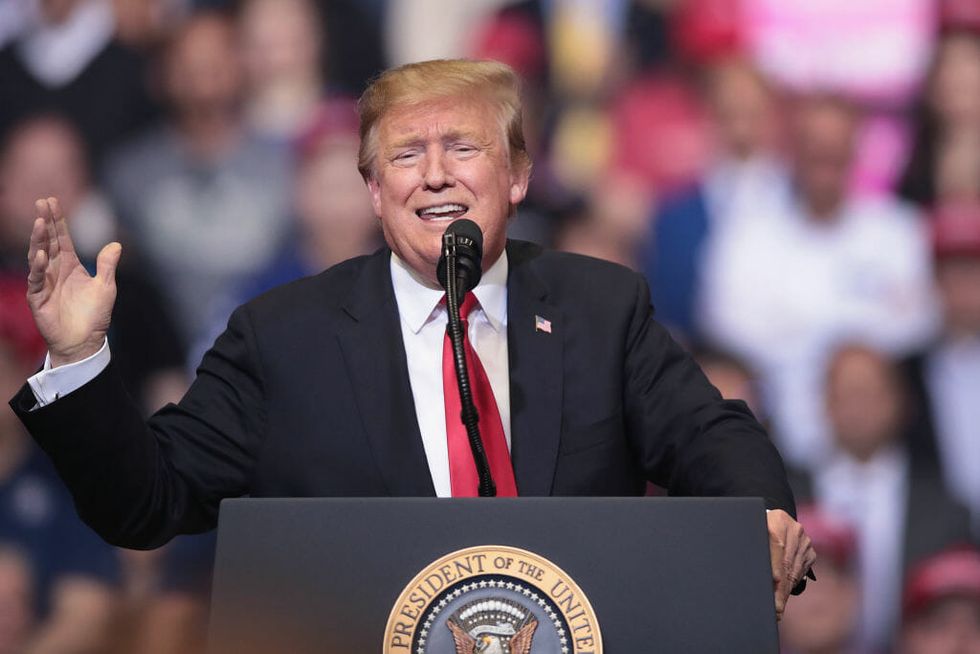 GRAND RAPIDS, MICHIGAN - MARCH 28: President Donald Trump speaks to supporters during a rally at the Van Andel Arena on March 28, 2019 in Grand Rapids, Michigan. Grand Rapids was the final city Trump visited during his 2016 campaign. (Photo by Scott Olson/Getty Images)
President Donald Trump assured reporters on Monday that he wouldn't use any opposition research or "dirt" on Democratic rivals in the 2020 presidential campaign.
What's more, he asserted that he never used any dirt on Democratic nominee and former Secretary of State Hillary Clinton during the 2016 campaign.
But New York Times White House correspondent Maggie Haberman reminded Twitter that Trump did exactly this when using Clinton campaign emails stolen by Russia and published by Wikileaks to sow suspicion of Secretary Clinton among voters.
(Except for reading aloud from Wikileaks from rally stage and entire campaign apparatus tweeting it out and Pence t… https://t.co/EIQHY90mXG

— Maggie Haberman (@Maggie Haberman) 1557774604.0
Trump repeatedly cited and praised Wikileaks during the 2016 campaign.
https://www.youtube.com/watch?v=veRHG7xnb6k
Trump ally Roger Stone is currently on trial for communications with Wikileaks regarding the stolen emails of Clinton campaign chair John Podesta. Donald Trump Jr. communicated with Wikileaks via Twitter during the 2016 campaign as well.
After the arrest of Wikileaks founder Julian Assange, Trump claimed to know nothing about Wikileaks despite frequently praising it during the 2016 campaign.
Others are calling the president's bluff as well.
@maggieNYT Donald will lie about what time it is just for practice. Why do we ever think anything he says is true?… https://t.co/fWJsPziKXR

— Mr. G R (@Mr. G R) 1557775905.0
@maggieNYT https://t.co/hnKaORHnzj

— Capitol Comments (@Capitol Comments) 1557784529.0
@maggieNYT He's not even trying to hide this

— 🧐 (@🧐) 1557774797.0
@maggieNYT Only State Sponsored Media (Fox) could read that to an audience and keep a straight face. Mendacity is h… https://t.co/hZtLirXQtT

— MicalMacal (@MicalMacal) 1557775132.0
Recently, Trump lawyer and former New York City Mayor Rudy Giuliani canceled a scheduled trip to Ukraine where he intended to ask the country's government to help push the narrative that 2020 Democratic candidate Joe Biden's son's involvement with a Ukrainian energy company.
When asked if he was meddling in an election, Giuliani responded:
"We're not meddling in an election, we're meddling in an investigation, which we have a right to do."
In case the public didn't know it already, any assurance from Trump should be taken with a grain—or shaker—of salt.
Keep reading...Show less