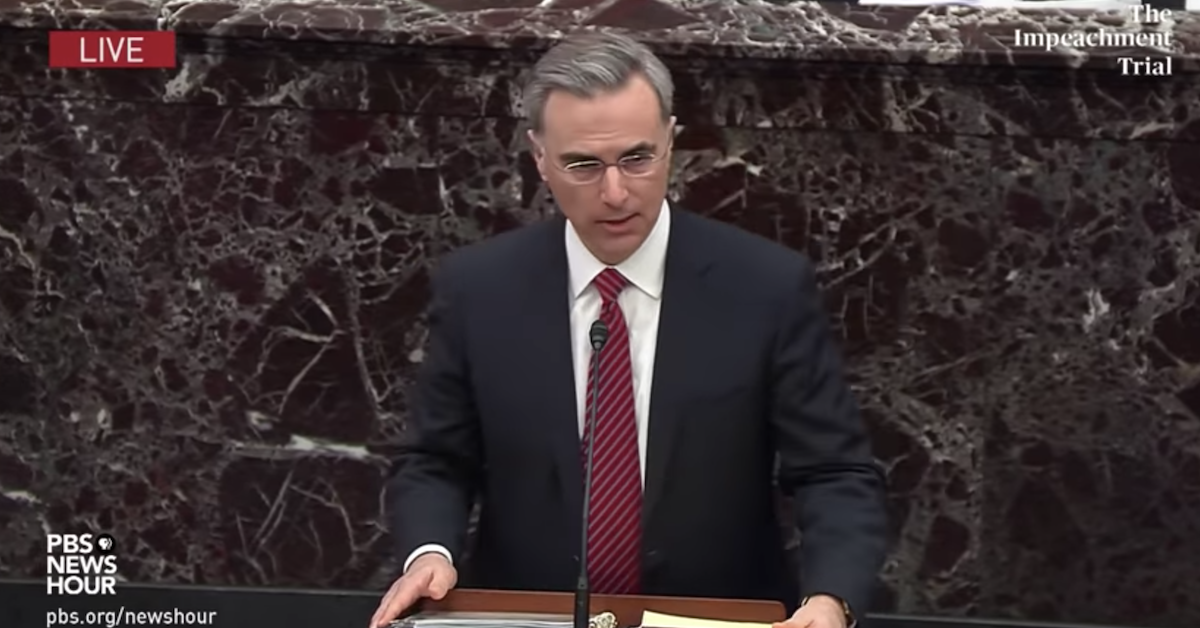 PBS News Hour/YouTube
The White House Counsel is a staff appointee of the President and Vice President of the United States. Their role is to advise the President on all legal issues concerning the President and their administration.
Pat Cipollone has served as the current White House Counsel for President Donald Trump since December 2018.
On Tuesday, Cipollone addressed the Senate as part of the impeachment trial of the President. His remarks led many to note the White House Counsel's apple did not fall far from the Trump tree.
One of Cipollone's false statements revisited a lie many in the GOP also tried to pass on to the public.
Cipollone claimed:
"Not even Mr. Schiff's Republican colleagues were allowed into the SCIF."
SCIF, short for Sensitive Compartmented Information Facility, is where members of the relevant impeachment inquiry committees—both Democrats AND Republicans—were given access to sensitive materials.
You can hear Cipollone's bald-faced lie below:
That lie was refuted each time GOP Representatives Matt Gaetz, Devin Nunes and other Trump faithful told it.

But Cipollone thought he would try to sell it again, leading observers to wonder if it was even legal for White House Counsel to lie during remarks before Congress.
Opinions were divided on legality but unified on ethicality.

The target audience, however, believed the oft repeated lie, and argued with anyone who refuted it.
But the MAGA minions continued to make the false claim.
And repeat it over and over as a "gotcha" for "leftists."
Reality is there are 435 seats in the House of Representatives.

Only committee members on the relevant committees were allowed to attend certain aspects of the impeachment process. These rules were enacted by a GOP controlled House under former Speaker of the House John Boehner during the presidency of Barack Obama.
Unless each committee had 435 members, many Democrats and many Republicans would not be allowed into those SCIF hearings. However approximately one quarter of the GOP members of the House were allowed in the SCIF hearings.
But only the GOP complained while failing to acknowledge their own members in those hearings.

Real time fact checking was suggested when the same lies spread during the impeachment hearings were regurgitated in the Senate.
The impeachment trial continues on Wednesday.
Keep reading...Show less