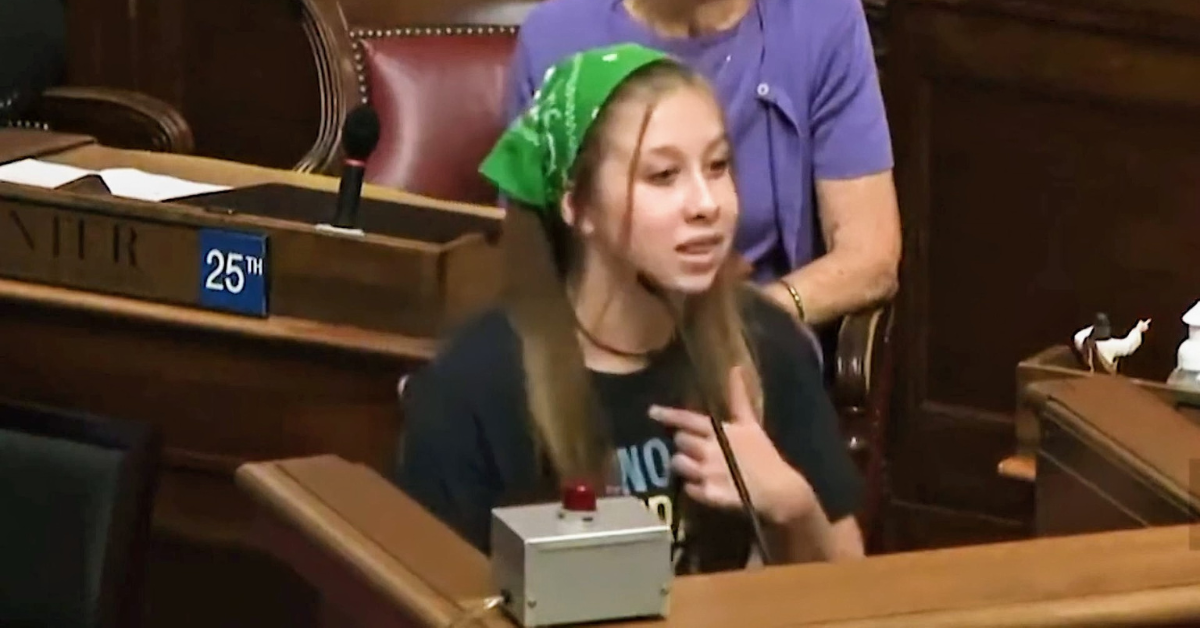 @tizzywoman/Twitter
A 12-year-old girl left people applauding after addressing the West Virginia state legislature about its restrictive and dangerous abortion law proposed in the state.
The girl's speech occurred at a public hearing about the law, House Bill 302 which bans abortion in all but the most extreme exceptions and criminalizes the procedure for doctors.
Each speaker at the hearing was given 45 seconds to speak.
12-year-old Addison Gardner made every single one of hers count.
See her speech below.
The bill provides a total ban on abortion in all but cases of rape and incest but not for the life of the pregnant person, and also allows criminal prosecution of doctors who provide the procedure.
Gardner gave an impassioned plea to the legislature for a more reasonable abortion rights law.
She asked lawmakers:
"If a man decides that I'm an object, and does unspeakable, tragic things to me, am I, a child, supposed to carry and birth another child?"
"Am I to put my body through the physical trauma of pregnancy?"
"Am I to suffer the mental implications, a child who had no say in what was being done with my body?"
The bill, which has passed the West Virginia House of Delegates, does provide exceptions for some, but not all, cases of rape and incest. But the requirements are so stiff they will make access impossible for most people.
In order to obtain an abortion in the case of rape and incest, the victim will have to have reported the crime to law enforcement, which is often impossible for victims for myriad reasons, especially for those who are minors.
The pregnant person will also have to have a medical professional confirm the fetus was under 14 weeks and all other rules of the bill were followed—a requirement easily thwarted by anti-abortion doctors who can simply lie and refuse to sign off on the procedure.
Ash Orr, a transgender activist from the state's Appalachian region who spoke about having been raped at the ages of 9 and 10, pointed out the cruelty of these policies.
They said:
"I want you to explain to me why it would have been OK for me as a child to have carried my rapist's child."
"Explain it to me like I'm one of the children that y'all are willing to traumatize."
Gardner went on to underline the hypocrisy inherent to this approach to abortion access by West Virginia Republicans.

"Some here say they are pro-life. What about my life? Does my life not matter to you?"
On Twitter, people applauded Gardner for speaking out and were outraged by the bill.

The bill passed the West Virginia House of Delegates and will now move on to the Senate, where it is also expected to pass.