One of the men who was at the heart of the most infamous prison escape of recent times is still a jerk. David Sweat, 37, a convicted cop-killer, is now facing prison disciplinary charges after he was caught performing a sex act with the aid of his girlfriend, Frances Malanik, 45, reports the New York Post. The alleged sexual incident occurred on March 8.
The pair were caught in the act inside of Attica's Special Housing Unit's visiting room, the Post's report says. A guard apparently noticed Sweat touching himself while Malanik reached through the partition separating them in an effort to aid his attempt at ecstasy. The result saw Sweat, who is in solitary confinement, escorted back to his cell while Malanik was removed from the prison grounds. One of the punishments facing Sweat is that Malanik is forbidden from visiting him for 30 days.
On June 6, 2015, David Sweat and Richard Matt escaped from Clinton Correctional Facility in upstate New York. The pair's escape was facilitated by a prison employee, Joyce Mitchell, who had had sexual relationships with both men. After three weeks, Matt was discovered in Malon, New York, where he was shot dead by authorities. Two days later, Sweat was arrested and taken back into custody. ABC News later reported that the massive manhunt for the pair cost the taxpayer $23 million.
The Post report says that Malanik has been involved with Sweat since his recapture. Their article adds that Malanik moved to Ovid, New York, to be closer to Attica.
Malanik's name first became associated with Sweat after the New York Times published a feature on the cop killer in December 2017. That article said that Malanik regularly brought her daughter, who is listed as being six years old at the time of publication, on her visits to Sweat. Just prior to the article, Sweat was moved to Attica, having been a prisoner at the Five Points Correctional Facility in Romulus, New York.
In an interview with the Times, Malanik said that she told authorities that Sweat was planning to escape. She says Sweat told her to come forward. His plan was to exchange his escape plan, which would point out flaws in the prison's security system, in exchange for food packages, more visits from Malanik and to be allowed take photos with his girlfriend and her daughter. Sweat didn't get his demands, Malanik told the Times in December, "It's not like he was asking for a queen-size bed and a flat-screen TV." Up until December 21, Sweat had been on hunger strike, surviving on five cans of a high-protein and fiber drink a day. The cop killer told authorities that guards had threatened to poison him through prison food.
Malanik has been in trouble with the law in the past too. Patch reported in February 2013 that she was arrested for forgery in the second degree.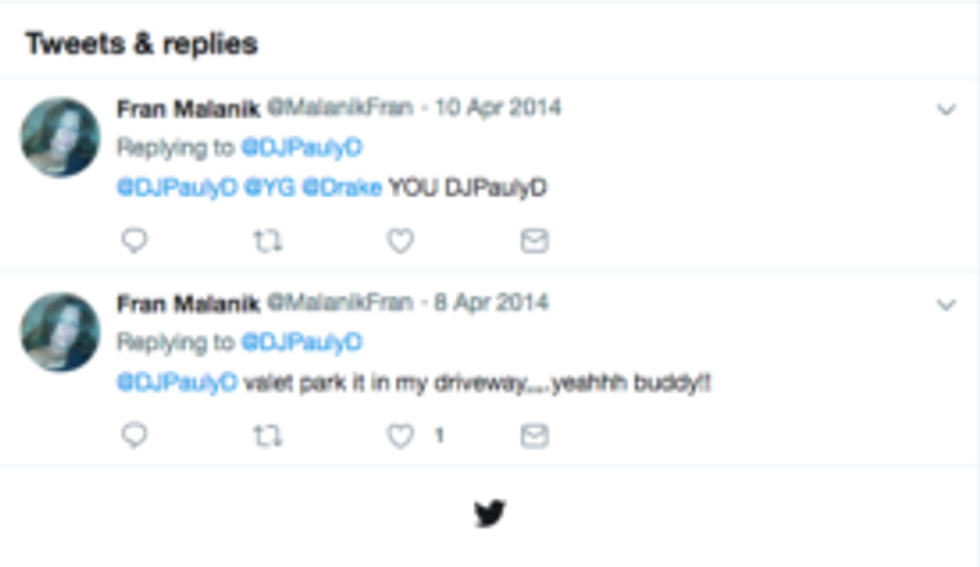 Twitter/Fran Malanik
Of the little social media presence that Second Nexus could discover is a Twitter account that has not been active since April 2014. Both of Malanik's tweets are aimed at Jersey Shore star, Pauly D.
Read More:Roy Moore Is Suing to Block Doug Jones Certification
Keep reading...Show less