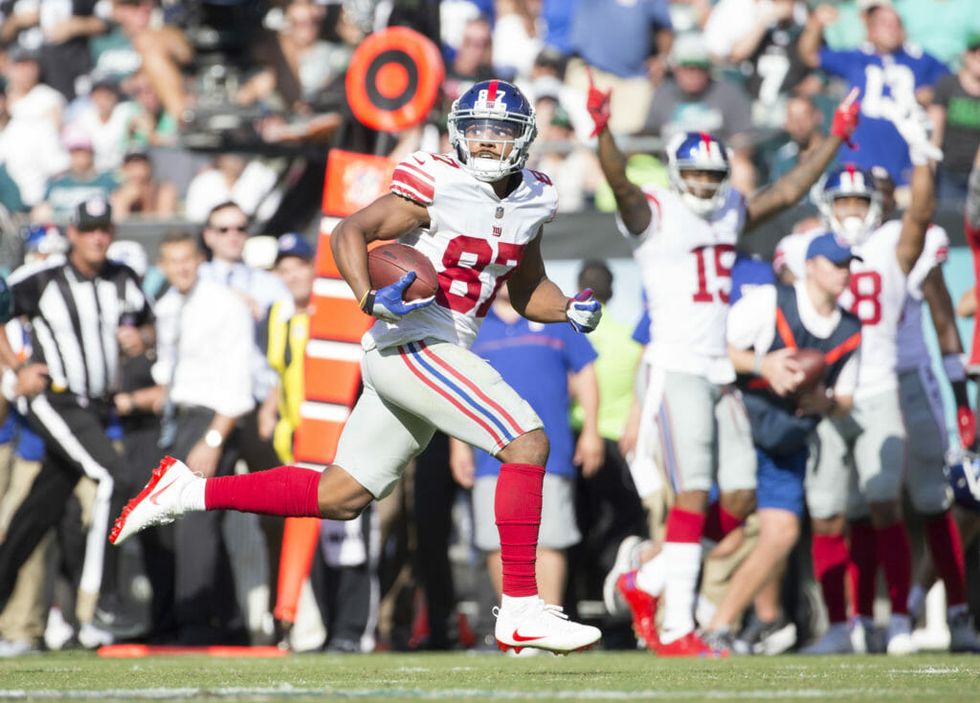 PHILADELPHIA, PA - SEPTEMBER 24: Sterling Shepard catches a pass and runs for a touchdown against the Philadelphia Eagles (Mitchell Leff/Getty Images)
As we approach week 10 of the NFL season, we can tell that winter is near. 11 of the 14 NFL contests this weekend have an over/under below 46.5 points (a common over/under figure). This should lead to a lower scoring week across the NFL, which translates to lower scores in our daily fantasy contests. Week 10 brings us some of the league's most high powered offenses on bye weeks. Philadelphia, Oakland, Kansas City are not playing this week, bringing credence to the lower Vegas totals.
During this article you will often see references to DVOA (Defense-adjusted Value Over Average) a metric from Football Outsiders that measures a team or players efficiency by comparing results from every play to a league average based on situation and opponent. For example, if an offense runs for 4 yards on a 3rd and 3, it will be weighted and graded more favorably than if an offense runs for 4 yards on 3rd and 15.  DVOA is a better way to compare team's offenses vs opposing defenses than more traditional stats like yards gained and allowed.
Five Players to Start
Matthew Stafford ($6800 on Draft Kings, $8200 on Fanduel)
While many people will choose to go cheap at quarterback this week, I will be paying up a bit with Stafford. He finds himself going against a Browns team that is surprisingly the #1 rush defense DVOA in all of football. However, the Browns rank 28th in pass defense DVOA. A successful trend in NFL DFS is to start a Quarterback against a "Funnel Defense" or a team that can stop the run and get beat through the air. Furthermore, the Lions are already 8th in the league in pass play percentage, and should pass even more this week. Stafford has shown great consistency of late, throwing for two touchdowns in three of the last four games. Likewise, he is averaging 365 passing yards per game over his last three games.
Leonard Fournette ($8400 on Draft Kings, $8700 on Fanduel)
Fournette finds himself in a running back's dream spot as it combines a soft opponent and possible 20+mph winds on game day. The Chargers rank 26th in run defense DVOA and 28th in yards per carry allowed. The Jaguars are already last in pass play percentage, and if the wind projection is accurate on game day they will run even more. Moreover, Jacksonville leads the league in rushing yards per game, and are the 7th best run offense DVOA. If the Jaguars do fall behind, Fournette will still be in the game and receive catches. Fire up Fournette everywhere. It's not a bad idea to pair him with the Jacksonville defense in your daily fantasy contests.
Carlos Hyde ($6300 on Draft Kings, $6700 on Fanduel)
The Giants versus 49ers game is my favorite game of the weekend. Both teams are top six in pace of play, which means there will be more plays and opportunity to score fantasy points in this game. Carlos Hyde is going up against the 25th ranked run defense DVOA, and is 2nd in the league in carries inside the five-yard line. Even in blowouts Hyde has seen 8,9,11 targets in the passing game to rack up points, including 6+ targets in all but two games this year. Hyde is my favorite play of the weekend at running back.
Sterling Shepard ($5500 on Draft Kings, $5700 on Fanduel)
Shepard is also in my favorite game this weekend; he should come back as one of the best points per dollar wide receivers. San Francisco has the 27th ranked pass defense DVOA and allows the most plays per game. Last week, in a tougher matchup, Shepard saw nine targets. This matchup is better, which makes Shepard underpriced on both sites. Additionally, team mate Evan Engram faces the #1 team vs the tight end position, further increasing Shepard's target projection.
A.J. Green ($7700 on Draft Kings, $7900 on Fanduel)
Green looks to bounce back following an ejection from last week's game after punching and grappling a Jaguars defender. His opponent this week, Tennessee, boasts the 22nd ranked pass defense DVOA. I am calling this to be an eruption game for the Cincinnati wide receiver. A couple factors lead to this prediction. First, the Bengals are currently last in rushing yards per carry, which should lead to a few more pass plays this week. Additionally, Tennessee plays a lot of man coverage. This will lead to A.J. Green being left in one on one situations throughout the game.  Green has at least a 4" height advantage on every Tennessee corner, and should be in all your lineups.
Five Players to Avoid
Ryan Fitzpatrick ($4900 on Draft Kings, $6100 on Fanduel)
With Winston being out, "Fitzmagic" will be the popular play on both sites. There are a few reasons I will be fading Fitzpatrick on most of my teams. First, he is a former Jet and they may know exactly how to defend him well. Furthermore, Fitzpatrick has 19 interceptions over his last 14 games played, while his top target Mike Evans will be suspended for this game. This further limits the offensive capabilities of the Buccaneers, and I don't want to trust Fitzpatrick getting it to Desean Jackson on deep routes.
T.Y. Hilton ($5900 on Draft Kings, $7500 on Fanduel)
Hilton was my cover boy in week 9, leading the way to a great week. This goes to show how quickly dynamics change in the NFL, as I am fading Hilton this week. Pittsburgh touts the 5th best pass defense DVOA in all of football, and possesses a terrific slot cover Cornerback. In his previous two meetings against the Steelers, Hilton has combined for six catches and 90 yards. Furthermore, Pittsburgh is top 5 in limiting plays allowed, limiting catches and yards allowed. I will not be using Hilton this week.
Keenan Allen ($5400 on Draft Kings, $7300 on Fanduel)
Another week of football, another week or avoiding wide receivers against the Jacksonville Jaguars defense. The Jaguars boast the #1 pass defense DVOA and arguably the best corner tandem in the league. I will continue to fade wideouts against Jacksonville, thus I will not use Allen this week.
Doug Martin ($4700 on Draft Kings, $6100 on Fanduel)
Before Week 9, Martin's workload was trending up. He came into last week's contest with totals of 14, 18, 20 carries over his last three games. Last week, he only had eight carries and lost work to Peyton Barber. Tampa Bay is one of the worst teams at getting inside the ten yard line, and the Jets should stack the box this week. I do not trust Doug Martin in any of my contests this week.
Brandin Cooks ($6000 on Draft Kings, $7600 on Fanduel)
There is a troubling trend in Cooks career of struggling versus top tanked corners and feasting on the leagues lower quality of corners. This week, he goes up against Aqib Talib, who is a top corner. Without Chris Hogan available, I think this will be a heavy dose of Rob Gronkowski and the running backs in the passing game. There should not be much room for Cooks to break free this week.
Winter is upon us in week 10 of the NFL, which is certainly reflected in the over/under's of the games. I hope these plays help you make money in your daily fantasy contests this week.
Written by Kevin Kinder, Second Nexus Contributor
Keep reading...Show less