Win McNamee/Getty Images
President Donald Trump suffered humiliation last month at what was supposed to be his comeback rally in Tulsa, Oklahoma after a months-long hiatus due to the pandemic.
The rally was controversial from the start, originally scheduled on Juneteenth in one of the most significant cities for Black history in the 20th century. That date was eventually moved, but that did nothing to allay the criticisms of assembling thousands of people in an indoor setting during a pandemic.
Nevertheless, Trump's campaign officials touted over one million reservations for the event, but only 6,200 people showed up in person to the 19,000 seat arena. A second address the President planned to give to the overflow crowd that night was cancelled because there was no overflow crowd.
Since then, Trump has diverted from arena rallies to auditorium-style addresses, packing students for Trump into a theatre in Yuma, Arizona and assembling a crowd on bleachers outside of Mount Rushmore for Independence Day.
The President was set to have another campaign rally in Portsmouth, New Hampshire, but announced that it would be postponed due to Tropical Storm Fay.
With Tropical Storm Fay heading towards the Great State of New Hampshire this weekend, we are forced to reschedule our Portsmouth, New Hampshire Rally at the Portsmouth International Airport at Pease. Stay safe, we will be there soon! #MAGA2020
— Donald J. Trump (@realDonaldTrump) July 10, 2020
The weather in Portsmouth is expected to be rough tonight, but that's not the case for Saturday—the day the rally was supposed to be.
In fact, with the exception of scattered showers before 9 am, the weather in Portsmouth is expected to be fair.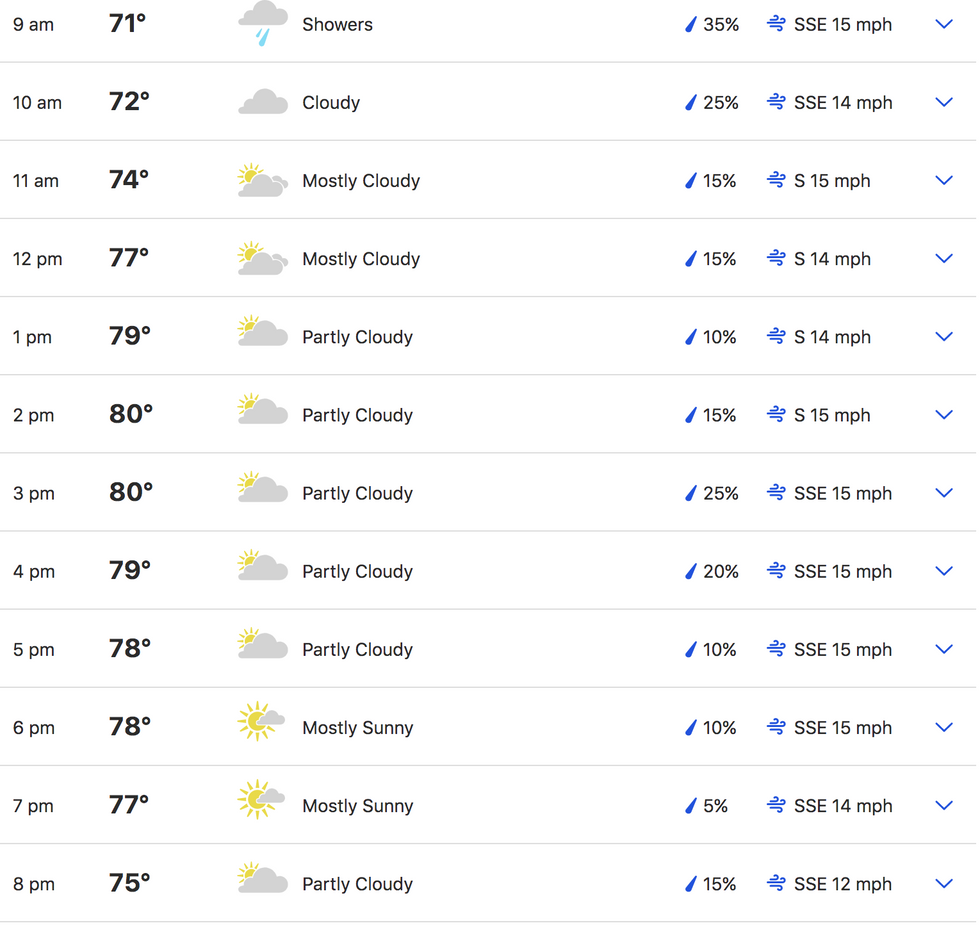 weather.com
A New York Times article noted:
"Aides were adamant they'd fill the venue. But people familiar with the sign-ups said the interest in the rally was significantly lower than for rallies that took place before the coronavirus paused campaigning."
People soon began suspecting that Trump was buying time to avoid a humiliation similar to his Tulsa rally.
Tell the truth: no one was coming and they didn't want you there.
— Amy Siskind 🏳️🌈 (@Amy_Siskind) July 10, 2020
You saved Many empty seats from getting rained on.
— Republicans for Joe Biden (@RepsForBiden) July 10, 2020
"With my New Hampshire Rally venue expected to be 1/100th full, we are rescheduling. We will be back soon!"
— Trumpy Trumpy (parody) (@outofcontroljb) July 10, 2020
"Tropical Storm Fay"

That isn't how one spells "nobody wanted to come see me."
— Jean L.P. Jaurès 🌎🔬📚⚖️ (@larsp2740) July 10, 2020
Others urged him to change the weather with a sharpie, alluding to the time he edited an official hurricane forecast to match his earlier, erroneous predictions.

Can't he just take a sharpie and move it away from the rally?
— Christine (@guelphgirlchris) July 10, 2020
Ahhhhhh, working with your sharpie again Donald? Why don't you just admit you can't get enough Trumpanzees for your failed rally? https://t.co/xvlni38gqy
— Paul van der Meer (@Paul_VanDerMeer) July 10, 2020
The Trump campaign expects to have the rally in the next one or two weeks.