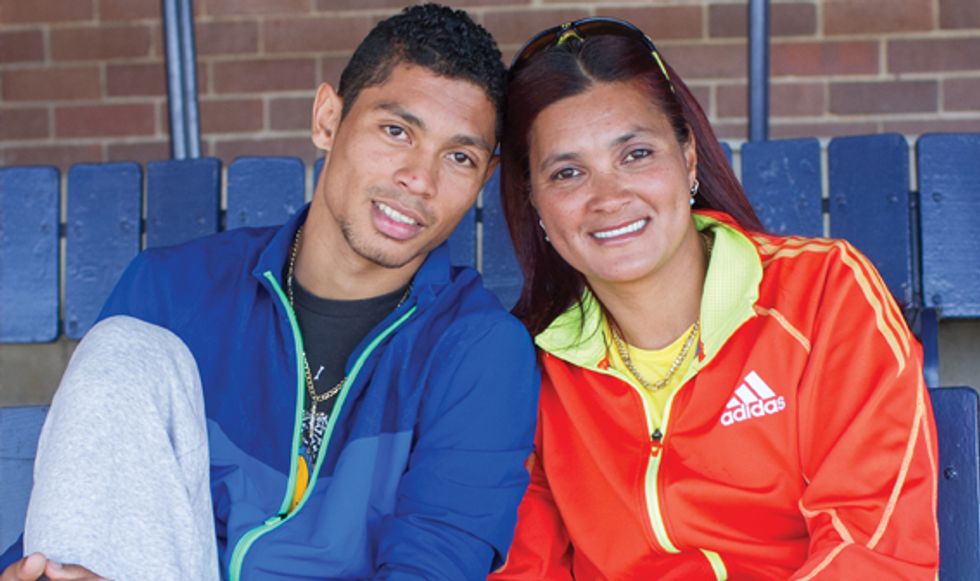 [DIGEST: Huffington Post, Daily Maverick]
Odessa Swarts cheered from the sidelines as her son, Wayde van Niekerk, won South Africa's first gold medal of the Games and set a world record in the Men's 400-meter in Rio yesterday. Thanks to his victory, Swarts finally gets to taste Olympic glory.
Swarts was also a champion runner in the 1980s and 1990s who set provincial records in both the 100-meter and 200-meter and had six other records to her name. In her prime, she competed in interprovincial athletic events and participated in annual national championships on grass, gravel, and uneven tracks. However, South Africa's apartheid regime cut her Olympic dreams short.
To counter the policy, Swarts participated in the South African Council on Sport, a non-racial, anti-apartheid organization. Those who affiliated themselves with the organization sacrificed the opportunity to test their international capabilities for the dream of a free South Africa, where children could compete and participate in sports on equal grounds. Swarts continued in her stance  while white South Africans sought to compete internationally by circumventing sanctions imposed by the Olympic Committee.
The significance of her son's win was not lost on NBC commentator Tom Hammond. "Thinking back home of his mother Odessa, who was a world-class athlete herself, but denied the chance to compete internationally because of the apartheid rules in South Africa," Hammond said. "And the country of South Africa ... trying to put that apartheid past behind them, this one will be a rallying point for them."
Van Niekerk credited his coach, Anna "Tannie Ans" Botha, after the race. "She's really kept me very disciplined on the goal and where I need to be," he said. "I'm really grateful I can go on the track and say my coach has pushed me to reach every level and believe anything is possible. She's an amazing woman. She's played a huge role in who I am today."
Botha's story is proof van Niekerk has no shortage of female role models. A 74-year-old great-grandmother who began her career coaching her daughter in their home country of Namibia, Botha began training van Niekerk after his last Olympic cycle in 2012 when he studied at the University of the Free State in Bloemfontein. She has worked as the university's head track and field coach since 1990. Botha switched her star pupil's focus from the 200-meter to the 400-meter to protect him against persistent impact injuries. "I dearly love all my athletes but it's about being strict," said the former sprinter and long-jumper. "We can laugh, but when we have to work hard, we work hard."
Keep reading...Show less