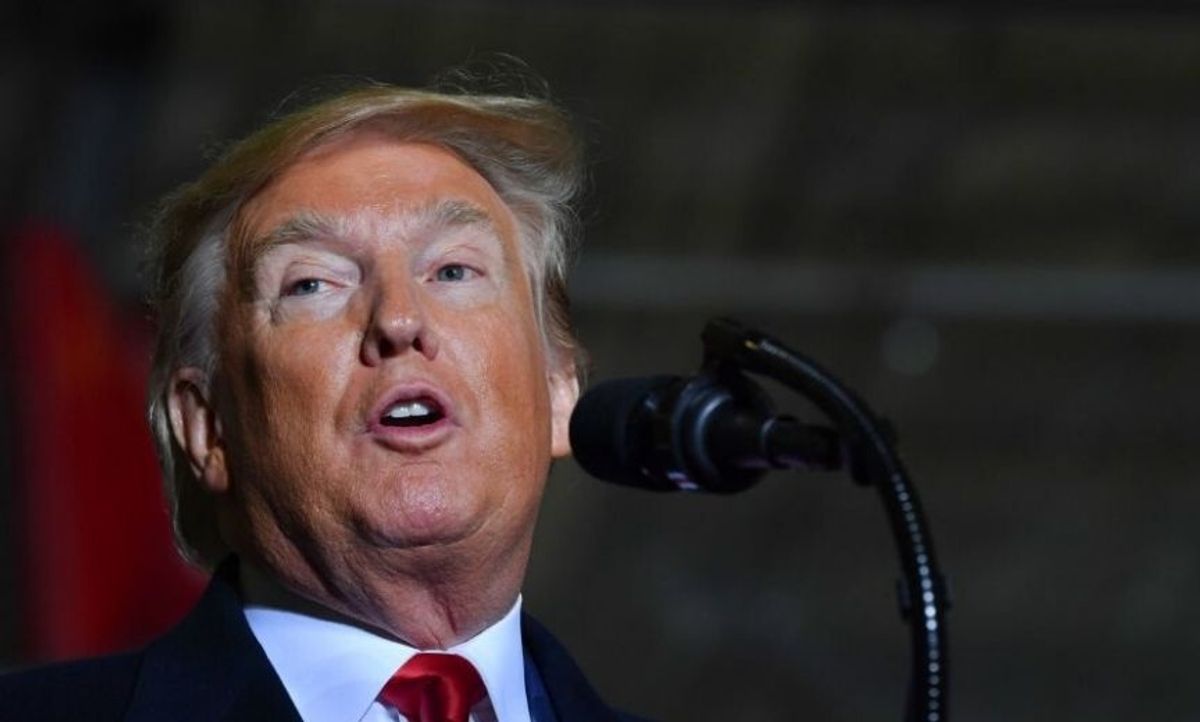 NICHOLAS KAMM/AFP via Getty Images
By now, you've likely heard that President Donald Trump ordered an airstrike that killed Iran's highest ranking military official, Qasem Soleimani, in response to the death of an American contractor.
That attack begot a response from Iran late Tuesday night when over a dozen ballistic missiles were fired upon Iraqi military bases where U.S. troops are stationed. The number of casualties is yet to be known.
Even before Iran's retaliation, Democrats condemned Trump for the hastiness of his strike on Soleimani.
Trump didn't inform Congressional leadership of his plans and the attack came while Soleimani was visiting Iraq as a diplomat. The killing of Soleimani prompted Iraq's parliament to vote in favor of exiting the remaining U.S. troops in Iraq.
Like so many other instances since January 2017, the Trump administration's handling of the escalating tensions in Iraq has been chaotic and incompetent.
Except maybe not to Politico, who referred to Trump as a "wartime leader."
With a rain of ballistic missiles at Iraq's Ain al-Asad and Irbil air bases, President Trump became a wartime leade… https://t.co/RuEGwFUzvJ

— POLITICO (@POLITICO) 1578490829.0
Of course the tweet is technically true: Donald Trump is the leader of the United States and his actions have brought us to the brink of war with Iran in less than a week.

But the phrase "wartime leader" didn't seem to be a good description.
I understand that factually speaking this is correct, @JakeSherman, but he is a crook and #IMPOTUS not a statesman,… https://t.co/6vnMAB1tpw

— Ruth Ben-Ghiat (@Ruth Ben-Ghiat) 1578496889.0
@politico No he is not a wartime leader! He is a disaster

— LaineyLiberty (@LaineyLiberty) 1578491327.0
@politico No. He is not a wartime leader nor a leader of anything but himself. I wouldn't follow him anywhere.

— Preston C. Rodrigue (@Preston C. Rodrigue) 1578491592.0
@politico Wartime putz

— Adair Imminent Threat Arrowsmith (@Adair Imminent Threat Arrowsmith) 1578490858.0
@politico He is far from a war time leader, he's not even a leader. Stop making him seem competent and capable.

— Kent Tarbox (@Kent Tarbox) 1578492616.0
@politico And if by "leader" you mean "instigator trying to distract from his other crimes" then sure https://t.co/CShUKDQu2A

— Immigrant=American (@Immigrant=American) 1578491064.0
@politico He bumbled his way into a situation for which he is woefully unprepared to handle. He's very fortunate th… https://t.co/vmXiNoBE6s

— Denise (@Denise) 1578493032.0
@politico The world is literally laughing at that pathetic child king. Sad to see the role model of the west turn i… https://t.co/xPDUGV3ggR

— Torheim 🇳🇴 (@Torheim 🇳🇴) 1578491237.0
The President will be addressing the situation in Iran later today.
Keep reading...Show less