Tom Williams/CQ-Roll Call, Inc via Getty Images // Don & Melinda Crawford/Education Images/Universal Images Group via Getty Images
A number of Republican lawmakers have supported outgoing President Donald Trump's delusion that Democrats orchestrated widespread voter fraud that tipped the 2020 election to President-elect Joe Biden.
Trump's own Justice Department and election security officials have insisted this is not the case. Efforts to overturn the results of the election through litigation have failed before virtually every court in which they've been filed, including the conservative Supreme Court. Every state has certified its election results and cast its electoral votes.
Nevertheless, Trump continues to peddle election fraud lies, and his latest fantasy of vindication focuses on January 6th.
That's the day Vice President Mike Pence will oversee a joint session of Congress to hear and acknowledge the electoral votes, of which Biden earned 306—well over the 270 vote requirement to take the White House.
Earlier this month, Congressman Mo Brooks (R-AL) announced he would seek to block certification of the election results, along with other pro-Trump representatives. In order for the certification to go to debate, Brooks would need a member of the Senate to back his objection.
Enter Senator Josh Hawley (R-MO), who announced today that he would object the certification of the election by Congress.
Hawley pointed out that Democrats in Congress objected to the certification of electoral votes after the 2016 election, which Trump won. It's true that some House Democrats objected to certification symbolically in 2016. Ironically enough, these objections were repeatedly overruled by then-Vice President Joe Biden, now the President-elect.
A key difference is that none of the Democratic objectors in 2016 had the backing of a Senator. Because Senator Hawley is backing GOP Representatives' objections, the results of the election will go to debate.
It's a jarring development that a United States Congress will debate whether to acknowledge the results of a presidential election, but the effort will almost certainly fail.
While the Constitutional process for the House appointing a President in a contested election allots one vote per state, the process for declaring an election contested is decided by one vote per congressional district, in addition to a vote in the Senate.
The majority-Democrat House will not vote in favor of invalidating any state's electoral votes.
Hawley's statement was widely panned, but one critic was unexpected: Walmart.
The multibillion dollar corporation told Hawley to "go ahead" and get his two hour debate in a since-deleted tweet calling him a sore loser.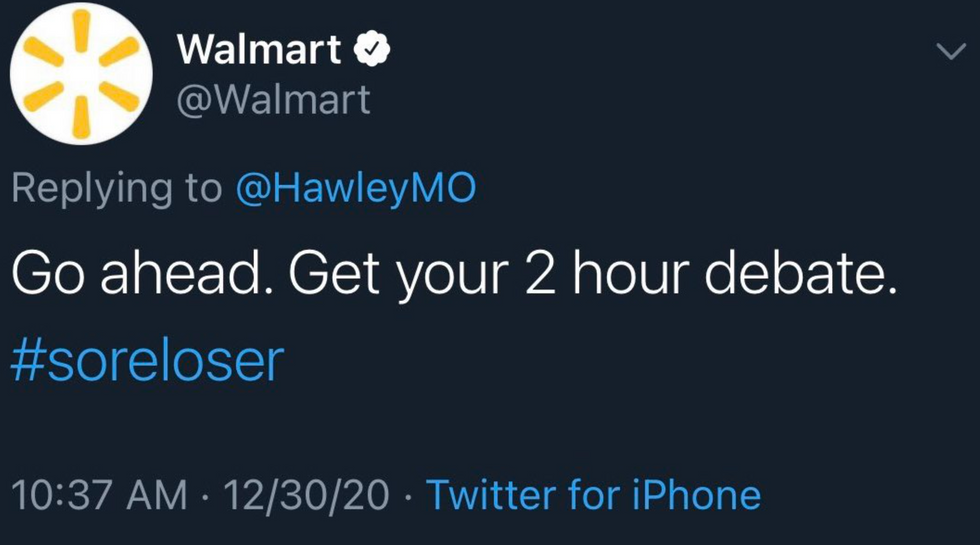 Walmart's senior manager, Casey Staheli, told the Washington Examiner:

"The tweet was mistakenly posted by a member of our social media team who intended to publish this comment to their personal account. We have removed the post and have no intention of commenting on the subject of certifying the electoral college. We apologize to Senator Hawley for this error and any confusion about our position."
Hawley still rebuked Walmart, taking jabs at its infamously poor treatment of workers, especially amid the pandemic.
Or maybe you'd like to apologize for the pathetic wages you pay your workers as you drive mom and pop stores out of business
— Josh Hawley (@HawleyMO) December 30, 2020
Some agreed with Walmart's sentiment.

I would respect @Walmart so hard if they turned around and said, "You know what? Actually, denying the people's vote IS a bridge too far; the tweet goes back up. Go f yourself, Josh." https://t.co/7wXWtXEcJf
— Sasha Akhavi (@SA_Webmastery) December 30, 2020
Meanwhile, Trump's supporters issued calls to boycott the store chain.
The SIN Walmart has made, which indicates who they are corporately, is hiring ANTI-AMERICAN, ANTI-LAW, ANTI-CONSTITUTION citizens, who repel honest legal courses of action... which also indicates WALMART EMPLOYEES PREFER ANARCHY & RIOTING. #BoycottWalmart
— Patrick Leddy (@LeddyPatrick) December 30, 2020
Some Twitter users thought the calls for a boycott revealed Trump supporters' priorities.
It's on brand for the "F*** your feelings MAGA" crowd to #BoycottWalmart not for being the biggest recipient of corporate welfare, not for underpaying 1M Americans below a living wage, not for decimating small businesses, not for price gouging—but for a childish tweet. smh
— Qasim Rashid, Esq. (@QasimRashid) December 30, 2020
oh good people are making #BoycottWalmart trend is it because they underpay and discriminate against workers or because they use foreign child labor or because they're destroying local busi-

oh republicans are mad because a social media intern called josh hawley a loser

oh.
— kylie 🌩 ACAB (@skunkgender) December 30, 2020
The further erosion of faith in democracy imposed by Hawley's objection will likely inflame the tempers of Trump supporters when Biden is nonetheless certified by Congress as the victor on January 6th.