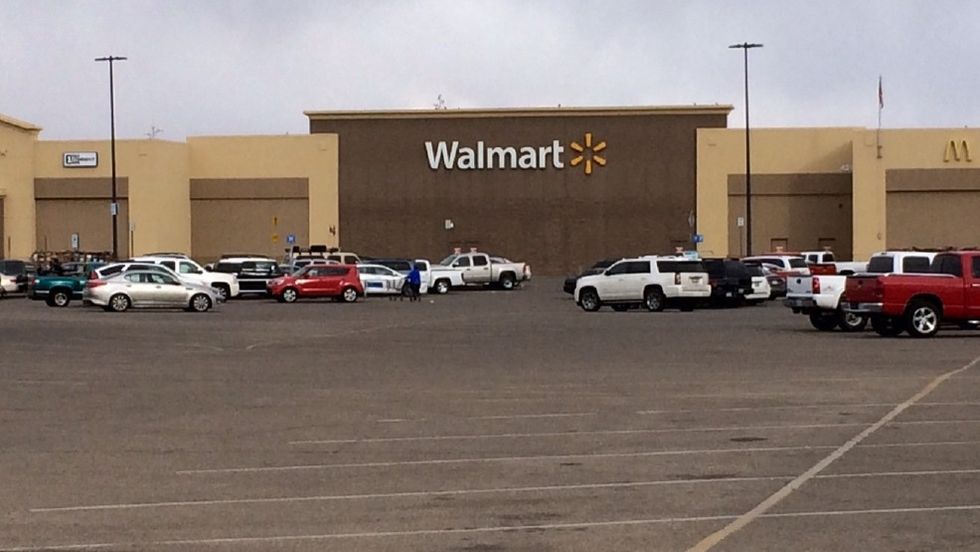 [DIGEST: ABC, My San Antonio]
Authorities in Amarillo, Texas confirmed reports of an active shooter at a Wal-Mart on I-27 and Georgia earlier this afternoon. The Amarillo Police Department asked the public to stay away from the scene and evacuated shoppers on the west side of the building.
[embed]
#BreakingNews: Active shooter at Walmart on I-27 and Georgia. Full details here: https://t.co/U2pnSCqMGV

— ABC 7 Amarillo (@ABC 7 Amarillo) 1465922408.0
[/embed]
ABC 7 Amarillo initially reported that the shooter is "believed to have taken hostages."
UPDATE: Authorities have now confirmed that there are no confirmed gunshot victims and no ongoing shooting at the Wal-Mart.
[embed]
BREAKING: Police: No confirmed gunshot victims, no ongoing shooting at Amarillo, Texas, Wal-Mart.

— The Associated Press (@The Associated Press) 1465925185.0
[/embed]
Authorities described the incident to local media as an incident of "workplace violence." Police were looking for a Somali man wearing khaki pants. Jeff Nun, the president of a bank near the Wal-Mart, said that his bank and a local day care center went on lockdown as police and emergency vehicles hurried to the scene.
UPDATE AS OF 2 PM EST: The suspect is "apparently" dead. He was shot by a member of the Amarillo Police Department SWAT Team. The hostages inside the Wal-Mart are safe.
[embed]
Suspect has been shot by APD SWAT and is apparently dead. Hostages inside are safe https://t.co/gY8nVkbTml

— Amarillo Police Dept (@Amarillo Police Dept) 1465926182.0
[/embed]
This situation comes on the heels of last weekend's attack on the Pulse nightclub in Orlando. The attack, which left 49 people dead and 53 others injured, is the deadliest mass shooting in American history. The incident in Amarillo may raise additional concerns about gun policies. Last year, Wal-Mart, the biggest gun seller in America, banned the sale of AR-15 semi-automatic rifles. As of Monday morning, however, AR-15 parts and kits are still available on the store's website.
Keep reading...Show less