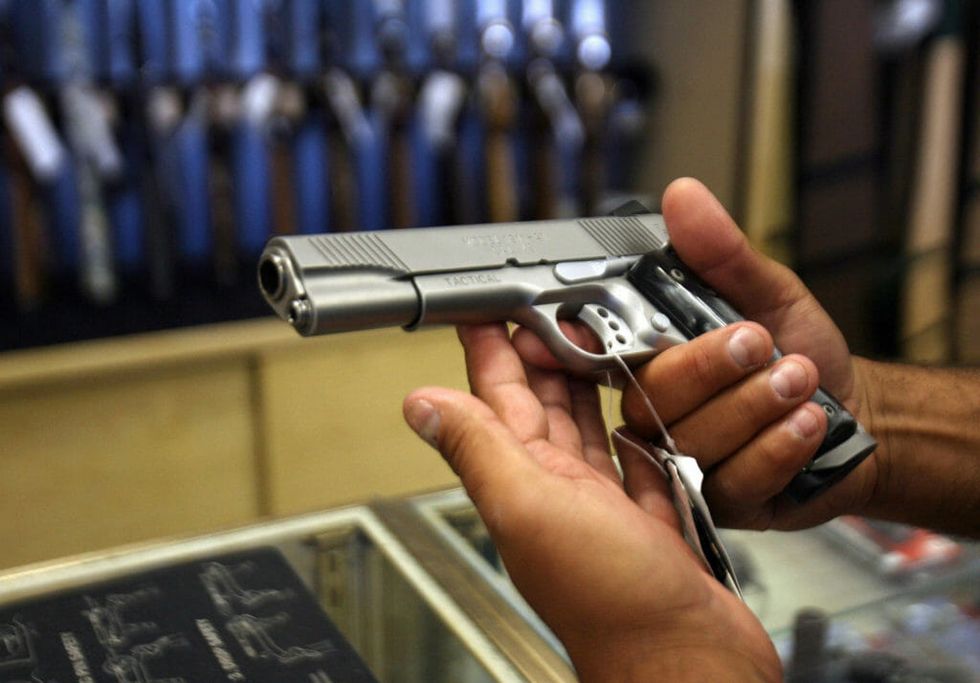 [DIGEST: NPR, Washington Post]
On Monday, the Supreme Court ruled domestic abusers convicted of misdemeanors can be barred from owning firearms. The vote was 6-2, with three liberal justices joined by three conservatives. In recent days, the case, Voisine v. United States, had attracted significant attention amid turmoil in Congress over stricter gun control measures.
Justice Elena Kagan delivered the majority opinion of the court. "Federal law prohibits any person convicted of a 'misdemeanor crime of domestic violence' from possessing a firearm… That phrase is defined to include any misdemeanor committed against a domestic relation that necessarily involves the 'use . . . of physical force…' The question presented here is whether misdemeanor assault convictions for reckless (as contrasted to knowing or intentional) conduct trigger the statutory firearms ban. We hold that they do."
Plaintiffs Stephen Voisine and William Armstrong had pleaded guilty in state court to misdemeanor assault after striking their romantic partners. Authorities later found both men in possession of firearms and ammunition in violation of the federal ban. But Voisine, of Maine, argued that Maine's law did not require prosecutors to prove he intentionally used physical force, because the charge was for "reckless conduct," and not intentional abuse.
The court rejected the argument, stating that "a person who assaults another recklessly uses force no less than one who carries out that same action knowingly or intentionally." The majority opinion, joined by Chief Justice John G. Roberts Jr. and justices Anthony M. Kennedy, Ruth Bader Ginsburg, Stephen G. Breyer and Samuel A. Alito Jr., further stressed that accepting the plaintiffs' interpretation risked striking down similar domestic abuse laws in 34 states and the District of Columbia.
The ruling drew praise from advocates for victims of domestic violence. "There's nothing more important than removing firearms from people who are known to have abused a family member," said Joan S. Meier, legal director of the Domestic Violence Legal Empowerment Appeals Project. Even relatively minor instances of domestic violence, she said, constitute a "long-standing pattern of terror enforced through coercive control."
Justice Clarence Thomas dissented, saying the firearms ban should apply only to "intentional acts designed to cause harm." He then drew a distinction
between a person who intentionally punches someone and a person who carelessly swings a baseball bat too close to someone else. "The majority fails to explain why mere recklessness in creating force––as opposed to recklessness in causing harm with intentional force––is sufficient," he wrote. Justice Sonia Sotomayor joined Justice Thomas in part in his dissent, taking issue with technical legal grounds.
Justice Thomas continued his vigorous denunciations, stating that laws prohibiting gun ownership for anyone convicted of misdemeanor assault "is already very broad." "It imposes a lifetime ban on gun ownership for a single intentional nonconsensual touching of a family member...the majority seeks to expand that already broad rule to any reckless physical injury or nonconsensual touch. I would not extend the statute into that constitutionally problematic territory..." Thomas wrote. "This decision leaves the right to keep and bear arms up to the discretion of federal, state and local prosecutors. We treat no other constitutional right so cavalierly."
Justice Clarence Thomas. (Credit: Source.)
But the majority opinion noted that Congress's definition of a "misdemeanor crime of violence" did not specifically exclude convictions based on reckless behavior. As Justice Kagan noted, "A person who assaults another recklessly 'use[s]' force, no less than one who carries out that same action knowingly or intentionally. The relevant text thus supports prohibiting petitioners, and others with similar criminal records, from possessing firearms." She went on to observe that Congress enacted the law in 1996 to "bar those domestic abusers convicted of garden-variety assault or battery misdemeanors—just like those convicted of felonies—from owning guns." Because most jurisdiction defined such misdemeanor offenses as including the reckless infliction of injury, and Congress is presumed by law to have understood the sweep of those laws, the prohibition must include those convicted of domestic abuse based on "reckless" behavior.
The case made headlines in February after Thomas asked questions during oral arguments for the first time in a decade. Thomas had asked Assistant Solicitor General Ilana H. Eisenstein whether any other misdemeanor conviction would result in the defendant's loss of "a constitutional right." Thomas's remarks came two weeks after the death of Justice Antonin Scalia, another staunch defender of Second Amendment rights. Both men clashed with their fellow justices after the Supreme Court declined to review other cases that might clarify the scope of the Second Amendment.
Keep reading...Show less