violence against women act
Video of Jacob Yerkes complaining to police about a woman's dad threatening him for stalking her prompted outcry from others who've gone through similar experiences.
14 November 2022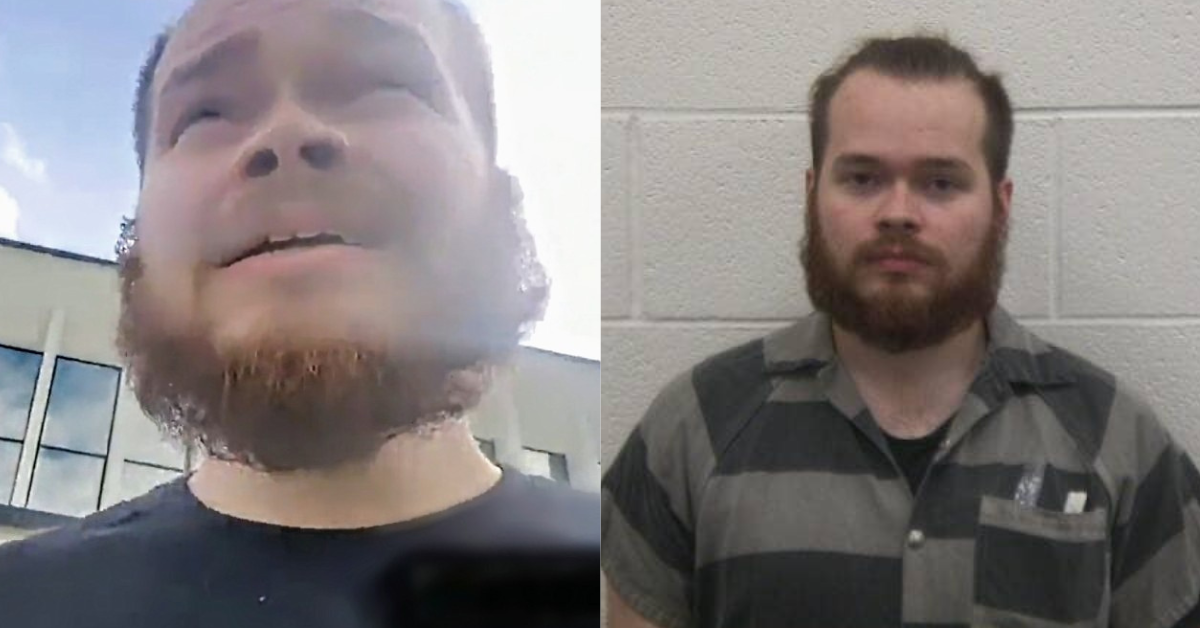 Jacob Yerkes/YouTube; Loudon County Sheriff's Department
A man social media dubbed a "delusional incel" stalked and harassed a former coworker—believed to be LGBTQ+—in a bid to "get her to be straight."
The stalker—later identified as Jacob "Jake" Yerkes—then recorded himself trying to file a complaint with police because the woman told her father who told Yerkes to stop harassing his daughter.
The police department in Yerkes' video is reportedly the Lenoir City Police Department (LCPD) in Lenoir City, Tennessee. According to a joint investigation by LCPD and Tennessee's Loudon County Sheriff's Office, the unidentified victim fended off unwanted sexual advances by Yerkes since mid-June which then turned into stalking and harassment.
After Yerkes was told to stop by the victim's father, he took his complaints to the police and to his "dudes" online.
Yerkes posted videos on YouTube and other social media pleading his case for his right to force the woman to listen to one of his songs to "give her her own choice if she wants to be with [him]" and making violent threats.
His unhinged self-filmed and self-posted video speaking to police and his "bros" quickly went viral.
You can see his video here:
Yerkes claimed he chased the woman because "women are crazy.
The police officer replied:
"Do you not think chasing someone is crazy?"
Undeterred, Yerkes continued asking:
"What about BDSM and porn where women like to have rape fantasies."
When the officer told him "this woman doesn't" Yerkes replied:
"Well, who knows? Most women do like having rape fantasies."
Yerkes said of the father he couldn't identify for police:
"She's being controlled by him… I think she should go do porn."
After his first police interaction video went viral, more of his self-posted content was found online.
In a second video with a sheriff's department member, Yerkes used the holiday song "Baby It's Cold Outside" to prove his point that women enjoy harassment and stalking.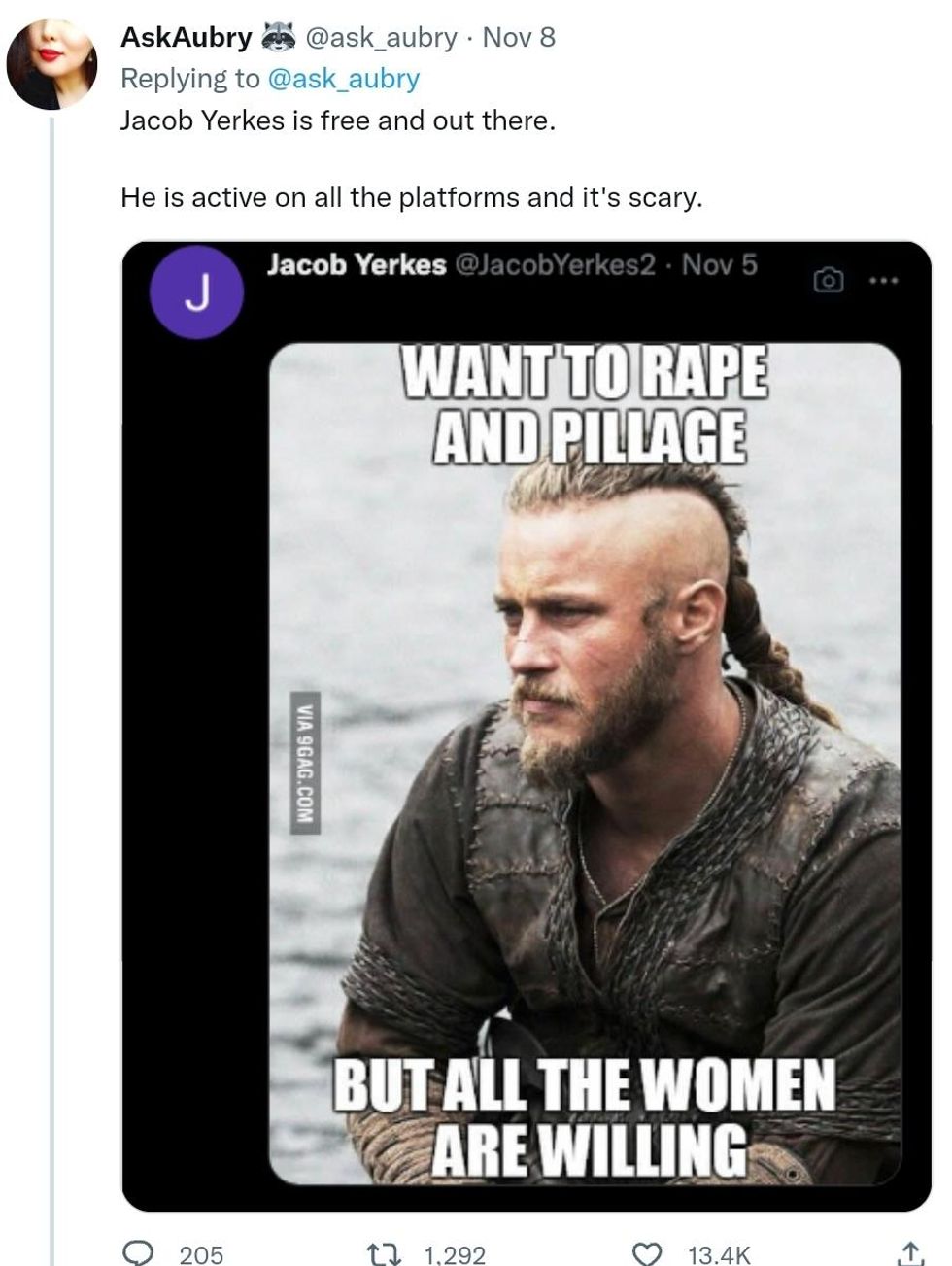 @ask_aubrey/Twitter
People were shocked and outraged.
But for far too many his twisted logic and justification for his behavior were all too familiar.

@AngryBlackLady/Twitter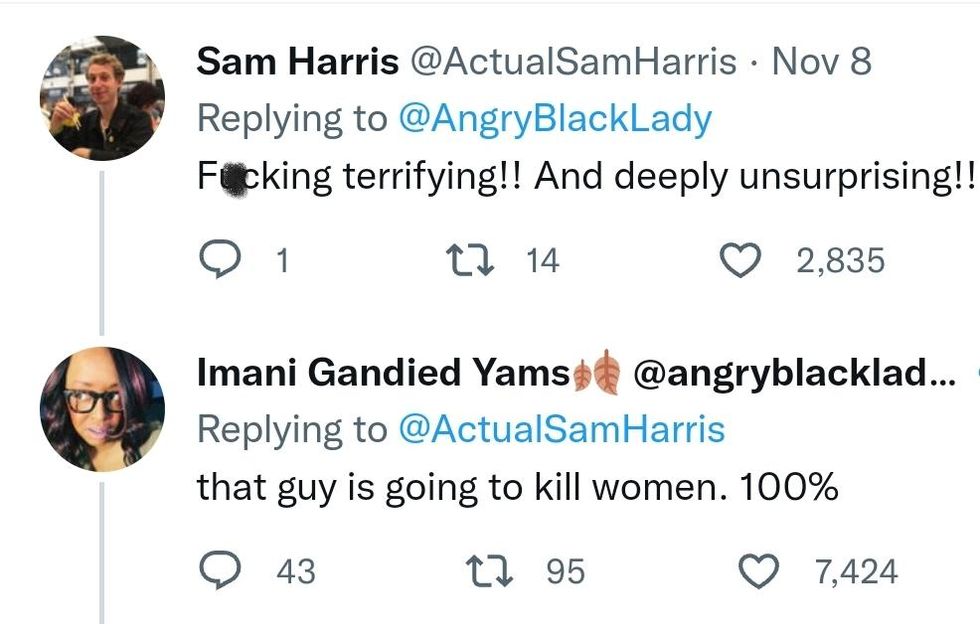 @AngryBlackLady/Twitter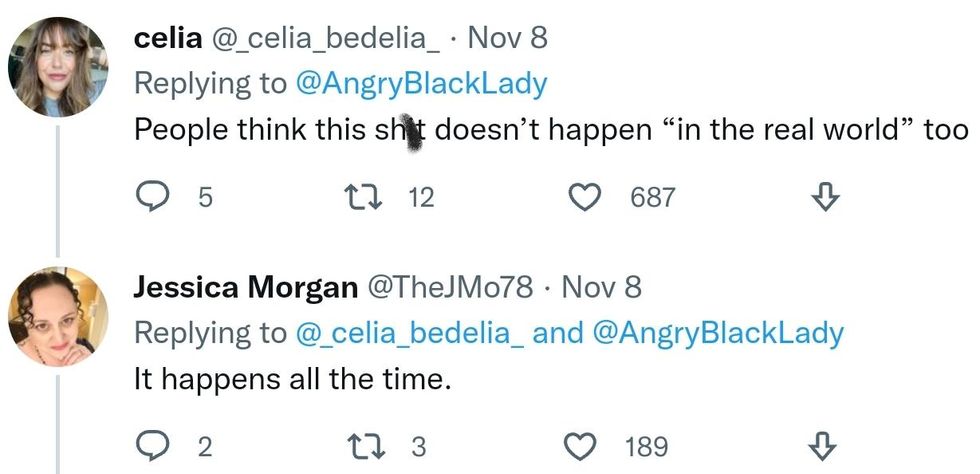 @TheJMo78/Twitter
As Yerkes returned to his car to speak to his "bros" and his "dudes," he said:
"Lindsey's dad, I hope you see this f'king video."
He added:
"You know what happens when women don't ever come to terms with themselves."
"Bad sh*t happens. Something the cops want to deny… me trying to get her to be straight."
"Something is wrong about that."
Records show since being rebutted in mid-June, Yerkes continued to contact the victim through social media, texts and by showing up at her work and following her in his car.

Lenoir City Police Chief Don White told WATE Yerkes' first video was filmed when he went to the Lenoir City Municipal Offices to complain he was threatened by a woman's father after "trying to impress her."
Chief White added:
"He went on to say that he was just trying to let her listen to a song that he had written for her."
"He made several comments that were very odd."
"Said some things like women fantasize about being stalked and said several other comments that were just very inappropriate."
After their joint investigation with the Loudon County Sheriff's Department, LCPD set charges for Yerkes based partially on his own many social media posts claiming women enjoyed his harassment and fantasized about being raped.
Chief White said:
"We did determine that we would be able to elevate the charge from just a stalking and harassment charge to harassment and an aggravated stalking."
Yerkes was arrested on Tuesday 8 November but still spewed his views on women to police after being taken into custody.

Chief White stated:
"He did say some more bizarre things that gave us concern."
Due to an ongoing investigation Yerkes could see more charges added.

Yerkes was booked in the Loudon County Jail and no bond was set as of this writing.