Despite improved technology for low and no-emission vehicles, cities are aiming to reduce or eliminate cars from their roadways. The reduction of pollution and quality of life if people used pedestrian walkways, bike paths and public transportation is motivating major changes for urban planning.
14 December 2017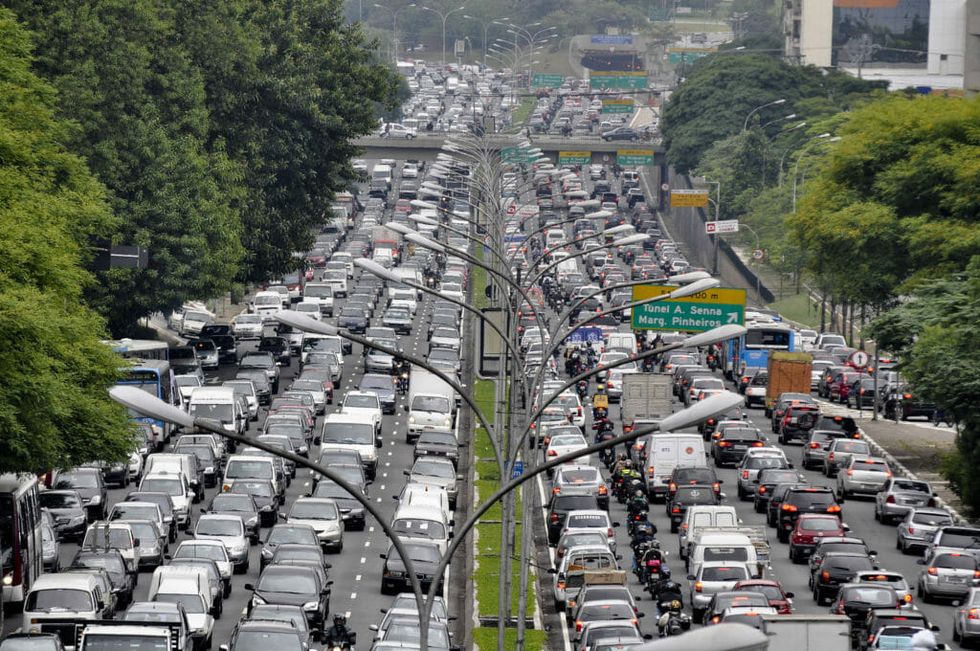 Traffic on highway at Avenida in S?o Paulo. (Getty Images)
Despite recent technological developments in electric, hybrid and autonomous vehicles, many cities are opting to clear their roadways of automobiles to make way for alternative forms of transportation. While increasing pedestrian, cycling and public transportation routes does reduce pollution, it also creates a more convenient, pleasant way to travel through a city center than sitting in grid-locked traffic.
Conquering pollution by limiting emissions
According to World Health Organization statistics, approximately three million deaths each year are connected to air pollution, a large percentage of that stemming from car exhaust. As a result of this public health risk, many cities are focusing their efforts on reducing or eliminating gas or diesel cars from the streets. Leading the way in this effort is Oxford, whose plan will create a zero-emissions zone in the city's center by 2020. Paris will follow with a gas and diesel ban in 2030. Tokyo has already banned all diesel cars, with London scheduled for 2020 and Copenhagen one year earlier, beginning in 2019.
Copenhagen. Copenhagen has been attacking pollution since the 1960s, and as a result more than 50 percent of the population commutes by bicycle, with one of the lowest percentages of car ownership in Europe. A 500 kilometer superhighway for bikes reaching out to the suburbs is already in progress, with 39 of the routes to be complete by December 2018. In addition, the city also plans to become carbon-neutral by 2025.
"It's not a human right to pollute the air for others," Copenhagen's mayor Frank Jensen told Danish newspaper Politiken. "That's why diesel cars must be phased out." 
Likewise, Councilor of the Oxford City Council John Tanner said, "Toxic and illegal air pollution in the city centre is damaging the health of Oxford's residents." He added, "A step change is urgently needed."
Paris. Likewise, Paris has already implemented car-free days, car-free zones and fines for drivers using cars more than 20 years old. These efforts show beneficial effects with a 25 percent drop in nitrogen dioxide levels, and a 20 percent drop in noise levels on the most recent car-free day.
In 2012, the French capital has tried other alternative pollution reducing methods such as banning cars with even-numbered plates, causing pollution to drop 30 percent. Mexico City enacted a similar system rotating license plates beginning in the 1980s and going through 2016, which has reduced the number of cars on the streets by two million to reduce the dense smog among the population of 20 million residents.
Since its initial successes, Paris has ramped up efforts to discourage cars in the city center altogether, committing to double the bike lanes and permitting only low- or zero-emission vehicles on high traffic streets. Other cities such as Berlin are creating large low emission zones to include approximately one-third of the population and building-wide bike superhighways.
In the French capital, cars made prior to 1997 are not allowed to drive in the city center during the week, as of July 2016. A nearly two-mile stretch along the right bank of the Seine was recently reserved for pedestrian traffic. Short-term eliminations of cars continue with car-free Sundays, its first car-free day in 2015, and a monthly closure of the Champs-Élysées.
Even by 2013, the effects of these efforts were beginning to show, as Parisians who did not own a car had grown to 60 percent, compared to only 40 percent in 2001.
Paris' Mayor Anne Hidalgo told the Journal du Dimanche in January that she wants to "reconquer the public space" for cyclists, pedestrians, and other non-polluting vehicles.
Improving quality of life
Indeed, many cities are focusing on removing or reducing the number of cars from their roadways to improve the quality of life for their inhabitants by adding parks, bike and pedestrian highways and easy access to public transportation. Often, they are choosing to approach the issue with a carrot rather than a stick.
Hamburg. For instance, Hamburg, Germany is trying to entice people away from cars by making biking and walking the predominant modes of transportation. By 2035, those will be the only ways to cross the gruenes netz or "green network"—a large connected area covering 40 percent of Hamburg to include parks, sports areas, playgrounds and cemeteries. Even the infamous traffic maze, the A7 autobahn is getting a make-over; parks will cover it to connect neighborhoods for easy access by pedestrians.
Helsinki. As Helsinki anticipates a deluge of immigrants in the following decades, it plans to offer greater incentives to those who use public transit. The city plan reduces the need for anyone to own a car by transforming surrounding suburbs into dense, walkable communities that can use one app to access a bike, train, taxi, bus, carpool or ferry.
Chengdu. A newly designed residential area for the Chinese city, Chengdu, implements similar modifications. The concept, designed by Chicago architects Adrian Smith and Gordon Gill, is that most of the 80,000 residents should be able to walk anywhere within 15 minutes—including work. Moreover, the design makes walking easier than driving. However, zoning issues are currently delaying the 2020 deadline.
Creative incentives for alternative transportation
Oslo. Oslo started out in 2015 wielding its own big stick, announcing its intention to ban all carsby 2019. But strong opposition turned the city's plan into a carrot—with teeth.
Like Helsinki, Oslo's government worried about a large expected increase in population and the associated increase in carbon footprint, but the progressive city council was committed to prioritizing a more green, quality living environment. Yet, while transportation was clearly the majority of the problem—over 60 percent of the carbon dioxide emissions—the city was already home to the world's largest number of electric vehicles.
In response, Oslo proposed a car-free ring around the city, where nearly 90 percent of the 1000 residents already did not own cars or used one for their commute. Yet the shopkeepers, led by the city's trade association revolted, fearing their businesses would die if people couldn't reach them easily.
"Many speciality shops depend on people coming from far away, who may not bother to come if they have a complex travel route," according to the manager of the trade association Beathe Radby Schieldrop. "People tend to shop where it is easy to shop." The association feared a "dead town," and a "poorer city [with] less life."
As a result of a year-long exchange, Oslo's council adjusted its tactics: instead of banning cars, it would take away parking spaces in that same zone.
Lan Marie Nguyen Berg, a Green party politician and the city's vice mayor for environment and transport, explained the plan to create community spaces in their place. She said, "Some will be playgrounds or cultural events, or [contain] benches or bike parking – or other things you can fill the space with when you don't have 1,200 kilograms of glass and steel." 
"The goal is that there should be no more space for cars, and an electric vehicle still takes up space," Berg said. "By 2030, I hope that all cars in the city will be electric – [but] we won't have space for them all."
Meanwhile, Oslo has committed to converting 35 miles of roads to bicycle paths and reinvesting in public transportation.
Brussels. On the other hand, Brussels had a head start to creating pedestrian-only areas without the political fuss. With its original pedestrian-only city square, stock exchange and other major shopping area—Brussels' car-free zone ranks second in area only to Copenhagen. In the 21st century, Brussels has been enacting aggressive expansions to that tradition, beginning with the annual "Mobility Week" in 2002 to encourage residents to use public transportation. Additionally, one day each September, all cars are banned from the city center. The city has been expanding other pedestrian areas full-time, and plans to add more by 2019. Additionally, to more directly combat pollution, diesel cars made before 1998 will be banned beginning in 2018.  
Milan. With Milan's history of high levels of pollution, the city has tried car bans in the past, but now have invented their own creative incentive—free public transit vouchers for people who leave their cars at home. The system is relatively high-tech, with a web-connected box on the dash tracking each car's location; for each day the vehicle remains at home, the city sends a voucher for the amount of a bus or train ticket to the owner.
Madrid. Madrid is working on both a governmental and a community level to pedestrianize the city with a sustainability plan. The city itself intends to create a city center with no cars by 2020, banning diesel cars altogether from Madrid by 2025, and charging cars with emissions more for parking. Meanwhile, on a more local level, urban planners are redesigning many of the city's busiest streets for pedestrians, and violators will pay $100 or more in fines.
"In neighborhoods, you can do a lot with small interventions," Mateus Porto and Verónica Martínez—architects and urban planners from the local pedestrian advocacy group A PIE—told Fast Company. "We believe that regardless of what the General Plan says about the future of the city, many things can be done today, if there is political will."
Bogotà. In Bogotà, Columbia, the city has long instituted programs to reduce cars on the road—beginning back in 1974 with a one day weekly car ban on 75 miles of roads, known as Ciclovía. However, their use of a license plate restriction program, Pico y Placa (Peak and Plate), allowing even and odd numbers on certain days of the week has created controversy. Apparently, some argue that drivers' attempts to circumvent the rules by purchasing two cars or driving during off-peak hours has, in fact, created more pollution.
London. After beginning with a congestion charge for the innermost city center in 2003, London is increasing a series strict regulations and infrastructure spending to take a tough stance on pollution. In the fall of 2017, a daily charge, the T-Charge will be assessed on the most-polluting vehicles driving in central London. A higher standard, the Ultra Low Emission Zone (ULEZ) will replace the T-Charge in 2019, which will gradually include buses, coaches, and a larger coverage area.
Mayor of London, Sadiq Khan, says that ULEZ would be "the toughest emission standard of any world city."
In addition, by 2026, London intends to invest a record $1 billion on bike infrastructure.
New York. In the 21st century, New York has made substantial efforts to retake the streets for pedestrians and cyclists, increasing public transportation options, and closing large areas to cars on a both a part-time and permanent basis.For instance, Times Square Herald Square, and Madison Square Park are car-free. Since 2008, three weekends in August, Summer Streets closes the long stretch between Central Park and the Brooklyn Bridge for street fairs with a variety of events.
Vision for Future Cities
Paul Steely White, the executive director of Transportation Alternatives—an organization that supports bikers in New York City and advocates for car-free cities—hopes to help the city develop even more pedestrian areas. He said urban planners are rethinking cities from a pedestrian's point of view.
"This is what everyday life could look like as if people mattered," White said. "The worst thing as an urban dweller is to be stuck with the auto as your only option." 
Despite New York's progress in creating more pedestrian friendly areas, no United States city has yet to take the bold steps to eliminate cars from its roadways. This is true, despite transportation becoming the nation's most quickly growing contributor to greenhouse gases, the numerous health problems caused by stress from intense traffic patterns, and the need to improve overall quality of life. At the same time, it's clear why the winding roads of European capitals—designed long before cars—are making these changes before United States' cities, with suburbs connected by wide highways designed specifically for driving.
Moreover, one 2013 study shows that pedestrian zones are more effective near local community landmarks, such as beaches or universities. Also, cars are less necessary in small or large cities, which are likely conducive to walking, bike paths and public transportation.
It's possible that no city may ever go completely go car-free; they may retain a few emission-free, autonomous vehicles. But many urban planners are beginning to see that streets should be structured around the needs of people, rather than cars.
Keep reading...Show less