Tulsi Gabbard, filling in for Tucker Carlson on Fox News, grilled George Santos over the 'blatant lies' he told during his campaign: 'do you have no shame?'
28 December 2022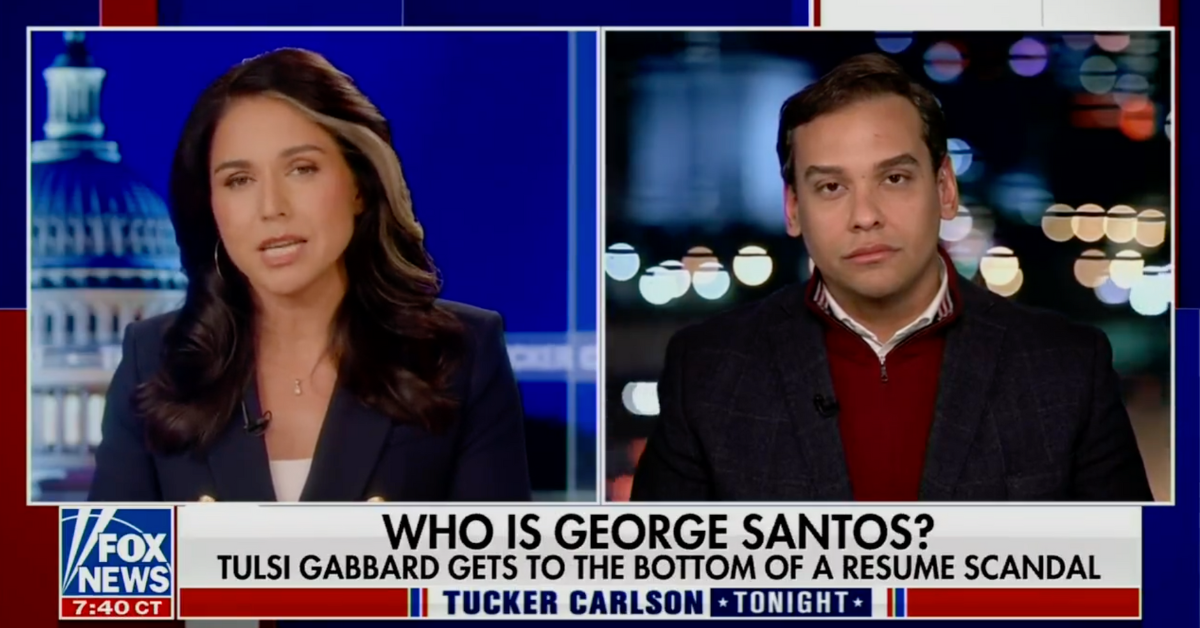 Fox News
Former Hawaii Representative Tulsi Gabbard—who made headlines this fall after she announced she was leaving the Democratic Party—called out New York Republican Representative-elect George Santos over his "blatant lies" during a Fox News interview.
Gabbard, who has taken on a new role as a Fox News commentator and was filling in for Tucker Carlson, wondered whether Santos has any "shame" now that he's facing calls to resign after admitting to "embellishing" his résumé in response to an extensive investigation by The New York Times that called into question key elements of his biography.
The soon-to-be legislator—whose election on Long Island last month helped Republicans secure a slim majority in the House of Representatives—was mocked online after he said he needed a few days to address the allegations, prompting many to opine he was simply buying time to concoct more lies about his life story.

You can hear what Gabbard said in the video below.
Gabbard said:

"The results people are looking for are called into question when you tell blatant lies, not embellishments, and this is I think one of the biggest concerns, Congressman-elect, that you don't really seem to be taking this seriously. You've apologized, you said you've made mistakes, but you've outright lied."
"A lie is not an embellishment on a résumé. You said you worked at Goldman Sachs and Citigroup but they've said, 'We've got no record of this guy working for us.' You've said you've gone to and graduated from these universities but they've said, 'We've got no record of that.'"
"These are blatant lies and it calls into question how your constituents and the American people can believe anything that you may say when you are standing on the floor of the House of Representatives supposedly fighting for them."
"That's the real issue here."
A recalcitrant Santos received further pushback from Gabbard after he said the impact of his prior statements about his life story are "debatable"—she countered that they are simply "false"—and insisted that he could "sit down" and explain to people the ins and outs of subjects like private equity and limited partnerships.
Santos, who recently said he believes he will be an "effective" House Republican once the new Congress is seated in January, reiterated that he "campaigned on delivering results for the American people" and would be "happy" to sit down with Gabbard and "settle the score" on a conversation that would otherwise go "way above the heads of the American people."
To that, Gabbard said:

"Wow... Congressman-elect, this is not about settling scores and I think you just highlighted, I think, my concern that people at home have. You're saying that this discussion will go 'way above the heads of the American people,' basically insulting their intelligence."
"So not only are you now backtracking on the lies that you've told but you're saying that you cannot explain it in a way that your constituents would actually be able to understand and that these lies are debatable."
Another moment during the interview showed Gabbard criticizing Santos for having "no shame" after he insisted he could explain what investors do when they "are looking for capital" if she could only give him the "time" to do so.
She questioned his integrity—or lack thereof—saying:
"The thing is, Congressman-elect, integrity means, yes, carrying yourself with honor but it means telling telling the truth, being a person of integrity. If I were one of those in New York's [3rd congressional district] right now that the election's over and finding out all of these lies that you've told, not just one little lie or one little embellishment... these are blatant lies."
"My question is: Do you have no shame? Do you have no shame in the people who you are now asking to trust you to go and be their voice for them, their families, and their kids in Washington?"
Santos never gave Gabbard a straight answer, proceeding to accuse the Democrats and President Joe Biden of "lying to the American people for 40 years," a claim which Gabbard refuted when she said:
"This is not about the Democratic Party, though, this is about your relationship with the people who've entrusted you to go and fight for them."
The interview quickly went viral, prompting many to praise Gabbard and criticize the unrepentant Santos.
Gabbard's interview with Santos came in the wake of a Times exposé in which journalists Grace Ashford and Michael Gold reported that Santos "misrepresented a number of his career highlights" despite building his candidacy "on the notion that he was the 'full embodiment of the American dream' and was running to safeguard it for others."

A Times review of public documents and court filings from the United States and Brazil—where Santos, the son of Brazilian immigrants, spent some time—as well as "various attempts to verify claims" Santos made on the campaign trail, concluded that Santos had lied about everything from his education to his work history at Citigroup and Goldman Sachs, and even his source of income.
For instance, Santos claims he graduated from Baruch College but neither the Times nor a separate investigation by NPR could confirm this and the school told the latter outlet that it could find no match for a George Santos in its database. And while Santos has described himself as a "seasoned Wall Street financier and investor," neither Citigroup nor Goldman Sachs had records of him working at their firms.
Santos—who claims to have been gay all his life and did not reveal during his campaign that he had divorced a woman in 2019—even said in one interview that four of his employees died in the Pulse Nightclub shooting in Orlando, Florida, in 2016, claims that did not hold up under scrutiny.
And where Santos gets his income is still a mystery even though he reported a $750,000 salary and dividends of over $1 million from his company, the Devolder Organization, which doesn't appear to exist.
Santos later confessed to New YorkPost reporters he had "never worked directly" for Goldman Sachs and Citigroup, ascribing his prior statements that he had to a "poor choice of words."
In an effort to be "clearer," he now claims that a company called Link Bridge, where he worked as a vice president, did business with the financial firms, adding that he helped make "capital introductions" between clients and investors and handled "LPS"—or "Limited Partnerships" between Link Bridge and the two financial firms.
He further admitted that he never received a college degree and addressed a claim the Jewish American publication The Forward questioned that his grandparents "fled Jewish persecution in Ukraine, settled in Belgium, and again fled persecution during WWII":
"I never claimed to be Jewish. I am Catholic. Because I learned my maternal family had a Jewish background I said I was 'Jew-ish.'"
Santos had also been accused of lying about his sexual orientation given how he'd neglected to tell voters that he'd been married and divorced to a woman, saying he is "very much gay" and that details of the "toxic" relationship are "personal stuff."