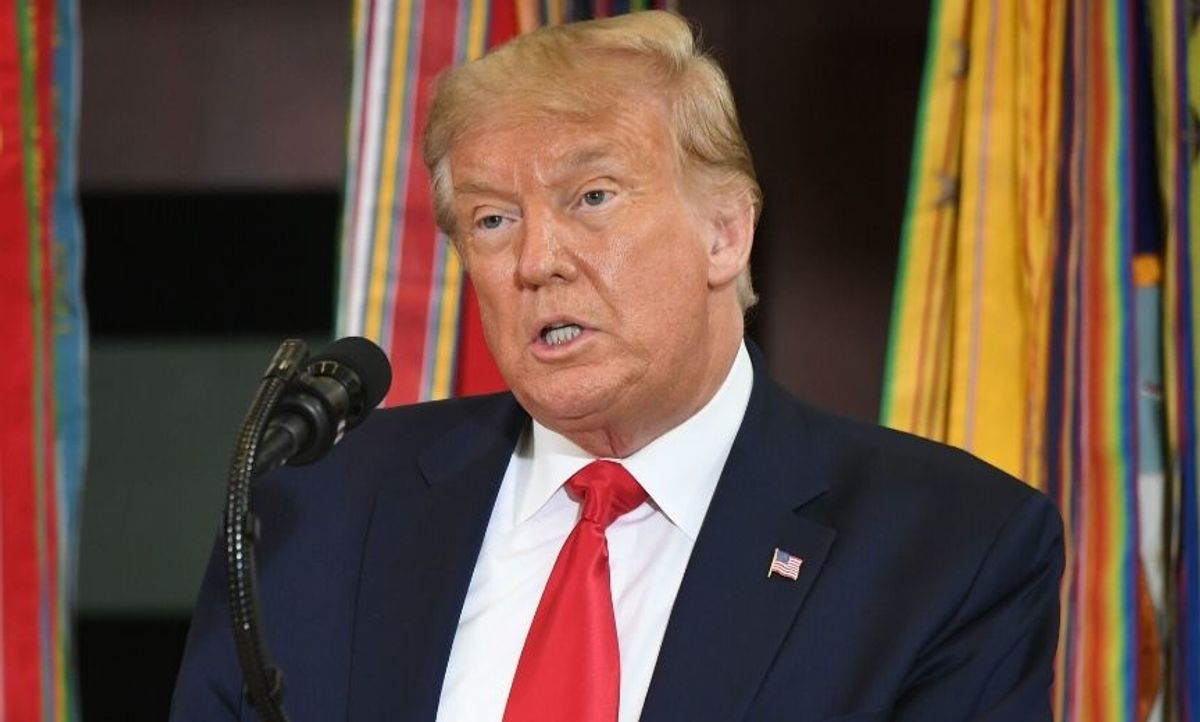 SAUL LOEB/AFP via Getty Images
President Donald Trump and his Republican allies repeatedly lament that college and university campuses are hotbeds for liberal indoctrination, political correctness, and so-called "cancel culture."
Some of the universities' offenses include not allowing Nazis to give speeches to their students, teaching comprehensively about structural racism, and taking steps to make their student body more reflective of the nation.
The President took to Twitter on Friday, accusing universities of prioritizing "Radical Left Indoctrination" over substantive education.
Too many Universities and School Systems are about Radical Left Indoctrination, not Education. Therefore, I am tell… https://t.co/k2LBdNgnAg

— Donald J. Trump (@Donald J. Trump) 1594396180.0
... and/or Funding, which will be taken away if this Propaganda or Act Against Public Policy continues. Our children must be Educated, not Indoctrinated!
— Donald J. Trump (@realDonaldTrump) July 10, 2020
The President knows a thing or two about universities.
He launched Trump University in 2005. Initially, the program was based online before expanding to in-person teaching on real estate investment.
In advertising materials, Trump boasted:

"I can turn anyone into a successful real estate investor, including you."

Students began spending thousands of dollars for classes they would later describe as useless, and some eventually filed a class action lawsuit accusing Trump of fraud, false advertisement, and racketeering.
A federal judge—whom Trump said was biased because of his Mexican heritage—approved the payment of a $25 million settlement from Trump to thousands of students.
People remembered this when Trump accused universities of not prioritizing education.
This from a man who paid someone to take his SAT's for him so that he could get into Wharton...allegedly. No wonder he wants to turn the Ivy League into Trump University. With those endowments, he's going to need another grift next January. pic.twitter.com/7RmyAXlDLw
— Amee Vanderpool (@girlsreallyrule) July 10, 2020
The worst part about getting my Anti-Radical Left Indoctrination Studies degree at Trump University is, I still owe $25 million in grifting fees.
— Bleeding Heart Liberal Marine (@zaharako) July 10, 2020
Trump University was literally a fraud.

Trump literally had to pay for perpetrating a fraud against the fools who trusted him the most.
— JRehling (@JRehling) July 10, 2020
IRC Section 501(c)(3) allows tax exemptions for most universities and colleges due to their educational purposes, but Trump threatened to reexamine that status based on what he perceives to be "Radical Left Indoctrination."
That claim didn't go over well.
"radical left indoctrination," who fills your ear with this nonsense. do you have any idea how ridiculous you sound
— Jeff Tiedrich (@itsJeffTiedrich) July 10, 2020
I assume by "Radical Left Indoctrination" he means universities having no tolerance for racism, sexism, homophobia, etc. Also, it should be super concerning that he's attacking places of learning and should be a giant red flag https://t.co/9ABbvdrGP1
— Matt Reed 🏳️🌈 (@SoulDoorman) July 10, 2020
To you, education IS radical left indoctrination. Because to you critical thinking, evidence-based analysis, the basic fundamentals of science, and actual rather than alternative facts are radical left concepts.
— Esmertina Bicklesnit (@Esmertina) July 10, 2020
The clown in the WH, who ran a fake university that robbed its students, is accusing the nation's universities of the 'radical left' indoctrination of students.

You can't make this horse manure up.
— Bishop Talbert Swan (@TalbertSwan) July 10, 2020
According to Jason Stanley, author of How Fascism Works, anti-intellectualism is crucial for upholding fascist ideologies.