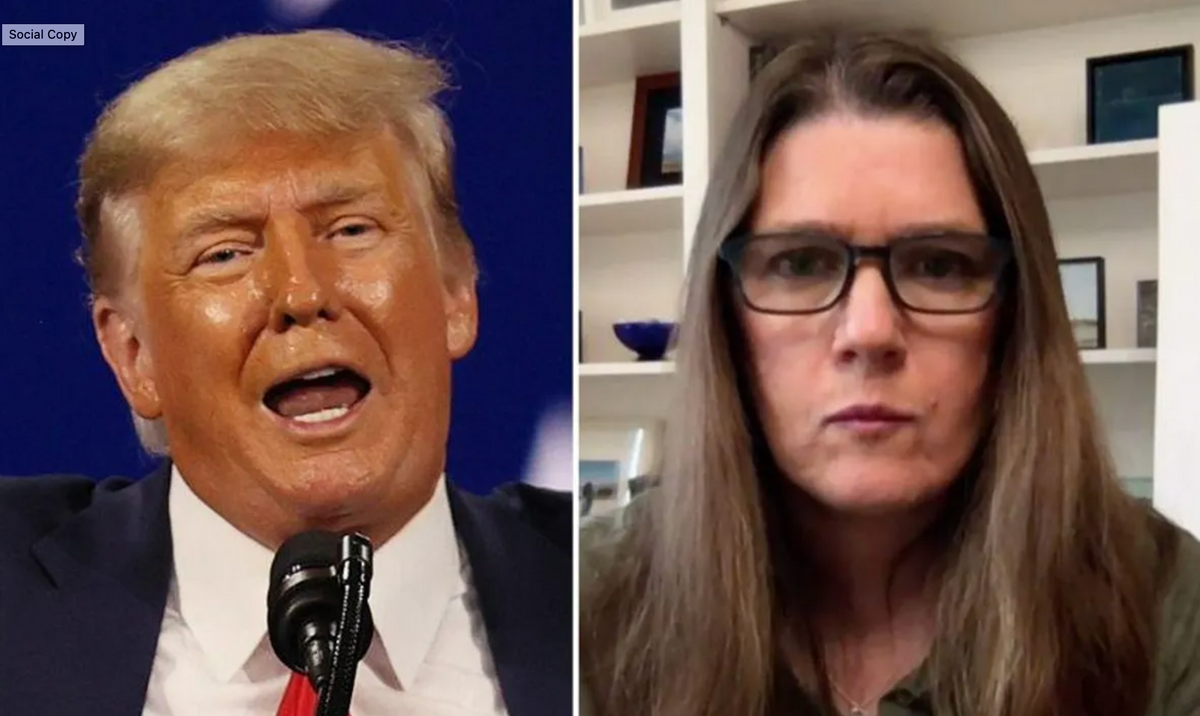 Joe Raedle/Getty Images // MSNBC
Former President Donald Trump's estranged niece, Mary Trump, rose to national prominence after the publication of her tell-all memoir, Too Much and Never Enough, presenting Donald Trump's youth and family as an insight into his character.
In the book, Mary Trump revealed she was the source for a bombshell New York Times report exposing much of the former President's financial records. The Times' investigation, which lasted over a year, won the Pulitzer Prize for uncovering the Trump family's sham companies and the evasion of up to $500 million in federal taxes.
Now, the former President is suing Mary Trump and the Times reporters she worked with for $100 million in damages, alleging that Ms. Trump breached a contract between Trump family members, and that the Times reporters "unjustly reaped" an array of benefits from the report.
Responding to the lawsuit a spokesperson for the Times said:

"[C]overage of Donald Trump's taxes helped inform citizens through meticulous reporting on a subject of overriding public interest. This lawsuit is an attempt to silence independent news organizations and we plan to vigorously defend against it."
Mary Trump's response, however, was much less tame, telling The Daily Beast:
"I think he is a f***ing loser, and he is going to throw anything against the wall he can. It's desperation. The walls are closing in and he is throwing anything against the wall that will stick. As is always the case with Donald, he'll try and change the subject."
People largely agreed with her take.
She wasn't the only one to sneer at the lawsuit.
Losing Loser seeks to lose some more. .@MaryLTrump will drag him for filth. https://t.co/ICYMJoncnH

— Katie S. Phang (@Katie S. Phang) 1632275480.0
One of the thousand lawsuits he's filed that never actually go to trial. I'm sure the New York Times and Mary Trump… https://t.co/U4rVfdRTKh

— haunted turd ferguson (@haunted turd ferguson) 1632287469.0
The fake billionaire grifter thinks he can get some free money 🤡😂 https://t.co/JBCHag2nCV

— Mike P Williams (@Mike P Williams) 1632316926.0
BREAKING: Epic loser who loses at everything plans to lose again https://t.co/bM4Ewz23XM

— Rex Huppke (@Rex Huppke) 1632275162.0
Perpetual Loser sues to keep his losing streak intact! The Art of The Bad Loser by #45TheLoser https://t.co/rWKonLvkMt

— Cilley Girl (@Cilley Girl) 1632318043.0
Another New York Times report from last year revealed he owes hundreds of millions in debt.