You reap what you sow.
12 February 2019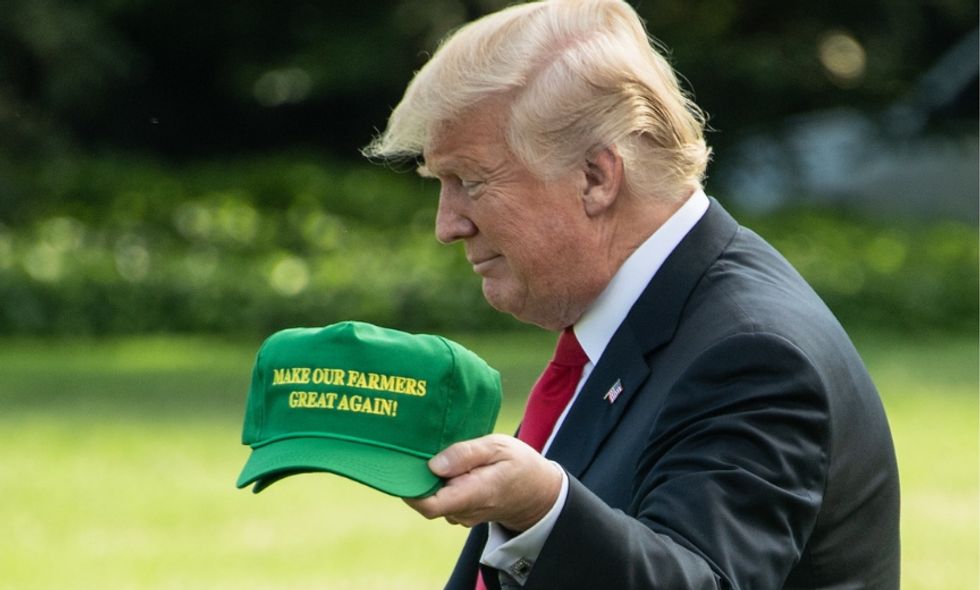 Credit: NICHOLAS KAMM/AFP/Getty Images
Midwestern farmers are going bankrupt at the highest rate in a decade and it all comes down to Trump's trade wars. The Trans-Pacific Partnership treaty would have slashed tariffs for US farmers, but Trump pulled out of the treaty three days after taking office. Now, countries like Mexico and China are imposing stiff tariffs in retaliation, but it's farmers are taking the hit.
"Agricultural prices live and die by exports," one expert said. https://t.co/YhVrIfukHo

— HuffPost (@HuffPost) 1549887030.0
2018 US farm income was about 50% less than it was in 2013, and no big improvements are expected.
"This trade war could be prolonged," said Mark Stephenson, director of the Center for Dairy Profitability at UW-Madison, "and I don't know if you declare a winner to be the person who comes out with the fewest bruises, but I don't think any of them are going to come out as the winner."
Many people don't believe Trump is a true friend to farmers.
"Twice as many farmers in Illinois, Indiana and Wisconsin declared bankruptcy last year compared to 2008, according to statistics from the 7th Circuit Court of Appeals," wrote Mary Papenfuss of the Huffington Post.
"Bankruptcies in states from North Dakota to Arkansas leaped 96 percent, according to figures from the 8th Circuit Court of Appeals."
Farmers rely on trade income from China and Mexico, but because of Trump's trade wars, their profits have taken a major hit.
Ironically, Trump tweeted "I am a tariff man" in December, saying that negotiations for a trade deal with China have already begun.
"MAKE AMERICA RICH AGAIN," the president tweeted.
Let's just hope it happens soon enough for our nation's farmers.
Keep reading...Show less