Well, he said it.
23 September 2019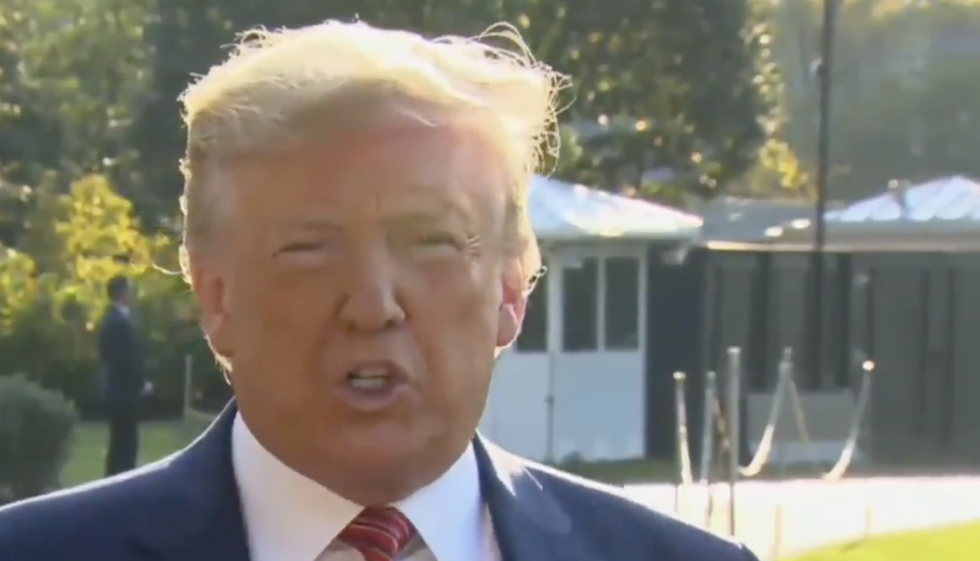 @politidope/Twitter
President Donald Trump is still grappling with controversy after pressuring Ukrainian President Volodymyr Zelensky to investigate former Vice President and current 2020 Presidential candidate Joe Biden and his son, Hunter Biden.
Claims that Joe Biden used the power of the Vice Presidency to end a Ukrainian investigation into the energy company his son served on as a board member have widely been debunked, but that didn't stop Trump from using the influence of the Oval Office in an attempt to trigger an investigation into his political opponent.
While corruption is nothing new for the Trump administration, what was surprising is Trump actually told the truth about it, to some degree, when speaking to reporters on Sunday morning.
Watch below.
Here is the president on the White House Lawn confessing that he asked a foreign leader to investigate his politica… https://t.co/FwL8pnPMCO

— Matt Rogers 🎙 (@Matt Rogers 🎙) 1569164894.0
Trump called his actions exactly what they were, saying:
"The conversation I had was largely congratulatory. It was largely corruption — all of the corruption taking place. It was largely the fact that we don't want our people, like Vice President Biden and his son, creating to the corruption already in the Ukraine."
Did he mean to say, "we discussed corruption"? Was he referring to his false claims about Biden? Is he just trolling us at this point?
Either way, Trump admitted to pressuring Zelensky to investigate the Bidens for his own political gain.
@Politidope "I am not a crook" -Richard Nixon "I am a crook, here are the crimes I committed" -Donald Trump

— Frederick C. Trump (@Frederick C. Trump) 1569171285.0
@Politidope @MalcolmNance He's just a man, standing on 5th Avenue after shooting someone, asking a country to not care

— John Ruehl (@John Ruehl) 1569167613.0
@Politidope It's like if the ending of A Few Good Men ended with a party for Jack Nicholson.

— Dave Zirin (@Dave Zirin) 1569167963.0
@Politidope Hey @SpeakerPelosi I found that evidence you were waiting for. Anytime you want to #ImpeachTheMF it's right here.

— LaserwithaG (@LaserwithaG) 1569197678.0
@Politidope This is an admission of an impeachable offense.

— 12 Mile Geo (@12 Mile Geo) 1569167076.0
One might think that Trump is becoming more concerned as these allegations continue to blow up, but according to New York Times White House correspondent Maggie Haberman, the President is actually enjoying himself.
The president, per people close to him, is enjoying all this as it plays out. https://t.co/9QqkWGhyYt

— Maggie Haberman (@Maggie Haberman) 1569176345.0
Then again, this doesn't look like the face of someone having fun.
@maggieNYT Sure, Jan. Trump really looks like he's enjoying this. https://t.co/9ylWhbQDyy

— SarahCA 💙🌊 (@SarahCA 💙🌊) 1569183289.0
House Speaker Nancy Pelosi (D-CA), to the frustration of some Democratic party members, has remained hesitant on impeachment, but these new Ukraine developments appear to have rattled even her.
Potentially significant. In new letter to lawmakers, PELOSI says if the admin fails to turn over whistleblower comp… https://t.co/BxwscUlAMz

— Jake Sherman (@Jake Sherman) 1569171786.0
This isn't going away any time soon.
------
Listen to the first season of George Takei's podcast, 'Oh Myyy Pod!' where we explore the racially charged videos that have taken the internet by storm.
Be sure to subscribe here and never miss an episode.
Keep reading...Show less