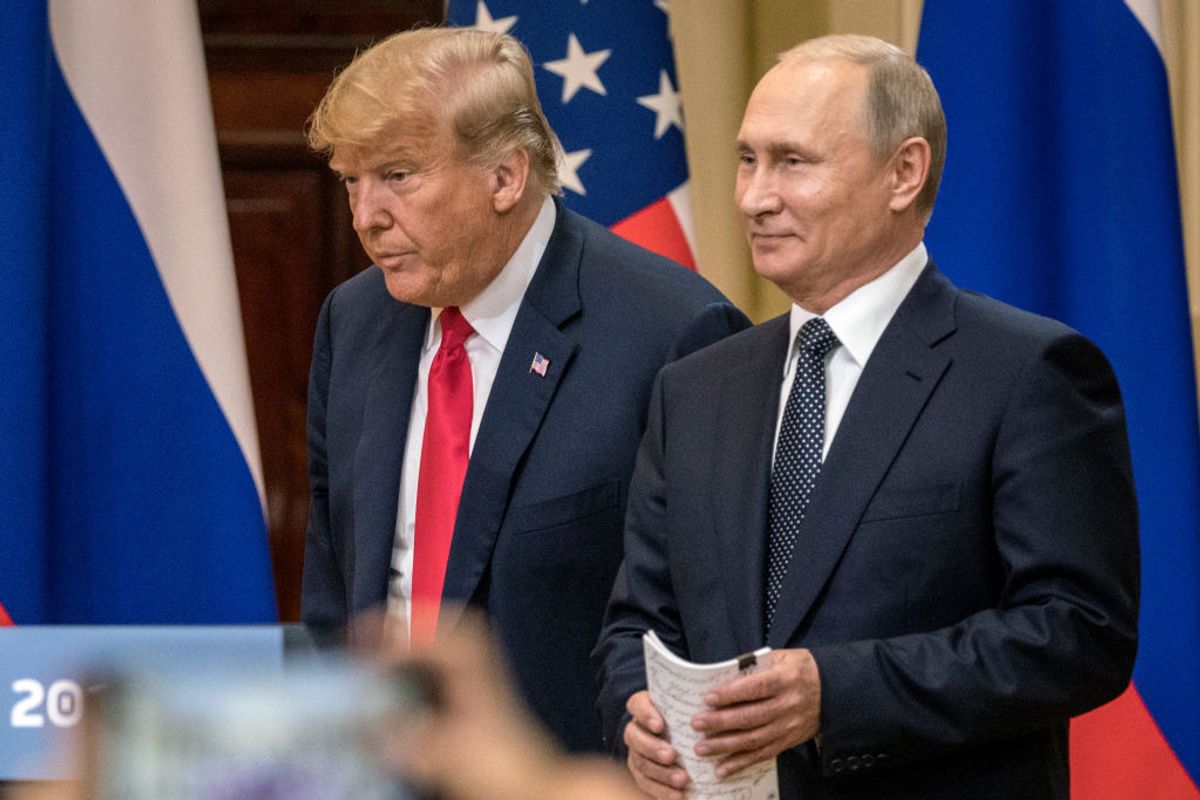 Chris McGrath/Getty Images
Russian President Vladimir Putin's relationship with President Donald Trump has been a hot topic in the United States since Trump's presidential campaign.

With evidence detailed in the Mueller Report that Trump campaign officials welcomed Russian assistance to interfere in the 2016 presidential election, Americans across the country have condemned Trump's apparent subservience to Putin.
In the Summer of 2018 at a joint conference in Helsinki, Trump infamously sided with Putin over unanimous assessments from U.S. intelligence officials that Putin ordered a sweeping disinformation campaign to influence the American election. No record of their hours-long closed door discussion prior to the conference was released.
Recently, Putin and Trump had a phone conversation to discuss counterterrorism efforts between the two nations.
White House Deputy Press Secretary Hogan Gidley described the call in a statement:

"Both Presidents committed to continuing counterterroris cooperation between the two countries. The Presidents also discussed the state of relations between the United States and Russia and future efforts to support effective arms control."

After Daily Beast editor Molly Jong-Fast suggested that the read-out of the call seemed somewhat "abbreviated," former Republican strategist Rick Wilson imagined his own version of how the call may have actually gone.
This call readout feels abbreviated https://t.co/MFuyGW8mZA

— Molly Jong-Fast (@Molly Jong-Fast) 1577725622.0
"Vlad ...may I call you Vlad? I'm really hoping that my quarterly performance review will show how much I've worked… https://t.co/2mmDQEFRIn

— Rick Wilson (@Rick Wilson) 1577733504.0
Others soon joined in.
@TheRickWilson "Sir, sir! I'm a big guy, tough guy, and I never cry like this, but I'm so proud to serve you, sir!… https://t.co/qXg4RnRnCP

— Alice Radley (@Alice Radley) 1577733617.0
@TheRickWilson "Employee does not effort to proactivate his team members' synergies, resulting in a lack of deliver… https://t.co/pZQ92r5ktI

— The Notorious ROY G BIV (@The Notorious ROY G BIV) 1577735403.0
@TheRickWilson "Because, you know, I just had a meeting with Comrade Lavrov in the Oval Office and I'm sure he told… https://t.co/gGcp5uiuqX

— Striped Smocking Michael (@Striped Smocking Michael) 1577733829.0
@TheRickWilson I want to HEAR the actual call where Boss Putin and his puppet exchanged ideas on how to merge attem… https://t.co/qASjCOtrBZ

— G Schmit (@G Schmit) 1577733978.0
@TheRickWilson "Sir" he said, "Sir, you've been doing such a good job sir. Nobody has ever been as good of a frien… https://t.co/m91rd1iJai

— Mike C! (@Mike C!) 1577733718.0
@TheRickWilson "Donald, I don't care what you're wearing. Put agent Tinklebelle on the phone ..I mean, Melania." https://t.co/3Cjv0B9X4B

— scha·den·freu·de (@scha·den·freu·de) 1577734562.0
@TheRickWilson "You may call me Sir. Q4 was mildly acceptable, but allowing yourself to be impeached downgrades you to a 2.8 out of 5."

— Danny Baker (@Danny Baker) 1577734222.0
@TheRickWilson "Donald, stop calling me."

— C V H (@C V H) 1577734746.0
The parodies of their conversation may be good for a laugh, but Russia's current efforts to interfere with the 2020 election are no joke.
Listen to George Takei's podcast Oh Myyy Pod: "Russian Interference" about how Putin was able to influence the 2016 U.S. election below.
And you can purchase your copy of podcast guest Dr. Timothy Snyder's "Road to Unfreedom" here.

Keep reading...Show less