Community leaders have called on police departments to come up with new training procedures that help address the problems of police brutality and racial bias. In response, some police departments are using theater and role-playing exercises that help officers understand their unconscious biases.
04 January 2016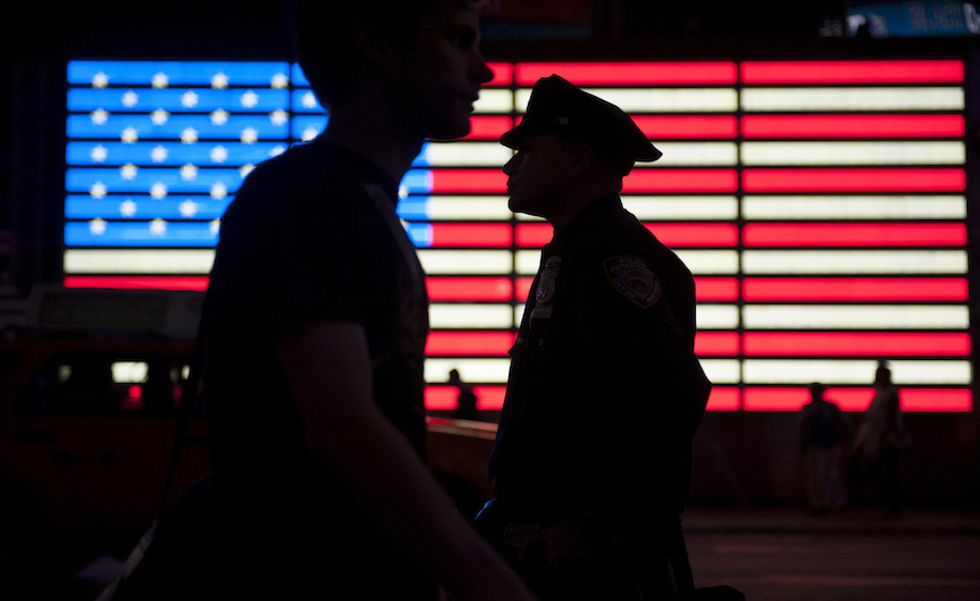 [DIGEST: The Hill, New York Post, Atlantic Magazine, MSNBC, NPR]
A few weeks ago, the largest police department in the country raised the curtain on their new sensitivity training. The New York City police recruits performed a play called Anne & Emmett.
The play involves an imaginary conversation between two teenagers who faced racial prejudice: Anne Frank, whose family hid from Nazis and later died in a German concentration camp, and Emmett Till, an African-American murdered at the age of 14 for allegedly flirting with white women. An all-white jury acquitted Till's killers.
Police work usually doesn't involve live theater. But as police departments face increasing pressure to demonstrate they are unbiased, that's changing. Some departments are attempting to use theater as a tool to teach cultural sensitivity and to develop empathy towards diverse communities.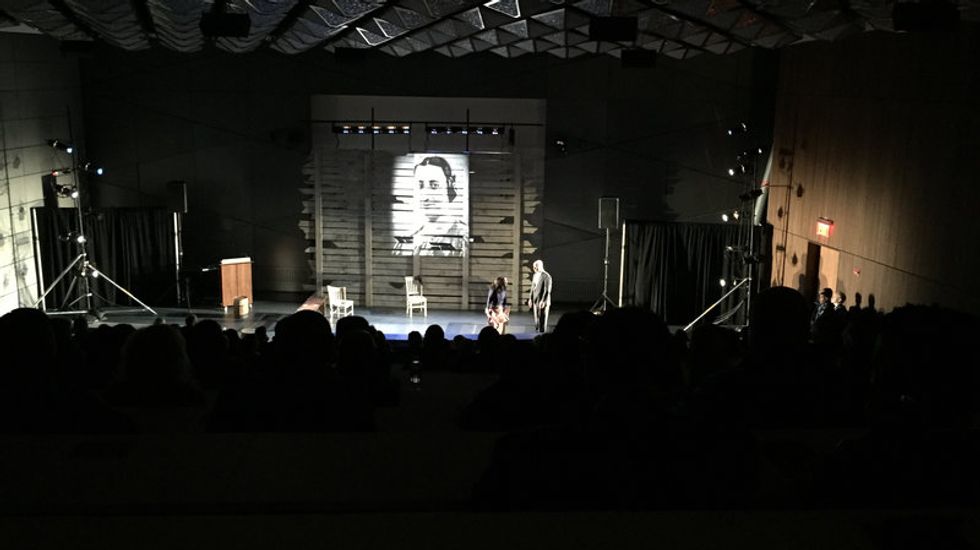 Production still of Anne & Emmett at the New York City Police Academy. Credit: Source.
Calls For Creative Solutions
Studies demonstrate that racial bias in law enforcement and police misconduct are systemic problems. A Department of Justice report revealed that 84 percent of police officers have seen
To read more, continue to the next page.
officers use excessive force when making an arrest. A Human Rights Watch study concluded that race continues to play a role in police brutality in the United States and "have subjected minorities to apparently discriminatory treatment and have physically abused minorities while using racial epithets."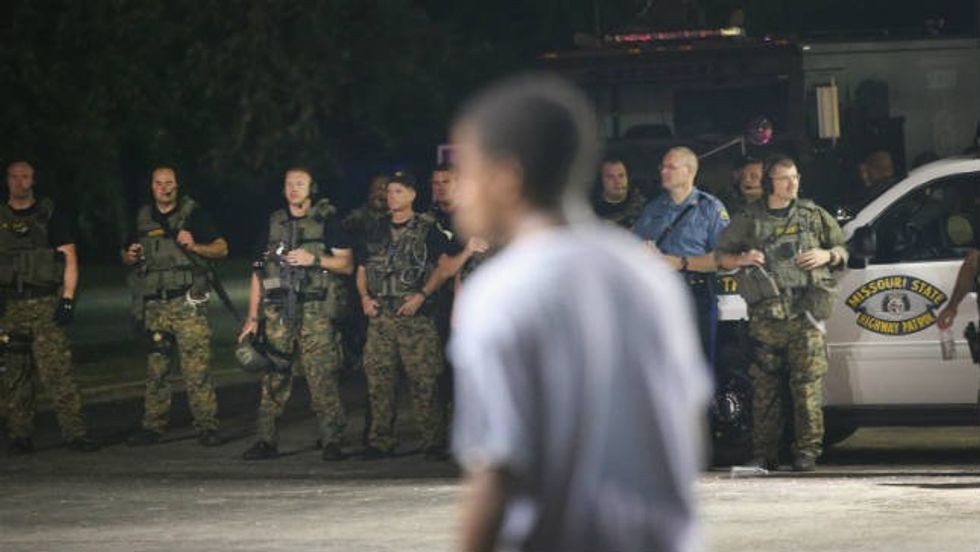 Credit: Source.
This has prompted demands that police departments find new ways to train officers. The Congressional Black Caucus, for example, has asked President Obama to require new sensitivity training of all police departments receiving federal grants.
The Play's the Thing
But could live theater training make a difference? Or is this type of "sensitivity training" too much for officers to stomach?
Asked about Anne & Emmett, NYPD Police Commissioner Bill Bratton said that the performance was a way to help teach officers to empathize with communities of color, calling the play "a poignant and thoughtful production that explores the respective histories and common experiences of two people cruelly victimized by racial and religious prejudice." He told MSNBC that for many young police recruits, Anne & Emmett was their first live theater experience, making it an even more effective teaching tool.
One of the trainees who watched the play, 23-year-old Michael Palermo, told NPR that the story reminded him of his responsibility as a police officer, "and how important it is that we stay level-headed throughout
To read more, continue to the next page.
our training." Another recruit, Anthony Frascatore, told NPR that the play taught him about different communities, "There was an African-American man and a Jewish girl that went through the same exact thing but from completely different sides of the world."
But one critic of the NYPD's new sensitivity training techniques argues that while theater might be useful to train cadets, it would be a hard sell for more seasoned police officers. "They mainly respond by rolling their eyes. Most cops see it as a kind of show business, a kind of public relations strategy," Bob Gangi, director of the Police Reform Organizing Project, told NPR.
But proponents argue that getting police cadets to act and participate in staged dramatic settings is little different than running readiness drills for any other kind of situation or crisis. In the Journal of Radical Pedagogy, Grace Telesco, a criminal justice professor at American InterContinental University and former police officer, explained that a sociodrama--a play addressing a political message or issue--provides "a unique moment to get inside the character's head…[It] allows participants to recognize what is abusive in characters, perhaps identifying the behavior as inappropriate and making the connection to their own relationships and behavior."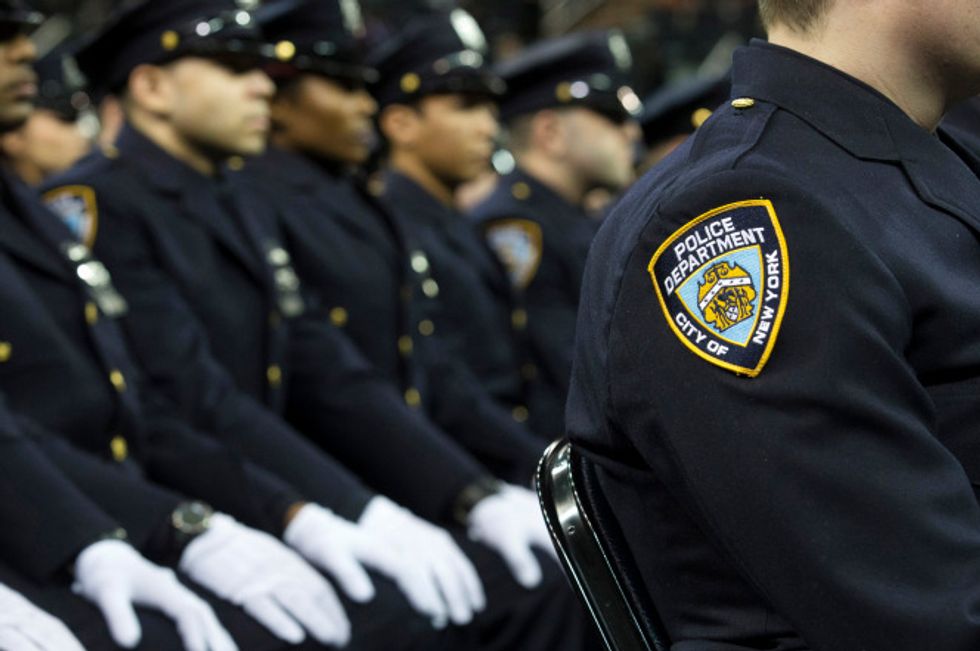 Credit: Source.
Cops May Have Roles to Play
The use of drama in police training has extended beyond classic plays into role-playing exercises. Departments in San Francisco, Los Angeles, Toronto, and Chicago have deployed such programs to address racial biases. In one such exercise, officers act out how they would deal with two black men entering a house in a white neighborhood, but then how they would handle the same situation if those men were white. 
To read more, continue to the next page.
As Lorie Fridell, a national expert who leads role-playing exercises, told the Buffalo News, "The modern science on biases tells us that all humans have biases." She added, "For too long, we have focused only on explicit biases," and hopes role-playing will uncover unconscious bias among officers.
In Minnesota, the department role-played to learn how to empathize with child victims of sexual abuse. Adult actors are hired to play the role of abuse victims. Police officers interviewed each of the fictional victims, and the actors reacted to the questions as if they were children.
Bruce Coonfield, a patrolman in Ada, Minnesota, told the Star Tribune that the exercise helped him develop more empathy for the abuse victim. "Typically as law enforcement, you interview and interrogate to get answers that you want — who, what, when, why, where — and you're not being mindful of the person's needs," but in the role-playing training he learned that "you don't just ask them the question right out."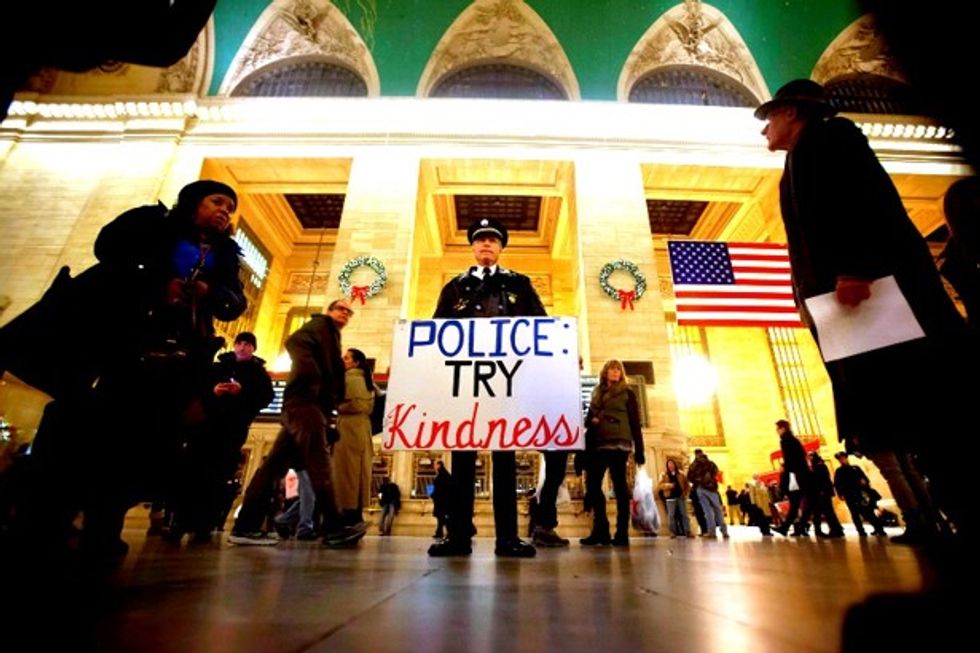 Credit: Source.
These creative training methods may not only help officers feel comfortable communicating with diverse members of the community; in the heat of the moment, that skill may also prevent unnecessary problems, including the use of force. As Janet Langhart Cohen, the playwright of Anne & Emmett, told the Associated Press,"[T]raining can take them only so far. The body cams will only cover so much. At some point, I'm hoping their humanity will kick in and hopefully this play will revive that humanity."
Keep reading...Show less