The former vice president did not mince words.
08 September 2017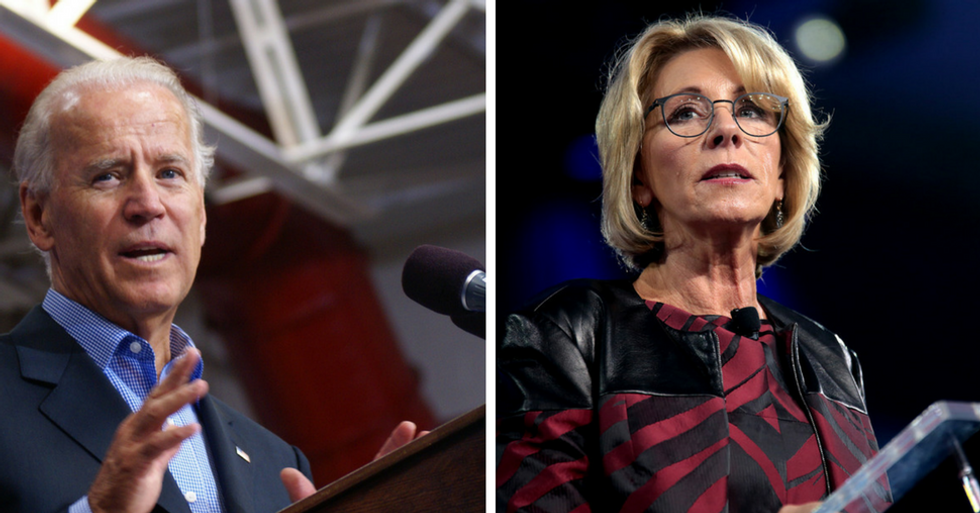 Former Vice President Joe Biden issued a strong rebuke of Education Secretary Betsy DeVos's announcement that the Trump administration would rewrite the rules on campus sexual assault in an effort to protect both the victims of sexual assault and the accused. Although DeVos did not specify what changes she had in mind, she argued that the Title IX reporting process has "failed too many students" and that it has "clearly pushed schools to overreach" through "intimidation and coercion."
Biden responded to DeVos' announcement on Facebook.
"Today's announcement that the Department of Education plans to rewrite key Title IX guidance which works to address and prevent sexual assault in our schools is a step in the wrong direction," he wrote. "The truth is, although people don't want to talk about the brutal reality of sexual assault, especially when it occurs in our most cherished institutions, it is our reality, and it must be faced head-on. And any change that weakens Title IX protections will be devastating."
He continued: "Sexual assault is the ultimate abuse of power, and its pernicious presence in our schools is unacceptable. Policies that do not treat this epidemic with the utmost seriousness are an insult to the lives it has damaged and the survivors who have worked so hard to make positive change. And sexual assault has lasting effects on survivors: as many as one-third of rape victims may develop post-traumatic stress disorder, and even more experience other long-term physical and mental health effects. It is a life-altering tragedy."
[facebook https://www.facebook.com/plugins/post.php?href=https%3A%2F%2Fwww.facebook.com%2Fjoebiden%2Fposts%2F10154652583601104&width=500 expand=1]
Many users on social media lauded the former vice president for his stance.
@JoeBiden Thank you Mr. Biden for your continued support of the vital protections in Title IX and your support of w… https://t.co/U8cIFh0Pfg

— FrancesGJoyce (@FrancesGJoyce) 1504822839.0
@JoeBiden As a survivor, thank you for this post. It means something to know you're advocating for the support I never got.

— A. Elizabeth West (@A. Elizabeth West) 1504813850.0
DeVos's views on Title IX have made her a contentious personality on both sides of the aisle. DeVos sparked headlines during her January confirmation hearing when asked by Sen. Bob Casey (D-PA) whether she would commit to enforcing the current law on sexual assault contained in Title IX. She said to do so would be "premature."
Earlier this year, in an interview with Teen Vogue, Biden criticized DeVos for her comments during her confirmation hearing.
"It bothers me most if Secretary DeVos is going to really dumb down Title IX enforcement," Biden told the magazinein April. "The real message, the real frightening message you're going to send out is, our culture says it's OK. You know, the major reason why women drop out of college when they're a freshman is because of sexual assault. Not their grades, sexual assault. And so, it would be devastating."
Now that Biden's fears appear to have come to fruition––a spokeswoman announced the Education Department will issue temporary Title IX guidelines for school districts, colleges and universities as it works on a permanent replacement for Obama-era guidelines––it's likely the former vice president is gearing up for a very public battle. In recent years, he has used his profile to advocate for victims of rape and abuse––but his efforts go back decades.
In an op-ed for TIME published in 2014, Biden commemorated the 20th Anniversary of the Violence Against Women Act, which, as chairman of the Senate Judiciary Committee, he introduced in 1990.
"We started out believing that the only way to change the culture was to expose the toll of domestic violence on American families," he recalled. "And I was convinced, as I am today, that the basic decency of the American people would demand change once they saw the scale of violence and the depth of the ignorance and stereotypes used to justify it... And along the way we've changed the culture. Abuse is violent and ugly and today there is rightful public outrage over it. It matters that the American people have sent a clear message: you're a coward for raising a hand to a woman or child—and you're complicit if you fail to condemn it."
Last year, Biden penned an open letter to "Emily Doe," the Stanford sexual assault survivor who read a message to Brock Turner, who was convicted on three felony charges, including sexually penetrating an unconscious person with a foreign object. Turner received a six-month sentence (later shortened due to "credits" which assessed Turner would be "unlikely to misbehave behind bars").
"I am in awe of your courage for speaking out — for so clearly naming the wrongs that were done to you and so passionately asserting your equal claim to human dignity. And I am filled with furious anger — both that this happened to you and that our culture is still so broken that you were ever put in the position of defending your own worth," he wrote. "It must have been wrenching — to relive what he did to you all over again. But you did it anyway, in the hope that your strength might prevent this crime from happening to someone else. Your bravery is breathtaking."
Keep reading...Show less