It is on.
10 September 2018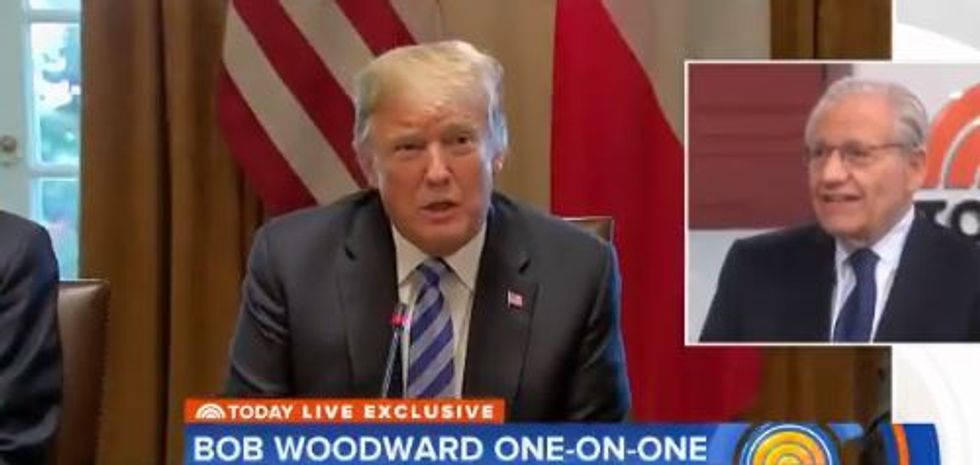 Credit: The Today Show
Veteran journalist Bob Woodward took to the Today Show to promote his new book Fear: Trump in the White House which hits shelves tomorrow.
The book, based on hundreds of hours of taped interviews and leaked documents, paints a portrait of a president drowning, with his staff believing him so incompetent that he can't be trusted to run the country.
On Today, Woodward described what he'd gleaned from the many interviews, saying that out of the eight or nine presidents he'd covered over his lifetime, he'd never seen one more detached from reality.
@realDonaldTrump @SavannahGuthrie @TODAYshow Bob Woodward: "I've never seen an instance when the president is so de… https://t.co/rnp3EvOO5P

— 𝑭𝑶𝑹𝑻𝑰𝑺 (@𝑭𝑶𝑹𝑻𝑰𝑺) 1536583224.0
Woodward continued:
This has not been treated seriously enough. The things — some of the things — that Trump did and does jeopardizes the real national security."
When it comes to journalistic integrity, few are held in higher regard than Bob Woodward, whose reporting with Carl Bernstein at The Washington Post was instrumental in uncovering the Watergate scandal.
That didn't stop Trump from attempting to assail Woodward's credibility.
The Woodward book is a Joke - just another assault against me, in a barrage of assaults, using now disproven unname… https://t.co/5QT9z2UQz6

— Donald J. Trump (@Donald J. Trump) 1536578549.0
"It is mostly anonymous sources in here, why should anyone trust you? General Mattis, General Kelly said it's not t… https://t.co/8oqKQHfZ62

— Donald J. Trump (@Donald J. Trump) 1536583013.0
This is hardly the first time he's taken to Twitter to disparage Woodward and the book. Today covered his words against it as well.
Despite Trump's efforts to purge Woodward's influence, it seems like most are on Woodward's side.
@realDonaldTrump I'm buying this Woodward book today. It really pisses Trump off to the point of being unhinged.

— Eugene Gu, MD (@Eugene Gu, MD) 1536580046.0
@realDonaldTrump Sorry! Woodward is an acclaimed professional writer. I think I'll believe him over you.

— Leonard Decant (@Leonard Decant) 1536590348.0
@realDonaldTrump Let's count how many times you've lied or distorted facts and how many times Bob Woodward has done… https://t.co/6hhZse2d2F

— JC (@JC) 1536590342.0
@realDonaldTrump @SavannahGuthrie @TODAYshow Bob Woodward is way more credible than you will ever be Your caught wi… https://t.co/YIRcBWJ9BI

— G S C (@G S C) 1536590917.0
However, Trump's efforts to invalidate the book hardly began with the Today interview.
Since the Washington Post provided the first insights into Woodward's account of the Trump White House last week, Trump has repeatedly railed against Woodward's integrity, contradicting himself in the process.
Perhaps tellingly, he remained silent on Twitter for the majority of the day as the book overtook the news cycle and nearly overshadowed the Senate Judiciary Hearing for Trump's Supreme Court nominee Brett Kavanaugh.
However, the president unleashed the tweets later that evening.
The already discredited Woodward book, so many lies and phony sources, has me calling Jeff Sessions "mentally retar… https://t.co/YJFhVgFSY0

— Donald J. Trump (@Donald J. Trump) 1536116503.0
Isn't it a shame that someone can write an article or book, totally make up stories and form a picture of a person… https://t.co/cYmJWDdw5f

— Donald J. Trump (@Donald J. Trump) 1536147198.0
Trump frequently refers to allegations in the book being "debunked" and "disproven," however the only basis for this are the denials of his staff, despite Woodward having tapes of nearly every interview and other journalists confirming that White House staffers spoke with Woodward.
Of 13 current and former White House officials I spoke to today, seven said they spoke to Bob Woodward for his book.

— Josh Dawsey (@Josh Dawsey) 1536106667.0
After "Fire and Fury," John Kelly implemented a policy on no more interviews for upcoming books. Yet at least a doz… https://t.co/eyNKngsCl5

— Kaitlan Collins (@Kaitlan Collins) 1536067835.0
And though Trump may be calling Woodward a liar now, he's championed the journalist's credibility in the past.
Only the Obama WH can get away with attacking Bob Woodward.

— Donald J. Trump (@Donald J. Trump) 1362168284.0
The president, in a call with Woodward that was recorded with his permission, also said he was "very open" to Woodward who had "always been fair." Woodward even attempted to interview Trump himself for the book, however the multiple White House aides and Republican lawmakers Woodward spoke to in order to set up the interview did not relay the message, according to Trump.
Fear: Trump in the White House is out tomorrow. We're expecting multiple 280 character reviews from the president.
Keep reading...Show less