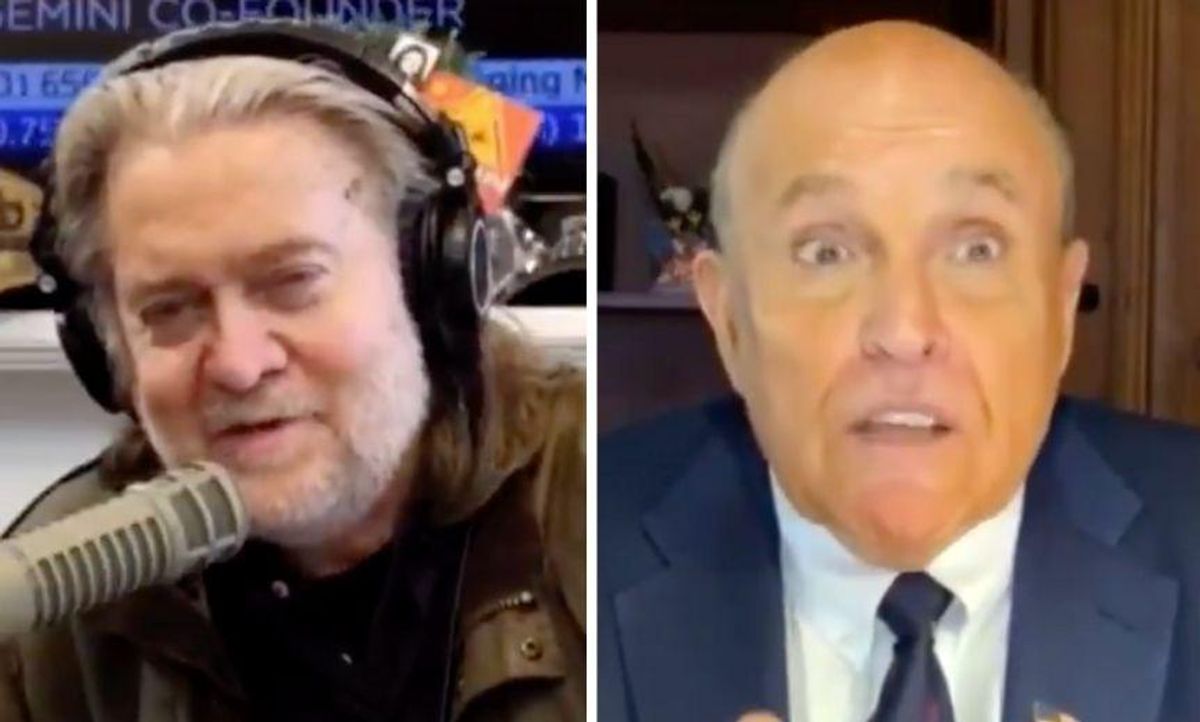 @BradMossEsq/Twitter // @BradMossEsq/Twitter
For months after experts determined that then-President-elect Joe Biden won the 2020 presidential election, former President Donald Trump's personal lawyer—Rudy Giuliani—was one of the biggest purveyors of the lie that Democrats coordinated widespread election fraud which "stole" the election from his client.
At no point has Giuliani provided any substantive evidence of his delusional claim, and his lies about election software company Dominion Voting Systems saw him slapped with a $1.3 billion defamation lawsuit.
The lies propped up by Giuliani to Trump's millions of followers played an undeniable role in the deadly siege on the U.S. Capitol by pro-Trump extremists. Just before the riot, Giuliani himself suggested "trial by combat" to a rally of Trump supporters who later marched to the Capitol.
As a result of the failed insurrection, Trump was impeached for a second time and is currently facing trial in the Senate.
Giuliani, nevertheless, continues to peddle conspiracy theories to anyone who will listen. One of the few listening is white nationalist and former Trump advisor Steve Bannon, whom Trump pardoned earlier this month for defrauding Trump's own supporters.
But even Bannon had to laugh when Giuliani offered his latest baseless accusation as to how the Capitol riots began.
Watch below.
On Bannon's "War Room" radio show, Giuliani claimed that anti-Trump Republican group The Lincoln Project had ties to the violence, saying:
"A lot of the people involved in the planning—Antifa—and even some right-wing groups were enemies of [Trump's] and that they were doing it in order to hurt him, including some right-wing groups that operate for the Lincoln Project or have been working with the Lincoln Project at various times."
Bannon interrupted Giuliani and asked him to elaborate, to which Giuliani responded:
"One of the people who organized this is well-known for having worked with the Lincoln Project in the past ... One of the people involved brought in right-wing groups that opposed Trump, and he brought them in specifically because he wanted to blow this thing up. He had the same motivation the antifa people had, so it isn't as if these right-wing groups were all pro-Trump."
Giuliani went on to repeat the lie that "antifa" and other anti-Trump entities planned the riot in order to weaken Trump's public perception. The dozens of arrests since the Capitol riots have nearly all been of documented Trump supporters, and Trump's own Department of Justice said there was no indication of any antifa participation.
Bannon asked Giuliani to name the person he claimed had ties to the Lincoln Project and supposedly planned the riot, to which Giuliani responded:
"I don't know if I can reveal his name, because we have that from anonymous sources."
Bannon, through laughter, responded:
"You can't throw a charge out there like that and say, 'Oh yeah, I've got a double secret probation guy who I can't mention, but he worked for Romney and worked for the Lincoln Project."
Prominent Lincoln Project member and former Republican strategist Steve Schmidt reacted gleefully to the smears of his political action committee, hoping Giuliani's words would give the Lincoln Project grounds to sue him.
The Lincoln Project's Twitter account mocked Giuliani as well.
People knew Giuliani's claims were bogus when even a far-right personality like Bannon couldn't help but ridicule the baseless assertion.

The internet put Giuliani through the wringer.
Giuliani—ironically enough—is host of the Common Sense podcast.