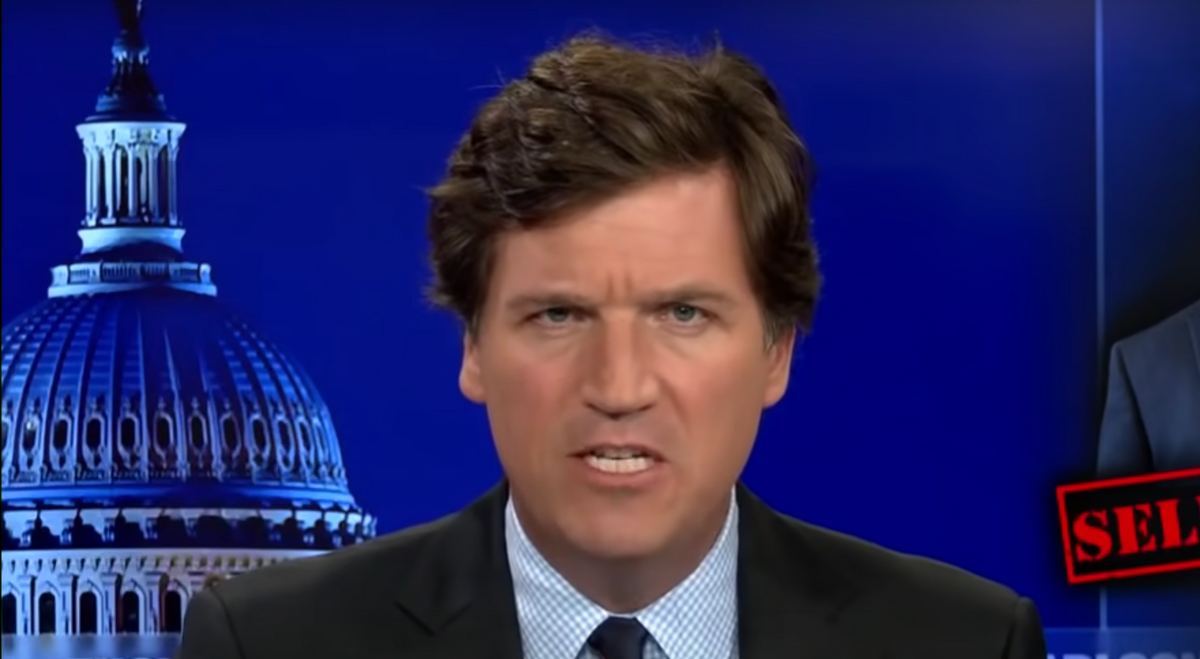 Fox News
With the rise of former President Donald Trump and the acceleration of white nationalist politics gripping the nation, the conservative Fox News network has gone further right than many ever imagined.
Perhaps none of their on-air talent is more unhinged than primetime host and Dancing with the Stars loser, Tucker Carlson.
Carlson has told his millions of viewers that immigrants make the United States dirtier. He's claimed Vice President Kamala Harris isn't from this country because she spent six years in Canada. He's repeatedly peddled the white supremacist "great replacement" conspiracy theory, which posits that non-white immigrants are deliberately sent to the United States in order to suppress white Americans.
Carlson has also repeatedly downplayed the deadly failed insurrection of January 6, when a mob of pro-Trump extremists stormed the United States Capitol, prompted by Trump's fantasies that the 2020 election was stolen from him. The far-right host demonized Capitol and D.C. Metro police officers for testifying to Congress about the horrors they witnessed that day. He called the rioters "tourists" and dismissed the idea they posed a threat, saying they were "old people from unfashionable zip codes."
For his latest trick, Carlson is hosting a Fox Nation series—Patriot Purge—insisting that the January 6 insurrection was a false flag carried out by government operatives hoping to justify the suppression of political freedoms.
For two Fox News contributors, the antics are too much.
Steve Hayes and Jonah Goldberg published a lengthy explanation on The Dispatch—which they cofounded—explaining their decision.
The pair listed Carlson's show and the increasing derangement of the network's opinion hosts as a primary reason:
"Over the past five years, some of Fox's top opinion hosts amplified the false claims and bizarre narratives of Donald Trump or offered up their own in his service. In this sense, the release of Patriot Purge wasn't an isolated incident, it was merely the most egregious example of a longstanding trend. Patriot Purge creates an alternative history of January 6, contradicted not just by common sense, not just by the testimony and on-the-record statements of many participants, but by the reporting of the news division of Fox News itself."
The letter continues:
"This is not the place to expound at any length on the many problems and challenges facing the country. But we sincerely believe that all people of good will and good judgment—regardless of their ideological or partisan commitments—can agree that a cavalier and even contemptuous attitude toward facts, truth-seeking, and truth-telling, lies at the heart of so much that plagues our country."
The announcement generated a wealth of reactions online, with many praising their decision.
This is much welcomed.https://twitter.com/benyt/status/1462553018293960709\u00a0\u2026

— Wajahat Ali (@Wajahat Ali) 1637535335
It\u2019s not always easy taking a principled stand but well worth it. \nBravo @stephenfhayes @JonahDispatch https://twitter.com/benyt/status/1462553018293960709\u00a0\u2026

— Tara Setmayer (@Tara Setmayer) 1637558005
Awesome. Hear hear.https://twitter.com/benyt/status/1462553018293960709\u00a0\u2026

— Buzz Patterson (@Buzz Patterson) 1637555359
Others were more critical about what Goldberg and Hayes, who joined the network in 2009, were willing to tolerate.
These poor guys, imagine getting hired and then your FIRST DAY on the job you see something terrible that compels you to quit, I am assuming https://t.co/lWC86yc4xB
— Paul oF Tompkins (@PFTompkins) November 22, 2021
So the other racist things, the sexual harassment, the undermining of democracy was all alright until now? Guess they've secured the next monied position and can now act like they knew nothing 🙃 https://t.co/gjgXmHdc1j
— MS. JUNE, Black, Meta, & Vaxxed (@JuneMo41) November 22, 2021
These resignations, while welcome, are somewhat hollow gestures. Fox "News" has been relentlessly injecting poison into our civic bloodstream for years, and Carlson's vile show only slightly upped the toxicity.

These men bolstered an evil enterprise. Surely they knew that. https://t.co/uDYpi8PToX
— Dan Gillmor (@dangillmor) November 22, 2021
It's nice to know they do actually have a line but considering what they've condoned until this point let's not pretend these are wise voices to listen to https://t.co/LeUA1ZzYiD
— Brian Kaylor (@BrianKaylor) November 22, 2021
In comments to the New York Times, Carlson said the men's departure was "great news."