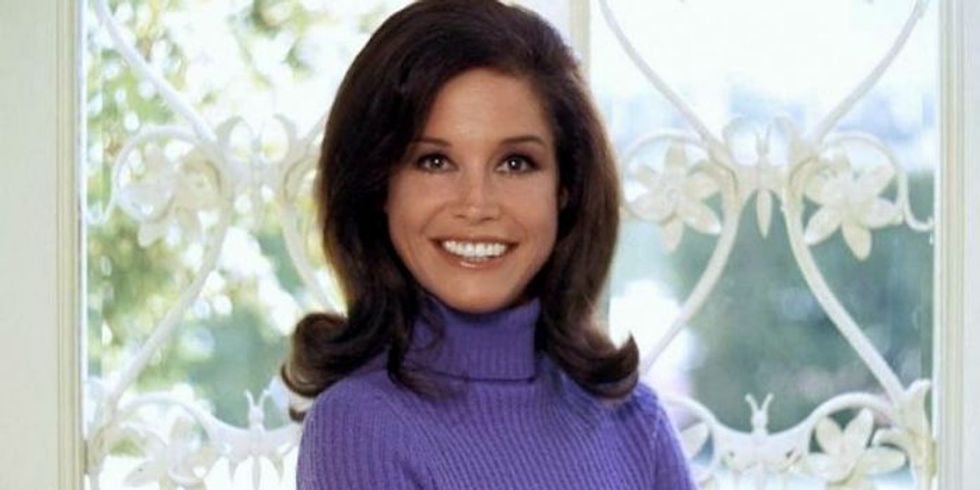 Mary Tyler Moore, whose starring roles in television comedies as staunchly independent women made her an icon of the second-wave feminist movement and inspired millions of American women for generations thereafter, has passed away. She was 80. The actress had long battled Type 1 diabetes and in recent years had undergone several laser surgeries to treat her deteriorating vision. She later underwent brain surgery in 2011. TMZ was the first to report Moore was in "grave" condition at a Connecticut hospital and that her family members had come to say their last goodbyes.
"Today beloved icon Mary Tyler Moore passed away at the age of 80 in the company of friends and her loving husband of over 33 years, Dr. S. Robert Levine," Moore's longtime representative Mara Buxbaum said. "A groundbreaking actress, producer, and passionate advocate for the Juvenile Diabetes Research Foundation, Mary will be remembered as a fearless visionary who turned the world on with her smile."
Born in the Brooklyn Heights section of Brooklyn, New York on December 29, 1936, Moore decided from a young age that she wanted to be a performer, and, at age 17, set her sights on becoming a dancer. She landed her first television role as a "Happy Hotpoint," a dancing elf on Hotpoint appliances in TV commercials during the 1950s series Ozzie and Harriet. (Moore ended her stint after she became pregnant and it became too difficult to conceal her pregnancy in her elf costume.) She landed her first significant television role shortly afterward, as a glamorous telephone receptionist on Richard Diamond, Private Detective. She made further guest appearances on shows such as Johnny Staccato (alongside John Cassavetes), Bachelor Father, The Tab Hunter Show and Hawaiian Eye.
Moore found herself thrust into the national spotlight after producer and writer Carl Reiner cast her as Laura Petrie, the wife of Dick Van Dyke's Rob Petrie, on The Dick Van Dyke Show. Moore's work on the show, at once sharp and assured, made her a darling among female audiences during the politically turbulent 1960s and won her two Emmy Awards for Best Leading Actress. But Moore would reach her artistic zenith the following decade on Mary Tyler Moore, a successful half-hour newsroom sitcom which she and her husband, Grant Tinker, pitched to NBC.
The premise of the single woman alternating between her responsibilities at work and at home resonated with viewers tremendously, becoming a television staple and stirring the burgeoning women's movement. Mary Tyler Moore proved so popular, in fact, that three characters, Ed Asner's Lou Grant, Valerie Harper's Rhoda Morgenstern, and Cloris Leachman's Phyllis Lindstrom, all received their own spinoffs. The show dominated the ratings for six consecutive seasons and, despite a slip in ratings in its seventh year, finished strongly, garnering the 1977 Emmy Award for Best Comedy Series.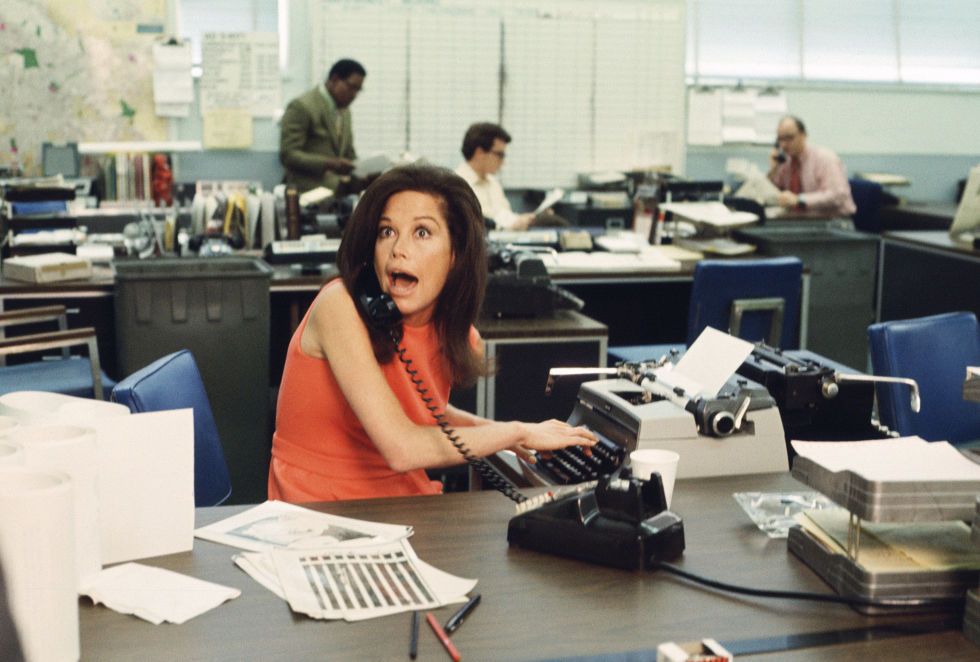 Credit: Source.
Later attempts on the part of the studios to replicate Mary Tyler Moore's stunning run were not as successful. Mary, which starred Moore during the 1978-1979 season, was a ratings flop; The Mary Tyler Moore Hour, which featured Moore as a television star putting on a variety show, also failed. Similar projects also stalled and in the 1990s, after she expressed unhappiness with her character on CBS's New York News, the show was canceled before she could be written out.
Moore also made several notable appearances on the Broadway stage. She was the star of Holly Golightly, a musical treatment of Truman Capote's Breakfast at Tiffany's that closed in previews. In the 1980s, she starred in Whose Life is it Anyway? (alongside James Naughton) and Sweet Sue; she also produced a number of plays––including Noises Off and A Day in the Death of Joe Egg––with her production company. She made headlines in 2003 after playwright Neil Simon asked her to leave a production of his play, Rose's Dilemma, because she needed to have her lines fed to her through an earpiece.
Perhaps her greatest success away from Mary Tyler Moore came in Robert Redford's 1980 adaptation of Judith Guest's Ordinary People, in which she played a grieving mother unable to cope with the death of one son in a boating accident––and the subsequent suicide attempt of her other son who blames himself for his brother's death. Moore received a 1980 Academy Award nomination for Best Actress for her performance in the film, which would win Best Picture. Tragedy struck when Moore's son, Richard Meeker, committed suicide while the film was still in production.
Keep reading...Show less