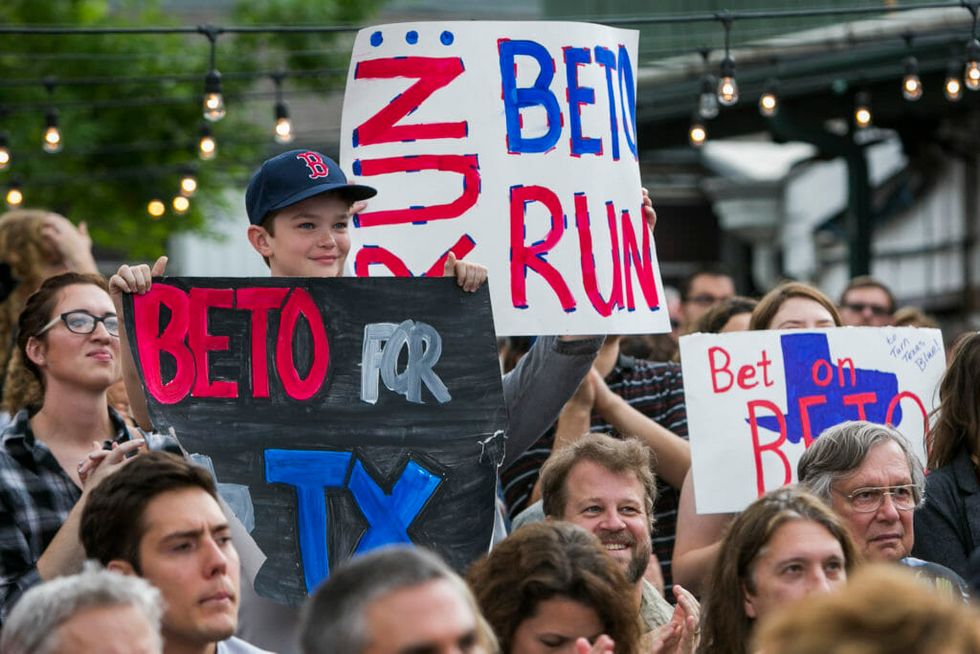 AUSTIN, TX - APRIL 1: The crowd listens to Rep. Beto O'Rourke (D-TX) giving a speech at Scholz Garten on April 1, 2017 in Austin, Texas. O'Rourke announced his plan to run for Ted Cruz's Senate seat on Friday and launched his campaign with a four-city tour of Texas. (Photo by Drew Anthony Smith/Getty Images)
Democratic early voting turnout is surging past turnout of Republican voters as the Lone Star State officially begins picking candidates for the 2018 midterm elections.
The initial eight days of early voting in Texas already showed Democrats reaching record levels in a midterm year. https://t.co/FLaCRDkJa2

— NPR (@NPR) 1520181360.0
Texas will hold its first primary elections on Tuesday, but early voting indicates that Democrats have already surpassed their 2016 numbers. High Democratic turnout indicates that the so-called "Blue Wave" is indeed real, as Democrats are much more enthusiastic about voting this year than their Republican counterparts. Dave Wasserman of the Cook Report reported on Saturday that in the largest 15 counties in Texas, Democratic early voting in 2018 has Dem primary "spiked 105% (!) vs. 2014 midterm, vs. just 15% in GOP primary." The evidence of a growing enthusiasm gap, Wasserman notes, "should be major warning for GOP."
Breaking: in TX's 15 largest counties, early voting in Dem primary spiked 105% (!) vs. 2014 midterm, vs. just 15% i… https://t.co/cSviGKbcnZ

— Dave Wasserman (@Dave Wasserman) 1520119126.0
Beth Keenan recalled that the number of early voters at the polls was "astonishing." Keenan said "there just weren't any" Republicans, but rather "just some people who used to be Republicans."
@Redistrict I was in a huge line for early voting for primary in Dallas last night. Astonishing. Voting was for bot… https://t.co/JI5VCZMqJr

— Beth Keenan (@Beth Keenan) 1520122705.0
And as Texas journalist Bob Moore points out, Democrats have managed an upward 184,000 vote swing when compared to early voting in 2014.
@JoeJTogs @Redistrict @DomenicoNPR In Texas, Republicans had a 139,000 vote edge over Dems in primary early voting… https://t.co/CRZLc2L48s

— Bob Moore (@Bob Moore) 1520124757.0
As of Friday, the total number of early ballots cast in Texas's 12 most populous counties are 254,764 (D) to 238,681 (R).
@Redistrict https://t.co/Q0RUATKJAs

— TrumpLovesNazis (@TrumpLovesNazis) 1520180708.0
"Texas is the nation's bellwether right now," said Tariq Thowfeek, communications director for the Texas Democratic Party. "It's a good gauge of the incredible progressive energy we have across the country in a state that is ranked at the bottom of the barrel in voter turnout." Thowfeek is referencing the nearly 40 state legislature seats across the country which Democrats have flipped from red to blue since President Donald Trump took office just 13 months ago.
@NPR However, Democrats need to take nothing for granted in 2018. We will keep working to get the vote out and we will not let up.

— 🇺🇸 Donald not tolerated here. 🇺🇸 (@🇺🇸 Donald not tolerated here. 🇺🇸) 1520181804.0
Democrats, however, historically vote early more often than Republicans. But the sheer number of votes and their outpacing of GOP voters could signal that times are changing.
@NPR @MattMurph24 Texan liberals are getting the message! You can do this! https://t.co/rTBi11k4PN

— Liberty & Justice... (@Liberty & Justice...) 1520181855.0
Trump fatigue is real, and on the national level, Democrats need to net only 24 seats to retake control of the US House of Representatives. Voter statistics show a very friendly electoral scene for Democrats this November.
Fascinating TX early vote stats via @longhornderek: * Womem as % of vote: R 49.5, D 59 * Avg age: R 62.8, D 55.7 *… https://t.co/TctEvf2qnG

— Evan Smith (@Evan Smith) 1520208754.0
It's quite typical for Americans to vote out incumbents aligned with the part of the President. But the fact that Texas, a decades-long Republican stronghold and the second largest Electoral College prize in presidential elections has so much more enthusiasm coming from Democrats than Republicans should have the GOP very concerned. And for Democrats, 2018 could just be the beginning of their long sought-after dream of turning Texas blue. Doing so would be a death knell for the GOP on the national level.
Keep reading...Show less