A clear and present danger.
05 September 2018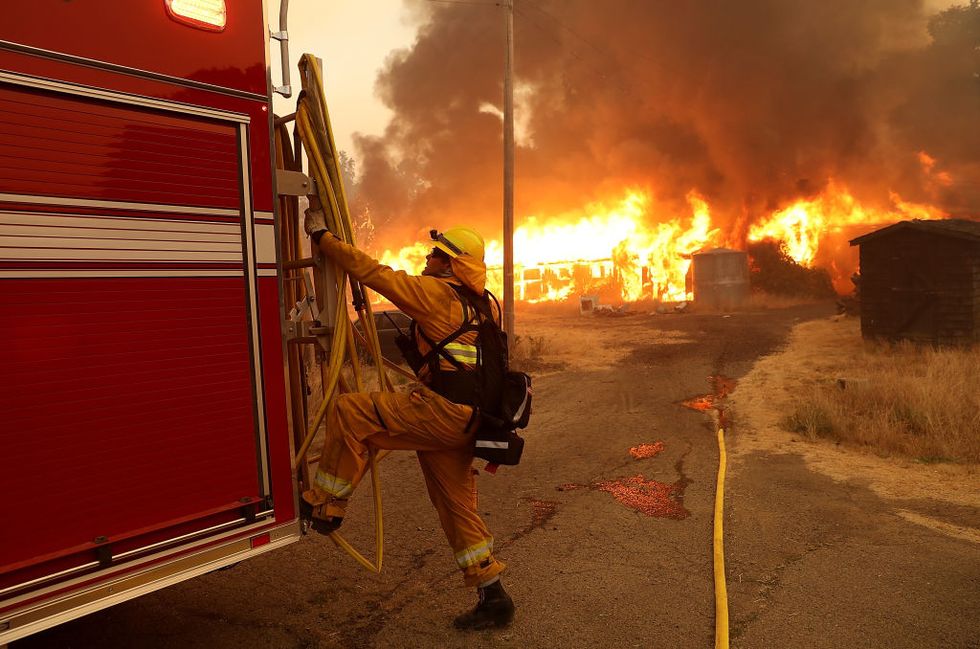 LAKEPORT, CA - JULY 31: A West Covina firefighter pulls hose away from a horse barn that burns as the River Fire moves through the area on July 31, 2018 in Lakeport, California. The River Fire has burned over 27,000 acres, destroyed seven homes and stands at only eight percent contained. (Photo by Justin Sullivan/Getty Images)
Many individual cell-phone consumers are unfortunately familiar with providers' practice of "throttling," or intentionally slowing down internet speed and data transfer rates.
However, some say Verizon, one of the world's largest telecommunication companies, took things too far when it throttled data usage of the Santa Clara County Fire Department while firefighters were battling the Mendocino Complex Fire in July, the largest wildfire the state has seen to date.
Because of the elimination of net neutrality, which has precluded the Federal Communications Commission from regulating internet service providers, 13 Democratic U.S. representatives are demanding the Federal Trade Commission take up the cause and investigate whether or not Verizon's actions were deceptive.
"We believe the Federal Communications Commission, as the expert regulatory agency, should be responsible for the oversight of public safety networks and communications networks as a whole," wrote U.S. Rep. Anna Eshoo (D-Calif.) in a late-August letter to FTC Chairman Joseph Simons, adding:
Unfortunately, with its repeal of the 2015 Open Internet Order, the FCC has abdicated its jurisdiction over broadband communications and walked away from protecting consumers, including public safety agencies. We, therefore, call on the FTC to protect consumers from unfair or deceptive acts or practices stemming from this incident.
The first discovery of Verizon restricting the data of emergency responders came to light as evidence in a lawsuit seeking to reinstate net neutrality. In that instance, Verizon blamed the throttling, reported in December and June, on a one-time "communication error." However, after the throttling continued during the Mendocino Complex Fire, Verizon admitted it was doing it intentionally, and claimed it was because the fire department needed to upgrade its plan.
"In the midst of our response to the Mendocino Complex Fire, County Fire discovered the data connection for OES 5262 [the department's mobile command and incident support vehicle] was being throttled by Verizon, and data rates had been reduced to 1/200, or less, than the previous speeds," wrote Santa Clara County Fire Chief Anthony Bowden in an addendum to the net-neutrality legal brief, noting that:
These reduced speeds severely interfered with the OES 5262's ability to function effectively. My Information Technology staff communicated directly with Verizon via email about the throttling, requesting it be immediately lifted for public safety purposes.
Verizon elected not to lift the throttling, instead indicating that "County Fire would have to switch to a new data plan at more than twice the cost, and they would only remove throttling after we contacted the Department that handles billing and switched to the new data plan," Bowden wrote.
While some feel Verizon is "entitled to make a buck" ("Verizon's policy is stated upfront [sic] plain and simple. If you want to dine out, and you chose an all-you-can-eat buffet, do you think they are going to kick you out at midnight after you have been there for 10 hours?" wrote one USA Today Facebook commenter), the inclusion of the incident in the lawsuit, which is being filed by 22 states, is to underscore the fact that repealing net neutrality has posed a threat to public safety.
"Verizon's throttling has everything to do with net neutrality — it shows that the ISPs will act in their economic interests, even at the expense of public safety," Santa Clara County counsel James Williams told Ars Technica. "That is exactly what the Trump administration's repeal of net neutrality allows and encourages."
Keep reading...Show less