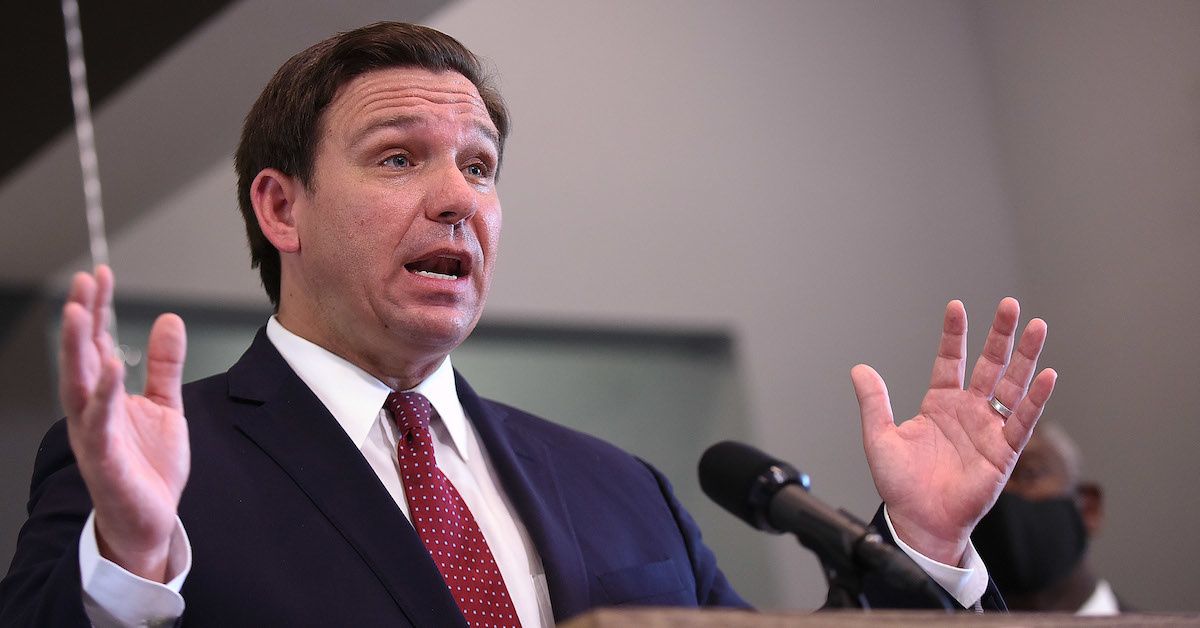 Paul Hennessy/SOPA Images/LightRocket via Getty Images
The state of Florida has been front and center in discussions about the United States pandemic response. Nationally, people criticized Republican Governor Ron DeSantis for his choices.
As much of the country shut down, DeSantis kept beaches open for partying spring breakers. Florida was a hold out on issuing stay-at-home orders for weeks.
In April, the Miami Herald editorial board called DeSantis out for his mismanagement of the state's pandemic response. Now they've been joined by the Sun Sentinel.
In an editorial published Wednesday, July 29, the Sun Sentinel made it clear where they stand on DeSantis and masks.
Help us out, Gov. DeSantis. We're dying here | Editorial https://t.co/6eXscWdm0R https://t.co/Aid5U6QwOE

— South Florida Sun Sentinel (@South Florida Sun Sentinel) 1596061684.0
Titled "Help us out, Gov. DeSantis. We're dying here," the editorial pointed out that DeSantis donned a face mask to meet Vice President Mike Pence, but had yet to issue a face mask order for the state.

They wrote:
"He should back up the photo-op with a sensible and long-overdue statewide mask requirement."
"With each passing day, [the pandemic] continues to careen out of control in Florida. A record 216 deaths were reported Wednesday. That broke the previous record of 191 deaths, reported just Tuesday."
After making the point that continuing to keep businesses open without a mask mandate could lead to another shutdown, they wrote:
"Your refusal to impose a mask order—a requirement now in effect in 32 other states—is out-of-touch with the mainstream. A new Quinnipiac poll found 79 percent of Floridians support a mask requirement, including 60 percent of Republicans."
"If that's not a mandate, what is?"
"Your daily upbeat message is hopelessly at odds with what Floridians are going through. You make it sound like everything is headed in the right direction. But it's not."
@SunSentinel https://t.co/JnKNKx1U39

— Jose Lenguadetrapo (@Jose Lenguadetrapo) 1596061783.0
My understanding is he is saying he would send his kids to school but his kids are not of school age. Therefore, his statement carries no weight with other parents.
— bp (@BillPalcher) July 30, 2020
DeSantis doesn't care about his constituents; he only cares about pleasing his dear leader.
— 🌸 Ellie ❄️ (@EllieM72) July 29, 2020
Come on people of Florida. USE YOU VOTE. DEMAND your elected officials IMPEACH DeSantis IMMEDIATELY for dereliction of duty over the deaths of all the Covid-19 patients.

IT'S THE ONLY WAY TO END THE NIGHTMARE! pic.twitter.com/zCAVOCmuvS
— John Quealy (@QuealyJ) July 30, 2020
The Sun Sentinel added national reaction to Florida's pandemic response.

They wrote:
"Because the rules are different here, at least 12 states have singled out Floridians for 14-day quarantines should we dare to fly north to escape the heat and whatever lurks in the air."
"Who can blame them?"
"Florida now boasts the second highest number of cases per 100,000 people, with 2,008. That's more than New York, at 1,690; Illinois, 1,365; Texas, 1,345; and California, 1,164."
"Florida is second only to New Jersey with 2,018, according to the CDC's [pandemic] Data Tracker."
Of course anti-maskers had their own opinions.
@SunSentinel Broward has had a mask mandate for months now, but it's DeSantis' fault that Broward still has a high… https://t.co/BWZqLVah35

— Bill Carlisle (@Bill Carlisle) 1596072943.0
But their comments didn't go unanswered.
@billcarlisle @SunSentinel @SoFlaOpinion Is Broward somehow walled off from the rest of the state, or can people come and go freely?

— Alain Didier (@Alain Didier) 1596137742.0
@Pacu999 @SunSentinel @SoFlaOpinion Do masks work or not? If so, then the places where they are mandatory should sh… https://t.co/R2ciQ83hpj

— Bill Carlisle (@Bill Carlisle) 1596145908.0
@billcarlisle @SunSentinel @SoFlaOpinion People travel freely among the counties. People don't stay inside their ho… https://t.co/XLpqcoesPW

— Alain Didier (@Alain Didier) 1596156743.0
@billcarlisle @SunSentinel @SoFlaOpinion And of course masks aren't foolproof. Neither are condoms, neither are vac… https://t.co/g2Ape0LIJT

— Alain Didier (@Alain Didier) 1596156856.0
The Sun Sentinel also addressed the numbers in Broward County in their editorial.
They wrote:
"True, Broward's number of daily new cases has improved from a cataclysmic 1,363 on July 15 to an abysmal 1,207 on July 28."
"One reason why Broward's numbers may have peaked is because the county and its cities are getting tough with defiant people who take their cues from your reticence."
@DWUhlfelderLaw @elain_summers DeathSantis would let a million Floridians die before he would risk Trump's wrathful tweet.

— Trump is Nero (@Trump is Nero) 1596137913.0
We've all been begging @GovRonDeSantis for months to DO SOMETHING to help Floridians. A mask mandate. Do not open the bars he's talking about. & the beaches my goodness, these mass gatherings are spreading the virus like wildfire. faster results for testing
— Batgirlstuff (@batgirlsstuff) July 30, 2020
After pointing out that businesses, cities and counties have been dealing with individuals who ignore their mask orders, the Sun Sentinel concluded:

"A lot has been learned about the [pandemic] over the course of these five long months, including this: When it comes to masks, asking nicely doesn't always work."
"The science is clear: Face coverings reduce the spread of the novel coronavirus and can save lives."
"Issue a mask mandate, governor. If you can wear one in public, so can we all."
Whether DeSantis finally responds to his constituents demands remains to be seen.