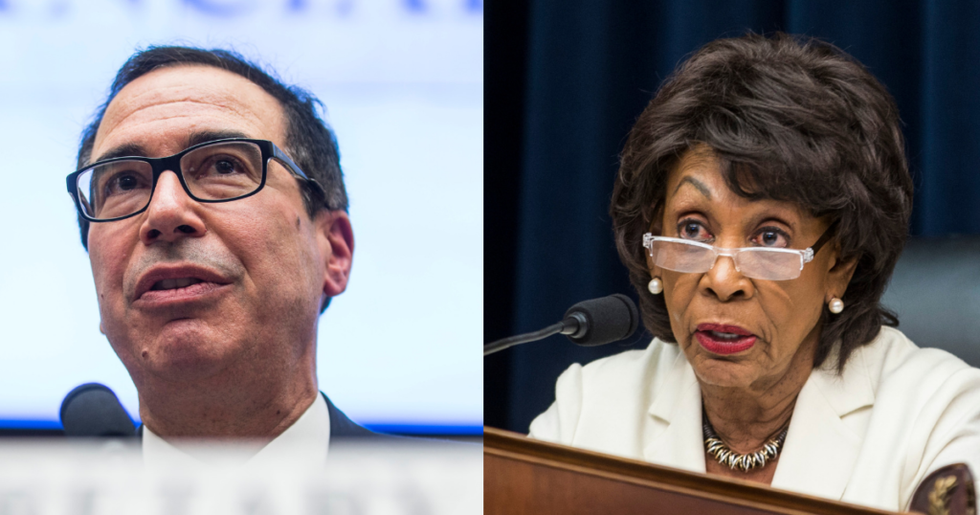 Zach Gibson/Getty Images
The fight for President Donald Trump's tax returns heated up on Tuesday when Treasury Secretary Steven Mnuchin tried to tell Representative Maxine Waters (D-CA), who chairs the House Financial Services Committee, how to do her job.
Mnuchin was annoyed that his time before the committee was cutting into an "important" meeting he had scheduled and threatened to never return if he was required to stay. Waters then said that if Mnuchin wished to leave, he may. Mnuchin pressed Waters on what that meant until the exchange became heated, with him accusing her of forcing him to stay by giving him the option to leave.
"You're instructing me to stay here," he said.
"No," Waters replied. "You just made me an offer."
"No, I didn't make you an offer," Mnuchin insisted, despite having literally made an offer to stay.
"You made me an offer that I accepted," responded Waters.
Mnuchin then demanded Waters use her "gravel [sic]" to dismiss everyone.
"Please dismiss everybody. I believe you are supposed to take the gravel and bang it," a visibly frustrated Mnuchin ordered.
"Please do not instruct me as to how I am to conduct this committee," Waters replied.
Watch below:
Maxine Waters: "no other secretary has ever told us the day before that they were going to limit their time." Mnuch… https://t.co/PvYq4u1pvF

— Amee Vanderpool (@Amee Vanderpool) 1554851679.0
Oof. Waters really got under Mnuchin's skin.
This is kind of beautiful. https://t.co/d2jDeyzho9

— Michael McKean (@Michael McKean) 1554881663.0
This guy is such a smug d*ck! Tell him Aunty Maxine! https://t.co/uRKVfPLszL

— Amy Siskind 🏳️‍🌈 (@Amy Siskind 🏳️‍🌈) 1554848273.0
Who does Mnuchin work for again?
@ProudResister @RepMaxineWaters Steve Mnuchin lost that battle before he even opened his mouth. Maxine Waters was all outta fucks.

— BrooklynDad_Defiant! (@BrooklynDad_Defiant!) 1554863153.0
To be clear, Mnuchin is paid with taxpayer money and Rep. Waters is representing the taxpayer in this exchange. https://t.co/3gdihuriNa

— shifty schiff (@shifty schiff) 1554847804.0
Some are wondering if Mnuchin would have treated a white man as disrespectfully as he did Waters.
Hmmm.
Can we say it out loud: if Maxine Waters was Max Waters, a white man, Mnuchin wouldn't dare be so fresh and rude.

— Amy Siskind 🏳️‍🌈 (@Amy Siskind 🏳️‍🌈) 1554848826.0
Steve Mnuchin mansplained Maxine Waters' job today by suggesting she end her own hearing by, "picking up the gravel… https://t.co/RAGGNDtTy0

— Dana Gould (@Dana Gould) 1554861449.0
To be clear, if Auntie Maxine Waters were an old rich white GOP sycophant, the ever corrupt, trashy and creepy Stev… https://t.co/S682CmFxJ0

— Ricky Davila (@Ricky Davila) 1554855872.0
Mnuchin trying to instruct Maxine Waters on how to use her gavel is not surprising to most women, least of all wome… https://t.co/2AHtNNoT36

— Amee Vanderpool (@Amee Vanderpool) 1554898429.0
@girlsreallyrule @MidwestCurls THE GRAVEL. I AM DONE. THIS MAN IS CANCELED 5EVER.

— The Tatted Foster Mom (@The Tatted Foster Mom) 1554865189.0
Even Tom Arnold was not having it.
@girlsreallyrule He probably would. He's an idiot. His dad was smart.

— Tom Arnold (@Tom Arnold) 1554878403.0
This was not the first time Waters and Mnuchin have publicly sparred. In 2017, Waters' patience wore out as Mnuchin - just like on Tuesday - refused to respond to a letter requesting information on Trump.
"Reclaiming my time," Waters began repeating while Mnuchin proceeded to speak over her.
Keep reading...Show less