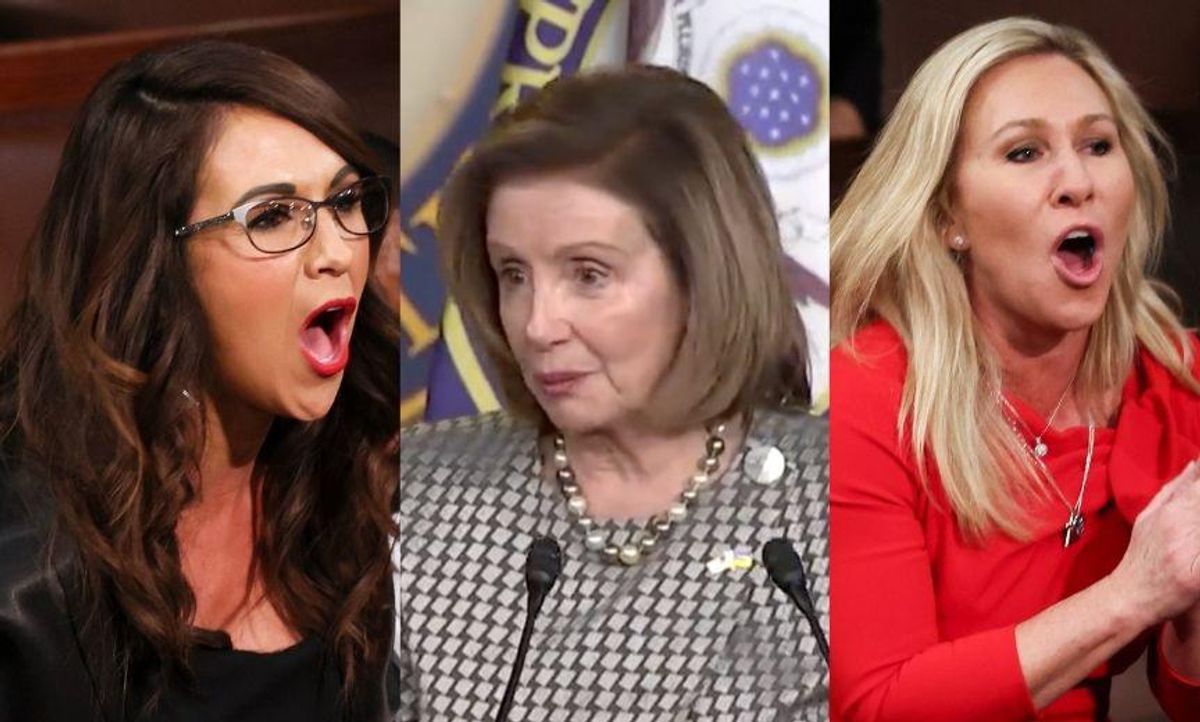 Evelyn Hockstein-Pool/Getty Images // @nowthisnews/Twitter // Evelyn Hockstein-Pool/Getty Images
President Joe Biden held his first State of the Union address before a joint session of Congress earlier this week, and it wasn't without its viral moments.
Never the ones to turn down opportunities for antics, the most chaotic outbursts came from far-right Representatives Lauren Boebert of Colorado and Marjorie Taylor Greene of Georgia.
From the very start, as Biden entered the chamber, the two Congresswomen turned their back on him in protest, but some felt they ended up looking lost. During the address, when Biden spoke on the issue of border security, the pair leapt to their feet in a failed effort to start a "build the wall" chant in support of former President Donald Trump's failed campaign promise.
But the most egregious outburst came as Biden mentioned American soldiers in Iraq and Afghanistan who were exposed to toxic burn pits for an extended period of time, resulting in cancer diagnoses. Biden's son was among the soldiers exposed to burn pits and diagnosed with a brain cancer that would later kill him.
As Biden mentioned these troops being put into flag-draped coffins, Boebert shouted, "You put them in! Thirteen of them!"—an allusion to the 13 American soldiers who died in a suicide bombing last year during the Biden administration's widely-panned withdrawal from Afghanistan.
Watch below.

Boebert has since been praised by far-right media personalities for her outburst, and said she took umbrage that Biden's speech didn't address the deaths of the soldiers.
Democratic Speaker of the House Nancy Pelosi responded to the outburst at a recent press conference, alluding to a video of Republican Senator Lindsey Graham of South Carolina appearing to murmur "Shut up" or an expletive in a real-time reaction to Boebert's heckling.
Watch Pelosi's response below.
Pelosi said:

"Let me just say this: I agree with what Senator Lindsey Graham said: 'Shut up.' That's what he said to them. I think they should just shut up."
Boebert soon responded.
But others praised Pelosi's response.
Others chastised Boebert's response.
Boebert and Greene remain unapologetic.