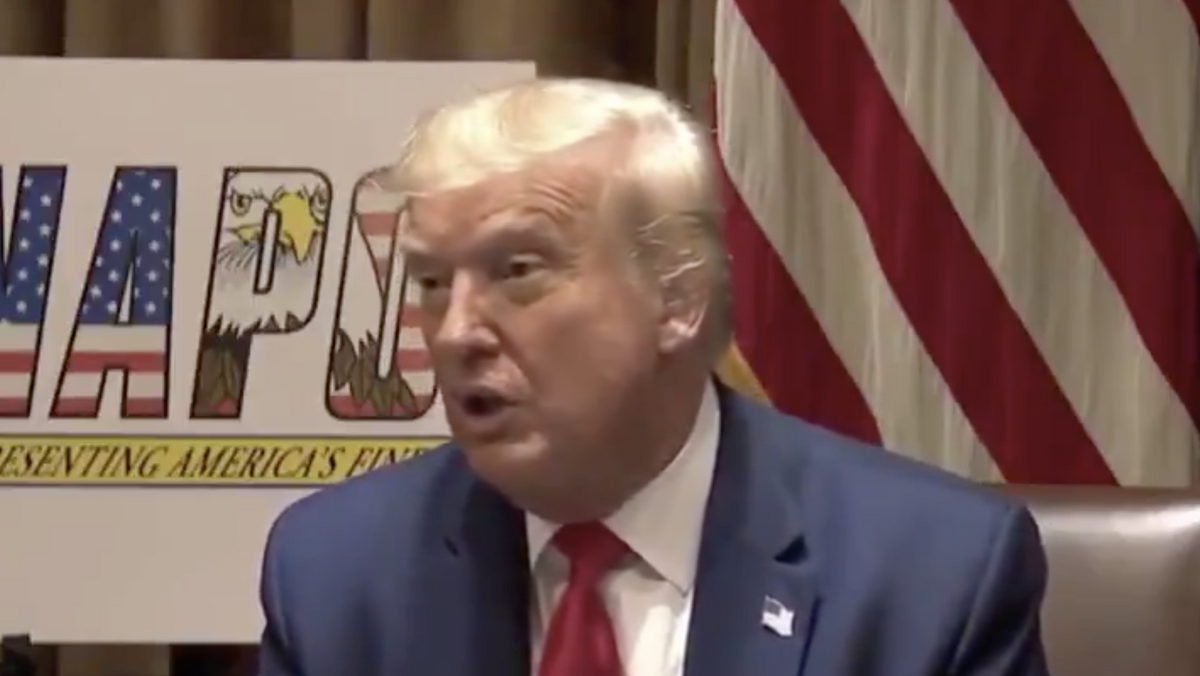 @acyn/Twitter
On July 31, President Donald Trump held a round table with the National Association of Police Organizations Leadership as protests of police brutality against Black Americans continued across the country.
Similar to his recent statements on protests in Kenosha, Wisconsin and Portland, Oregon, the President generalized protesters as violent anarchists who were determined to assault police officers.
Trump warned of Molotov cocktails and frozen bottles of water being hurled at police. He then said that cans of soup were weaponized, adding quickly that "bags of soup" were used as well.
Watch below.
Trump said:

"And you have people coming over with bags of soup — big bags of soup. And they lay it on the ground, and the anarchists take it and they start throwing it at our cops, at our police. And if it hits you, that's worse than a brick because that's got force. It's the perfect size. It's, like, made perfect.

And when they get caught, they say, 'No, this is just soup for my family.' And then the media says, 'This is just soup. These people are very, very innocent. They're innocent people. These are just protesters. Isn't it wonderful to allow protesting?'"
It's unclear which reports Trump was referring to.
Though it slipped under the radar in July, the video is resurfacing only one day after a bizarre interview between Trump and far-right Fox News host Laura Ingraham, in which Trump floated a conspiracy theory that a plane full of people "in the dark shadows" was secretly running Biden's campaign.
Trump's soup rant generated a lot of chowder chatter.
People began stewing over what Trump meant.

As the responses to the video began to boil over, Trump was given the nickname "Soup Nazi"—in reference to the infamous Seinfeld character.