Who is involved and what is at stake.
12 September 2016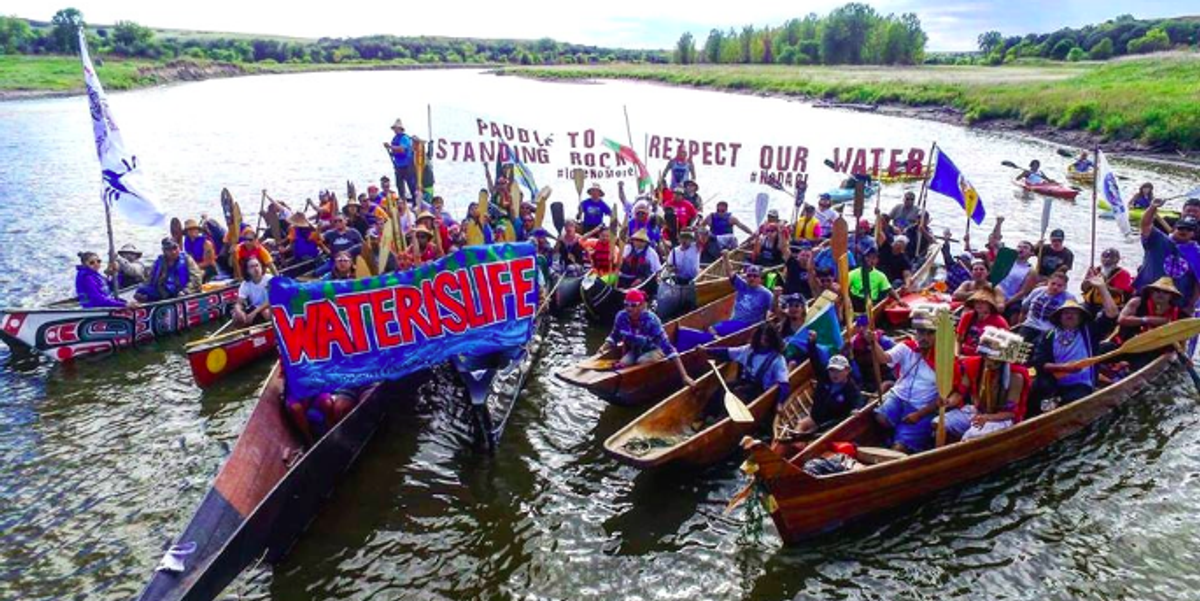 Standing Rock Camp photo/Facebook
Amelia Mavis Christnot is a self-described Navy brat who lived all over the USA, but has settled in Northern Maine. Her Father Edward is Oglala Lakota enrolled at Rosebud Reservation, South Dakota. He attended boarding school at Pine Ridge Reservation, where he was born. Her late Mother Claudette was of the Kanien'kehá:ka of the Haudenosaunee, as well as an enrolled Metis from New Brunswick, Canada. Amelia identifies with all of her ancestors, including the bit of German that provided her last name. She is a Sacred Pipe carrier and has been active in Native rights since her (brief) time with Native Americans at Dartmouth.
SECOND NEXUS PERSPECTIVE
If you've been on social media lately you've probably seen the hashtag #NoDAPL, often with #KeepItInTheGround or #RezpectOurWater. Or maybe you saw the editorial piece on The Last Word with Lawrence O'Donnell on MSNBC. Or maybe your friends have changed their profile picture to say they stand with Standing Rock or Sacred Stone Camp. Oscar-winning actor Leonardo DiCaprio has spoken out on the subject, as have US Olympic gold medalist Billy Mills, a member of the Oglala Lakota tribe of the Oceti Sakowin nation, and senators Bernie Sanders (VT) and Tom Udall (NM).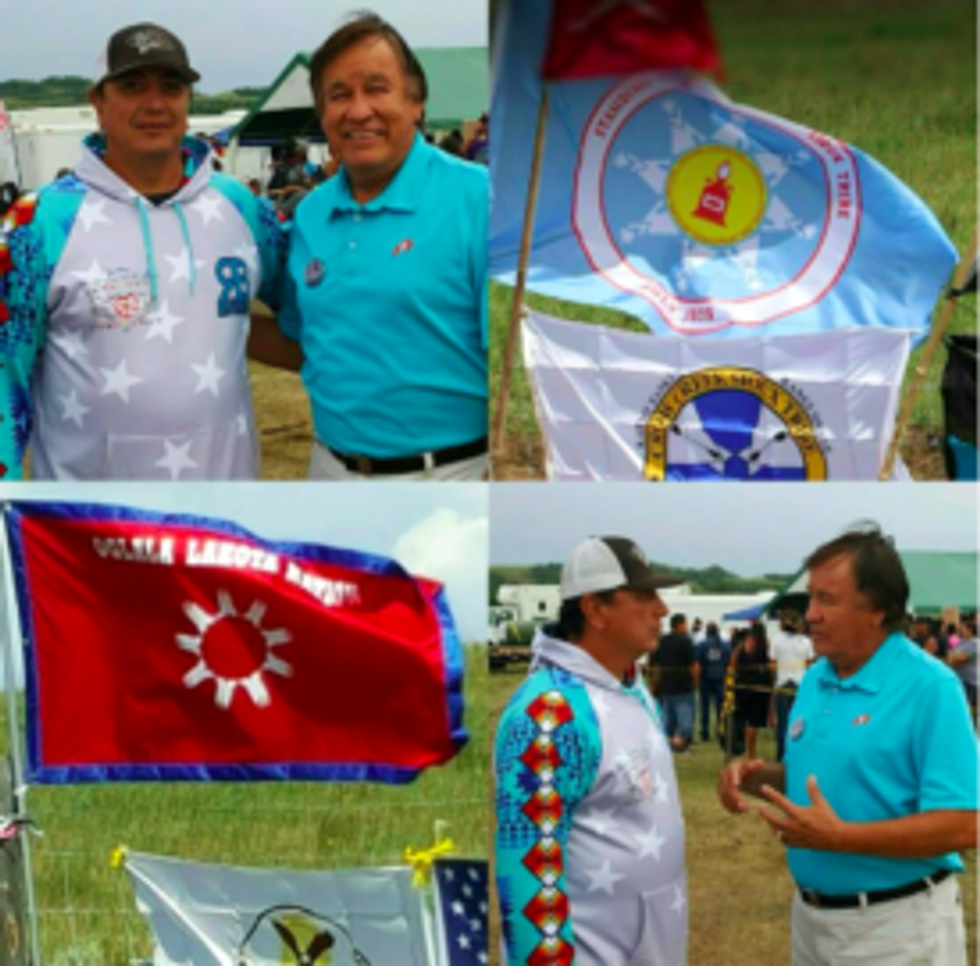 US Olympic gold medalist and founder of Running Strong for American Indian Youth, Billy Mills of the Oglala Lakota tribe of the Oceti Sakowin nation visits Standing Rock Reservation and meets with Chairman Dave Archambault II on August 18, 2016. Credit: Billy Mills photo/Facebook
Mainstream media offers few resources on this topic. Native media outlets, however, such as Indian Country Today Media Network or CBC Aboriginal or even regional papers like The Lakota Country Times, have been reporting for quite some time on the efforts to stop the Dakota Access Pipeline from cutting through and near tribal lands in North Dakota, endangering the only clean water supply for the Standing Rock Sioux Reservation. Pipeline developer Dakota Access LLC, a subsidiary of Energy Transfer Partners, notes that approximately 1,172 miles of 30-inch diameter pipe will stretch from the Bakken and Three Forks oil production areas in North Dakota through South Dakota and Iowa on its way to Patoka, Illinois.
But to the Oceti Sakowin, the Seven Council Fires of the Great Sioux Nation, it is the prophesized "black snake" that will bring about the end of the world, whether literally or figuratively through contamination of drinking water, destruction of the environment and ancient cultural sites and continued fossil fuel dependence.
The Oceti Sakowin is a nation comprised of the Lakota, Dakota and Nakota tribes. Much of the disputed land was deeded to the Oceti Sakowin by the Treaty of Fort Laramie of 1868. The US government broke that treaty almost as soon as it was signed. On April 1, 2016, citizens of the Standing Rock Sioux Reservation, the largest remaining Oceti Sakowin reservation in the USA, founded a spirit camp along the proposed route of the Dakota Access Pipeline, in what is now Cannon Ball, North Dakota. With strong leadership from
Dave Archambault II, Standing Rock Sioux Council Chairman, and LaDonna Bravebull Allard, Sacred Stone Camp Director, they were joined by other Lakota, Nakota and Dakota citizens under the group name Chante tin'sa kinanzi Po, People Stand with a Strong Heart. They named their camp Iŋyaŋ Wakháŋagapi Othí, Sacred Stone, the original name of the Cannon Ball area. The camp was dedicated to "stopping and raising awareness (of) the Dakota Access pipeline, the dangers associated with pipeline spills and the necessity to protect the water resources of the Missouri river." The camp's mission statement begins with a quote from the great Oceti Sakowin chief and holy man Tȟatȟáŋka Íyotake, Chief Sitting Bull, "They claim this mother of ours, the Earth, for their own use, and fence their neighbors away from her, and deface her with their buildings and their refuse."
From the beginning, Chairman Archambault and Camp Director Bravebull Allard have called for all actions to be peaceful and prayerful in keeping with tribal traditions. The Oceti Sakowin reached out to other Indigenous peoples across North America for help and support, and Indian Country responded. Thousands of Natives have traveled to Sacred Stone Camp, and they're still coming. Others have sent supplies and money for the camp and its legal defense fund. Other symbols of support are arriving as well. A Tlingit canoe traveled nearly 3,000 miles from Alaska to participate in the Idle No More sponsored Paddle to Standing Rock event September 7-9 on the Missouri River.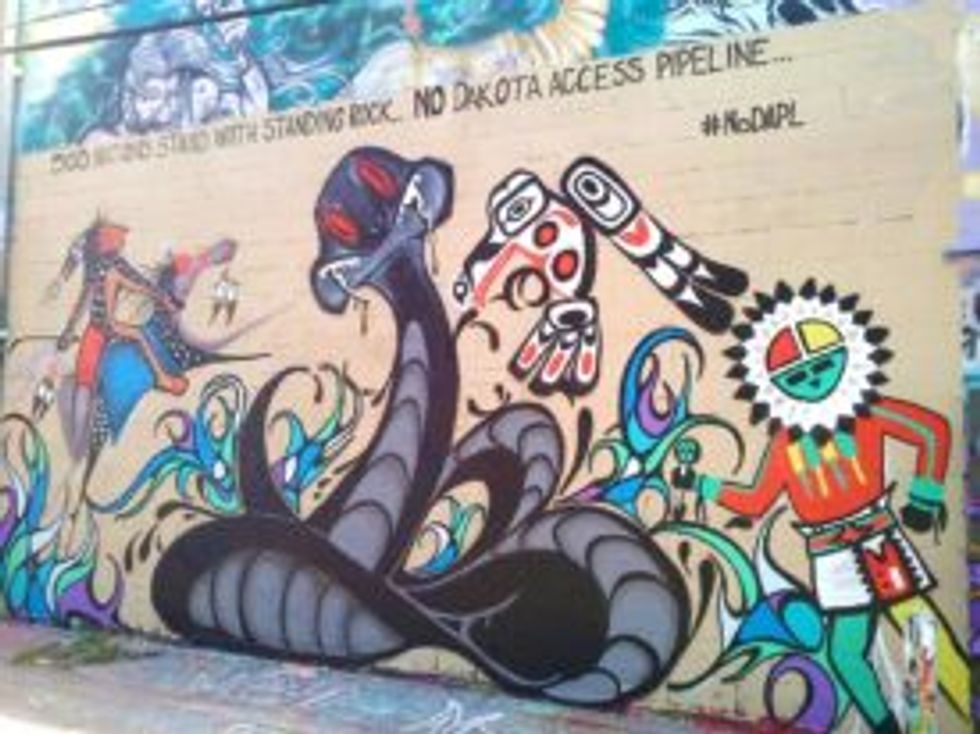 Mural "How The Protectors Defeated The Black Snake," a gift to the people of Standing Rock depicting the diverse tribal nations working together by Tyler Read in Art Alley, Rapid City, South Dakota, photo by Tyler Read used with artist's permission.
This gathering of diverse tribal nations is being called one of the largest in known history. In addition to the Spirit Camp, events and calls to action have been issued across the globe, with many being tracked through Sacred Stone Camp's #NoDAPL Solidarity Weeks of Action tool on Action Network. Social media has been a valuable tool in this effort, with Indian Country celebrities like comedy troupe 1491s member Dallas Goldtooth and Indigenous people and allies across the globe using Facebook Live, Twitter, Instagram, numerous hashtags, and online petitions to get the word out without the help of mainstream media, a technique often used in war-torn foreign lands, but which is unusual within the United States' own borders.
Of course not everyone supports the Oceti Sakowin's efforts. The pipeline developer and its investors have a lot to lose if they are required to abandon their plans for the pipeline. The United States is still heavily dependent on fossil fuels, and most Americans don't want to pay higher prices for petroleum products.
While the majority of protests have been peaceful, some acts of civil disobedience have led to acts of destruction, in direct conflict with Sacred Stone Camp's and the Oceti Sakowin's expressed wishes. When pipeline crews moved equipment 20 miles over Labor Day weekend, to bulldoze one of the potential historical sites listed on Standing Rock's filed court documents, self-described water protectors clashed with private security. Demonstrators have claimed that the private security firm sprayed many of the activists
with pepper spray and tear gas, and that some people were injured by dogs. The Morton County Sheriff's Department refutes those claims. While both sides have very different accounts of what occurred, the state licensing board for private security has opened an investigation into the use of dogs and whether the company was authorized to work in North Dakota. The next day the members of the Sacred Stone Camp organized a peaceful march of over 500 people representing over 200 Native tribes from the camp to the site of the confrontation. Despite this demonstration of peaceful intentions, in response to the September 3 incident, North Dakota Governor Jack Dalrymple activated the National Guard on September 8 to provide support to law enforcement.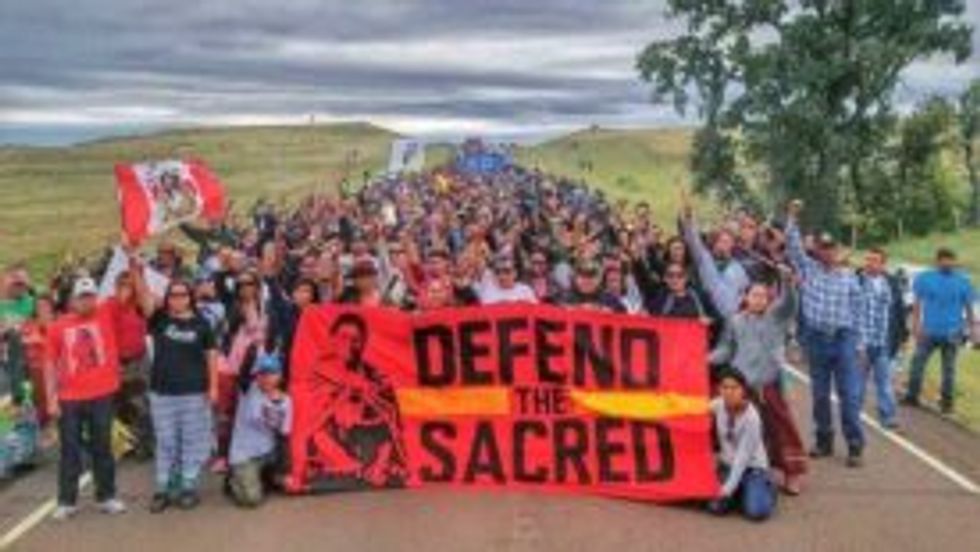 Over 500 Defenders of the Sacred, representing over 200 tribes, peacefully march on September 4, 2016, from Sacred Stone Camp to a burial and historical site bulldozed by Dakota Access Pipeline workers and where defenders clashed with private security forces on September 3. Sacred Stone Camp photo/Facebook
In addition to the Spirit Camp, the Oceti Sakowin have used legal means to attempt to stop the pipeline. In Standing Rock Sioux Tribe v. U.S. Army Corps of Engineers, the tribe sought an injunction to temporarily stop construction until further cultural and historical preservation studies could be completed. On September 9, 2016, the court denied the tribe's request for an injunction. However, in an unprecedented move that has finally captured the attention of mainstream media, the US Department of Justice, the US Department of the Interior which oversees the Bureau of Indian Affairs, and the Department of the Army on behalf of the US Army Corps of Engineers issued a joint statement: "The Army will not authorize constructing the Dakota Access pipeline on Corps land bordering or under Lake Oahe until it can determine whether it will need to reconsider any of its previous decisions regarding the Lake Oahe site under the National Environmental Policy Act (NEPA) or other federal laws." They further stated that "this case has highlighted the need for a serious discussion on whether there should be nationwide reform with respect to considering tribes' views on these types of infrastructure projects" and included proposals for achieving this dialogue.
The statement ends with support for the right of all Americans to exercise their rights of free speech and assembly, noting that "[i]n recent days, we have seen thousands of demonstrators come together peacefully, with support from scores of sovereign tribal governments, to exercise their First Amendment rights and to voice heartfelt concerns about the environment and historic, sacred sites. It is now incumbent on all of us to develop a path forward that serves the broadest public interest."
Chairman Dave Archambault II was at another peaceful rally in front of the state capitol in Bismarck, North Dakota, when he received the news. The air was soon filled with cries of
"Mni Wiconi, water is life" as well as drumming and traditional songs. Chairman Archambault addressed the crowd. While acknowledging this temporary victory, he reminded all gathered to stay strong for the continuing fight but to remain peaceful and prayerful in their actions.
The future of the Dakota Access Pipeline may be unclear, but the emerging solidarity of Indigenous people is evident. And it looks like America is recognizing we're still here. Lawrence O'Donnell stated in his editorial "The original sin of this country is that we invaders shot and murdered our way across the land killing every Native American that we could and making treaties with the rest. This country was founded on genocide before the word genocide was invented… When we finally stopped actively killing Native Americans for the crime of living here before us, we then proceeded to violate every treaty we made with the Tribes. Every. Single. Treaty. We piled crime on top of crime against a people whose offense against us was simply that they lived where we wanted to live. We don't feel the guilt of the crimes because we pretend they happened a very long time ago, in ancient history. And we actively suppress the memories of those crimes.. but there are people alive today who's grandparents were in the business of killing the Native Americans. That's how recent these crimes are. Every once in awhile there is a painful and morally embarrassing reminder…."
But is #NoDAPL "a painful or morally embarrassing reminder" of our confrontational or divisive past? The allies stepping forward from across the globe to support Indigenous causes (such as Idle No More, the effort to protect sacred Mauna Kea in Hawaii, to investigate the unsolved cases of over 1,000 missing and murdered Indigenous women, and the efforts to stop the "black snake," be it Keystone XL or the Dakota Access Pipeline) appear instead to indicate a change in our mutual understanding and respect. A new era is dawning, and we are making history.